paris is picking up a bit, i suppose, even if it's only the japanese contingent spicing things up (and ackermann; but we'll get to him later.)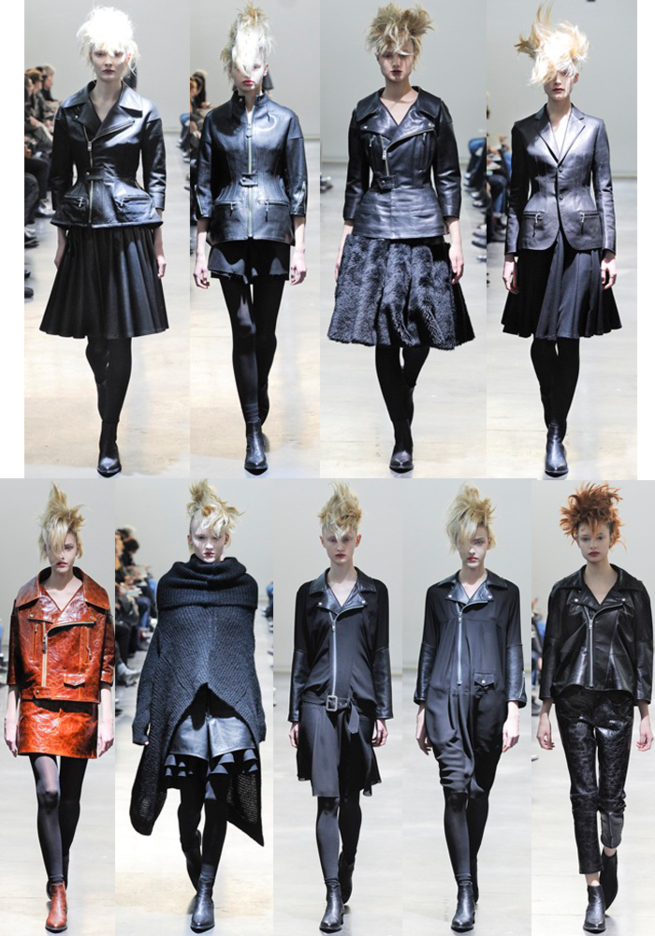 junya watanbe took the leather biker jacket and ran. BRILLIANT. i love a leather biker as much as the next person, and a collection of structured leather situations with odd proportions/flowing silk pieces with leather collar/pocket/zip details is right up my street. the effect on the brown leather is gorgeous, even if the shape is a bit boxy for my taste; and the furry circle skirt is calling out to me.
meanwhile yohji yamamoto took to the gothgrunge90s vibes with light, flowing printed dresses and big chunky boots (as always).
i'm always amused when people say "oh, the japanese designers aren't concerned with the western idea of beauty; of fashion" (or something to that effect), because they tend not to go in for any sort of tailored/bodycon situations, but it tends to be suggested that that means they don't design clothes to flatter, and i just don't see that. there's plenty a nipped in waist or bias cut piece here; all conventionally flattering from a western standpoint.
just calling you out on your bullshit, there, fashion. no need to pigeonhole anyone.

--------------------

side note. if you're a size 4, and you're as in love with
the burberry shoes
as i am, i suggest you
go buy these
:


i wept into my coffee when i saw they were a size too small for me. some serious "could i chop my toes off?" deliberation occurred. alas; it's not meant to be.