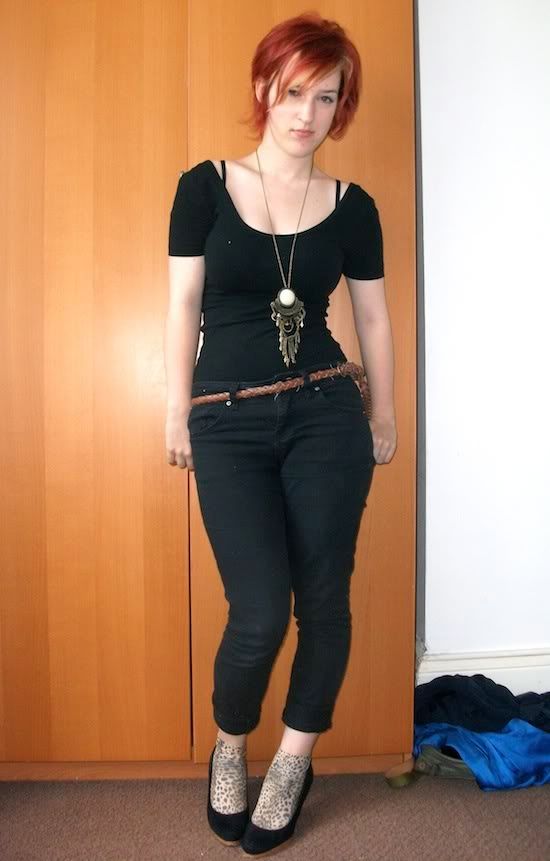 topshop jeans//generic black dress as top//primark belt//H&M socks+necklace//select shoes


i had every intention of taking a photo of my every outfit in london, as some sort of "a 7 day capsule wardrobe challenge" type of affair. of course, that didn't happen.
so this is (almost) what i wore home - there were different shoes involved for traintimes and this is merely what i threw on to go get milk.
my first foray into rolled up jeans. i'm a fan. cold ankles though.
notice the pile of brightly coloured loveliness by the wardrobe - new purchases in need of photog-ing and hanging up. some great finds. i didn't think i spent that much on clothes etc (about £65 all in, and i got 2 dresses, a pair of shorts, a skirt, a bag, a ring and a necklace. so, pretty good.) but i am considerably more skint than i was a week ago, so i'm gonna go ahead and assume all my money went on food and beer. ho hum.
ALSO. if you want anything from the blog sale, get on it now cos i'm gonna list unsold things on ebay starting soon!
ps, if you follow my tumblr, loads of my research/photos/doodles/scans will appear there in due time. said tumblr is for my 4th year collection.... also i might whack some sketches up on here if i feel that way inclined.