this has been an awful long time in the making, due mostly to laziness and partly to waiting to find the right collar and then waiting for it to arrive, but...
while lots of blogs i read are posting their a/w coat wishlists (for the high street, mostly), while looking out of the window and wondering what they're waiting for (go away, rain.), i've been slowly beavering away on my own winter delight (to be rotated with my fur coat and my moss-y swing coat!).
anyway, i knew i'd posted what is essentially a 'before' pic, here, last year. a full length navy wool coat (bought from ebay); as worn at most 3 times last winter, and swiftly pushed aside when i came back from Paris with the fur coat.
then a few months ago some girl came in to uni (i think she was one of the fit models for the 4th years...) wearing a cream floral 'tapestry' coat with a fur collar.
ebay was scoured in search of a similar coat, to no avail. and then i thought, "what am i looking for?" - a cream floral coat doesn't go with much, and here i have a nice winter coat that i don't wear even during winter. let's take it up, take it in and give it some shape, shorten the sleeves to the always more flattering bracelet length, and then find the perfect detachable fur collar!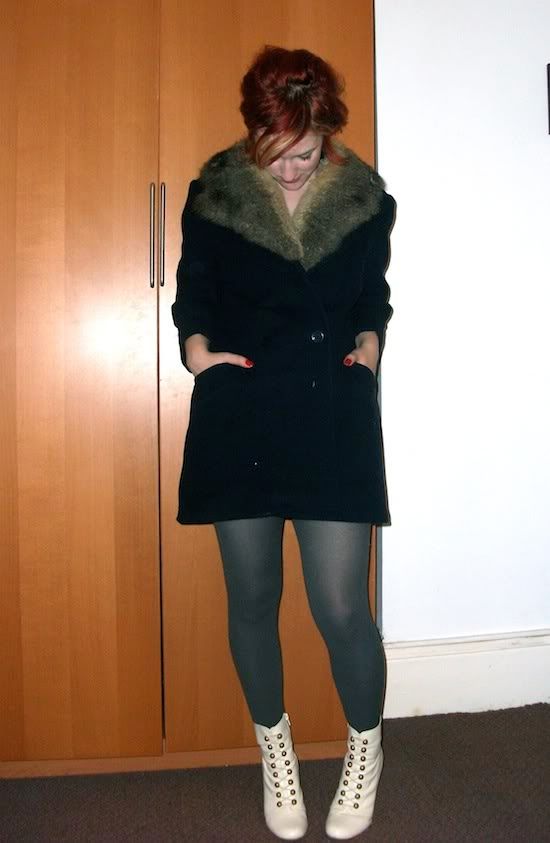 [with asos boots and greasy hair. mm.]
apparently navy is just as hard to photog as black.
i need to resew one of the sleeves cos it's a bit buckled, and move the button so it lies better, but there you go. and i can take the collar off and wear it over a gold-coloured cardigan for
a real Michael Kors moment
.
now to work on the cheap shearling i bought ages ago. maybe a bigger removable sheepskin collar? hmm.