Oh, New York.
I think I'm having an 'enh' moment with fashion; or maybe I'm just looking for something new, since the grad collections were of such interest to me in June...
Usually I look through every single look; but a combo of laziness and lack of time this year means every label got one page of style.com thumbnails to impress me. Many did not make the cut. Even my usual favourites...
Kors, you have let me down.

Lim, what happened to you, man?
I noticed far too much neon (neon is back already? oh.) - thought I'm a fan of the burnt orange/lime green/electric blue shades coming through, sort of...muted neons, if you will - and so many collections just didn't catch my eye, but there are some that did and are therefore worth posting (well done to all below.)
There ended up being five collections that peaked my interest, so this is sort of a top five but in no partics order or anything like that...
A Détacher
We all know how I feel about leather harness situations (I hope) and skinny, orange or brown, almost delicate ones are no exception. Really into the muted pinks and beiges and the big polka dot motifs, and the scratchy houndstooth print, though the patchwork denim and shapeless dresses in the middle brought it down a bit...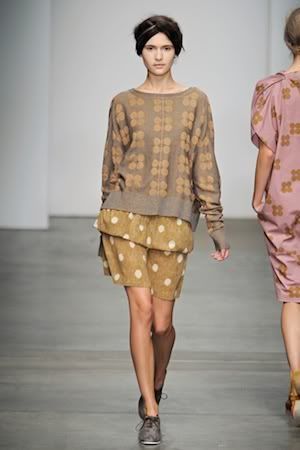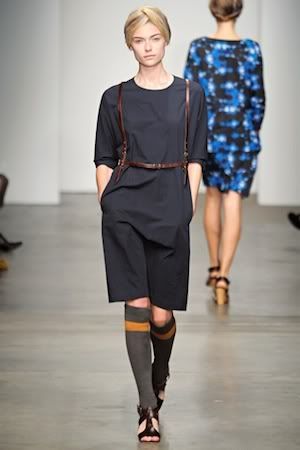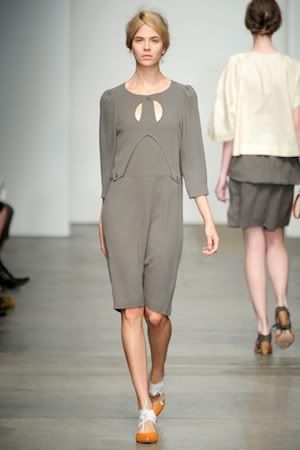 Band of Outsiders
Braces and collars feature heavily here, which I guess means 'menswear inspiration'... but a print which is reminiscent of my bedsheets (maybe BoO have been traipsing round Ikea lately) and some cute details - mismatched stripes; always a fan - make for a pretty cool collection. Also, the model in the second one really reminds me of Sarah Jessica Parker. Anyone else?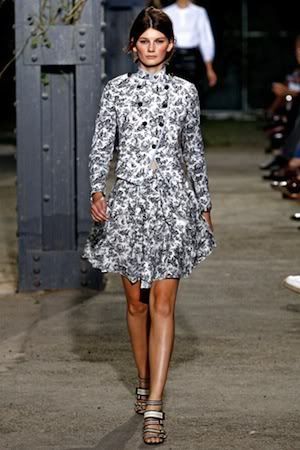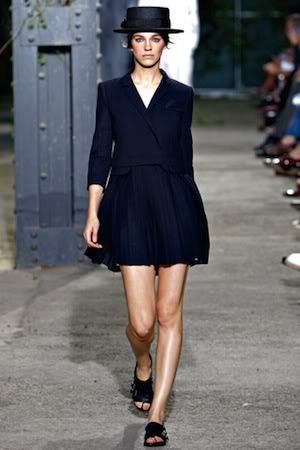 Jason Wu
I'm over florals. In fact, can we call a moratorium on florals please, fash-un?
EVERY.
SPRING.
SUMMER.
SEASON.
ENOUGH.
I'll give you this season, but if i see so much as a petal next S/S, I'm gonna lose it.
That said...Jason Wu did some petal-y prints - NOT YOUR AVERAGE FLORAL ALERT - so...maybe a total crackdown on the use of flowers in fashion was a little hasty. I like this print. I can even let the continuing popularity of the hotpant slide. Mostly because the colour combos here are stunning, and the look with the blue print skirt/lime green sleeveless shirt/orange lips caught my eye in thumbnail form and must be worshipped.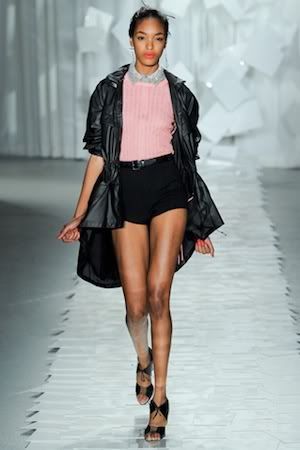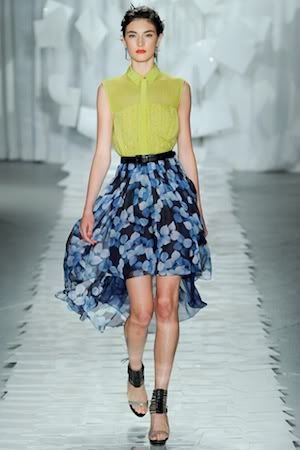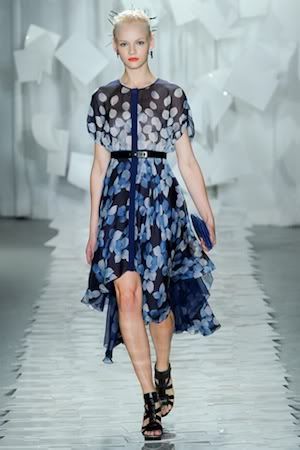 Victoria Beckham
You heard me. The orange/purpleyblue striped dress takes last seasons Prada and tailors it to my taste, for starters (I was not a fan of last seasons Prada, FYI), and the other dresses here have great strap details. Like sturdy bag handles, which doesn't sound like a good thing but totally is.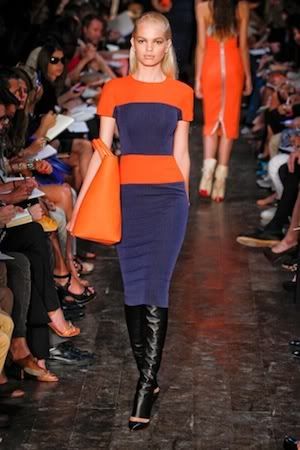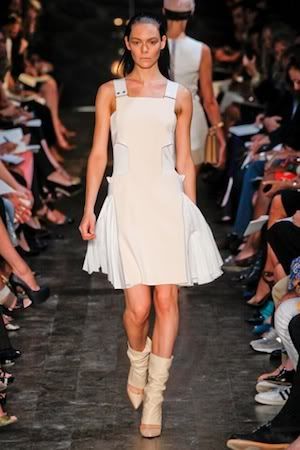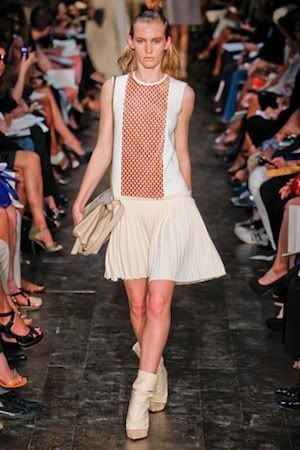 Yigal Azrouël
THANKYOU.

Since I looked at all the NY collections on one go, alphabetically, it was kinda depressing that I got to the second off last collection before I found the one - the I-want-everything collection. The colours, the cuts, and the styling are all so what I wanted to see right now. Seriously though, if the green jersey button up dress, calf length print situation, floor length shirt dress and entire last look could make their way to me/to a high street near me posthaste, that would be just great.
Also, the bags are wonderful. Always love a satchel style.