I think London is starting to take the print crown - it's
the
city in fashion month that shows the big names in print, and the innovators - Peter Pilotto, Mary Katrantzou, et al.
I enjoyed London way more than NY this season - the same trends were there, but the neon here felt like it had moved on from when neon was big, like, 3 years ago, instead of a rehash, and the 20s flapper thing thats happening is balanced out by a...well, not a 50s silhouette, but certainly a voluminous skirt/fitted waist one, but one which feels modern, and suits me to a tee.
Grimace, groan and grumble to the flapper trend, btw. The 20s silhouette (along with the 60s) is my least favourite (read: least flattering those of us with a tiny waist/big everything else) and I hope for the sake of my body shape that the high street doesn't
totally
embrace it.
Hopefully they'll embrace some of these fitted waist situations. Bring on the volume, yeah, but at least but a nice waistband or an ace belt on it.
all imgs from style.com
Acne
Proportions. Silhouette. Colour palette. 'Laid back cool' factor. All the Acne hallmarks, of course, are here. Thank god. I really love the crisp white throughout the collection - especially the full skirted dress with the mustard coat, and the full skirt/fitted lime green top/long lightweight jacket combo.
I also love a bare midriff. I've been sporting that for months, so, very much embracing it for next season if they're calling it a trend.
Colour palette. Cute hats. Calf length everything. Beaded belts.
I love Burberry's 'stick a belt on it' attitude, especially on a fitted, tucked and pleated dress. And brand who shares my 'a belt makes everything better' philosophy is a good'un, and I (pretty much) always love Burberry's collections. Things I can get behind: belted parkas with furry hoods; stripy pencil skirts; moss green and/or purple pleated calf length skirts.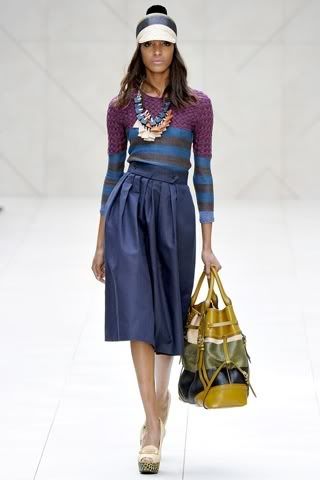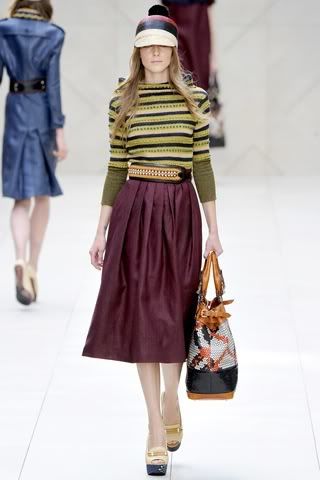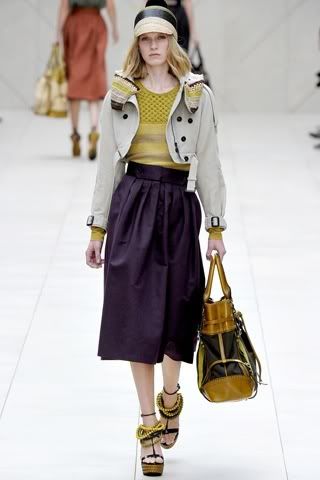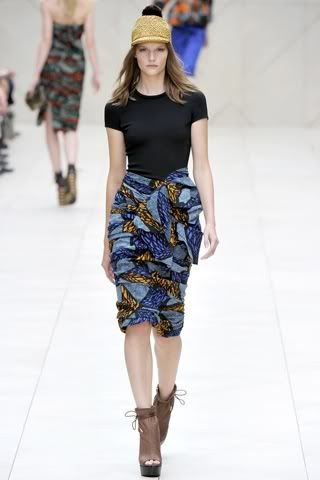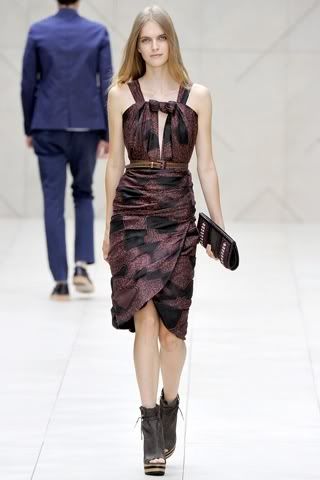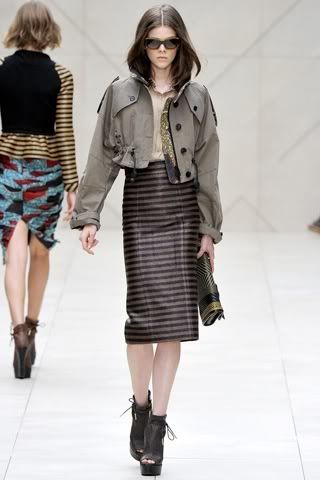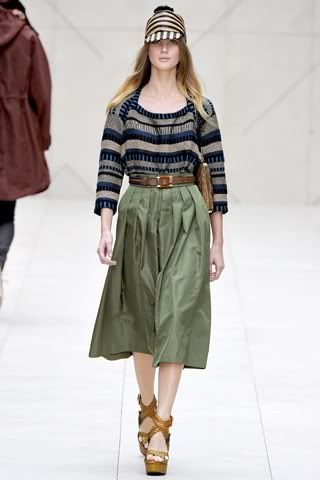 Jonathan Saunders
It wouldn't be spring/summer without some pastels, right? (Sigh.) But Saunders does ombré pastels and fit-and-flare dresses and cute knits and unusual colour combos. I mean, he even manages to send out a glittery/metallic-y green pencil skirt than I don't hate - maybe it's the fact that it's a pencil skirt and not a shapeless sack; maybe it's the styling, but if it makes me enjoy metallic-y things rather than balk at the cheapening effect, then it's doing something right.
LOVE IT.
Hats = great.
Skirt proportions = awesome. (Proportions on everything = also awesome.)
That shade of green = wonderful.
All pink outfit on model with pink hair: fantastic. (Really want the dress despite slightly dropped waist...)
All white outfit on model with pink hair: stunning.