all pics from catwalking.com




the finale!


Jodie Richardson's collection was heavily menswear inspired and heavily grey, with tiny hints of colour (check the socks; the top of the lapel on look one...if you could see the linings, yknow); and very swishy. yeah, swishy. the long skirt over trousers of look one swished well - i think they'd slot right in to, say, YSL resort, or similar...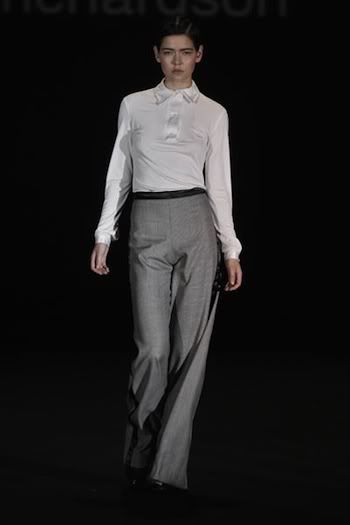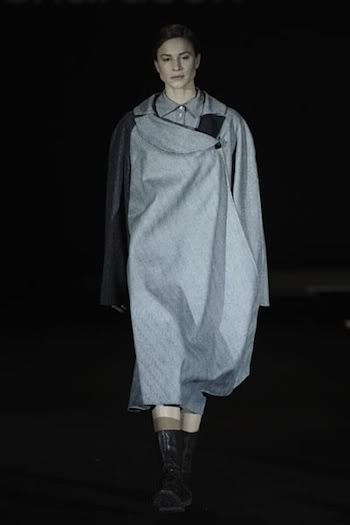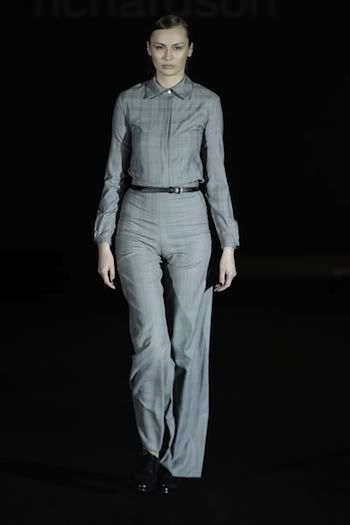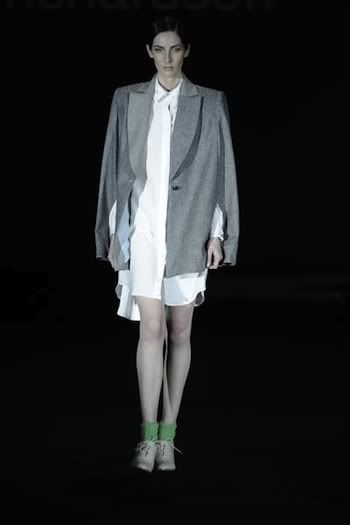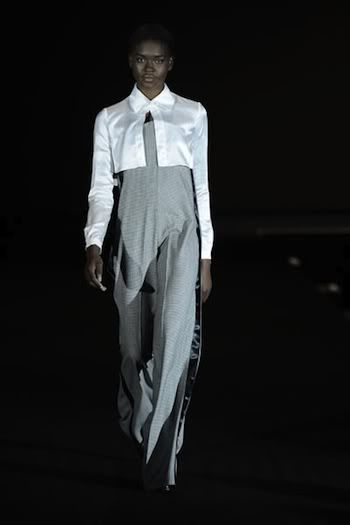 Katherine Gadd (this is what i meant, the other day, about calling people by their proper names. Kate, dammit.) did menswear knit - a very wintery (scarves!) and rather feminine (rather than butch) collection. love the coats, especially - felted wool?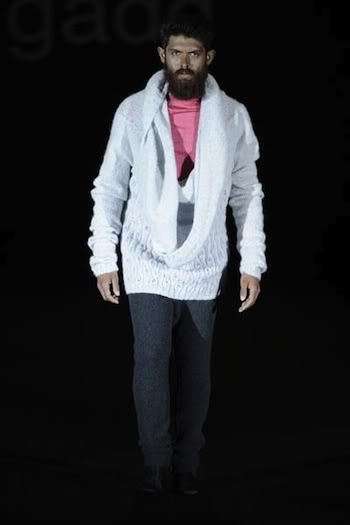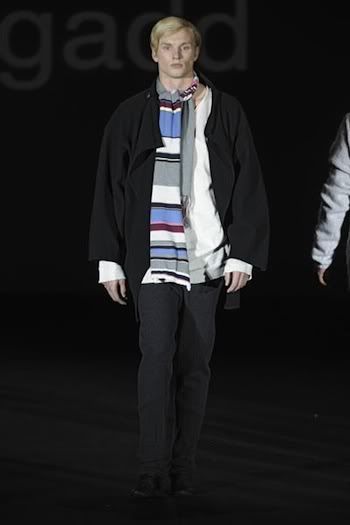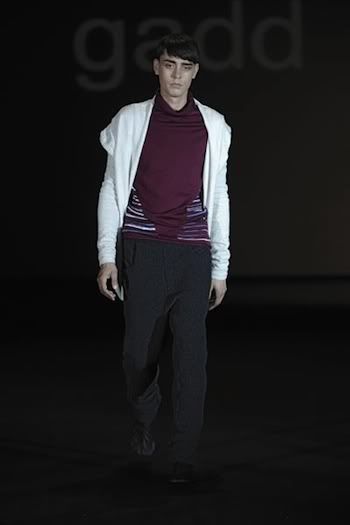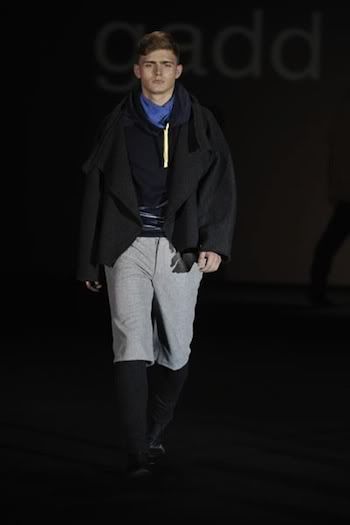 Laura Jane Bailey chose fantasy realism as a starting point and looked at Pan's Labyrinth*, then done a load of crisscrossy bits that you'd never find me attempting - far too fiddly. she does like her detail, does Bailey.
*she'll probs kick me for saying that cos she keeps getting annoyed at people mentioning 'Pan's...' but dammit, it's the only concrete inspiration; everything else is conceptual.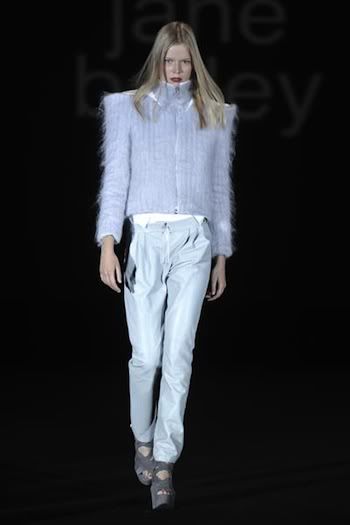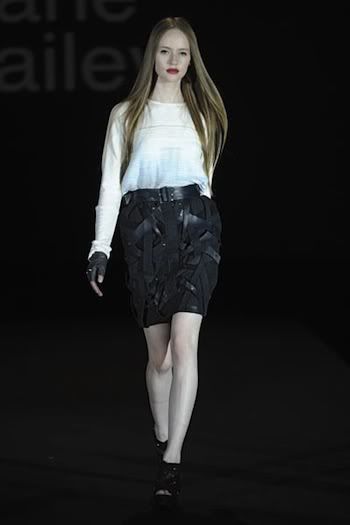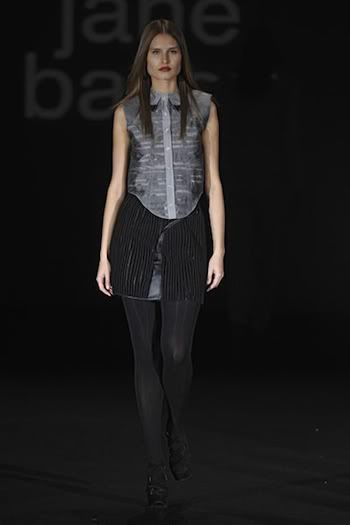 Harriet Deva Ferris - you might see that i've left out most people's middle names, but i find Deva is far too fun to omit - joined in the harness fun (see look 4) and partook in some smocking and gathering and lots of bashing holes in leather to create 'La Belle Epoque' (one of the only other 'official' collection names I can remember) - inspired by (please correct me if I'm wrong, Harriet) 18th century french style. her collection detail shots are some of the most interesting of anyone's, so i couldn't not include some: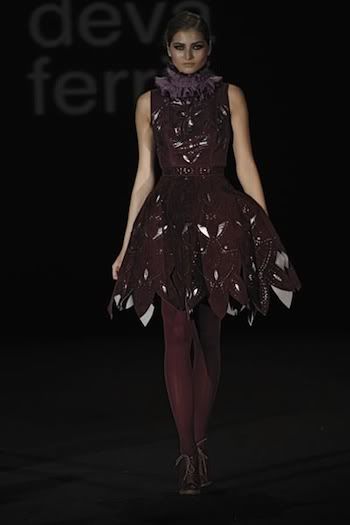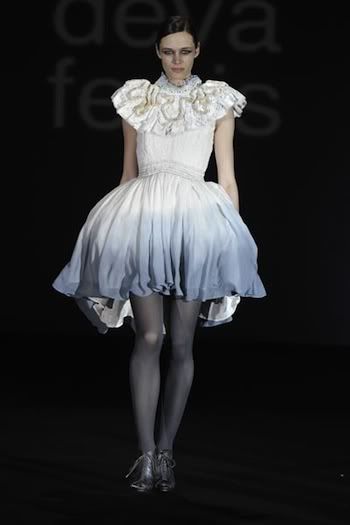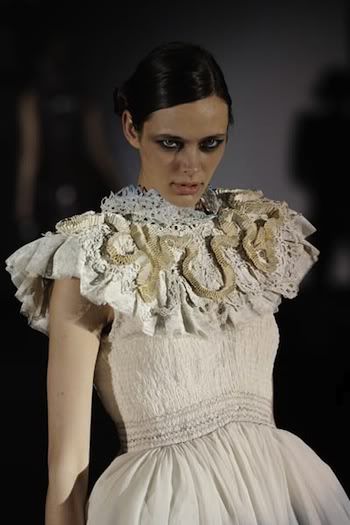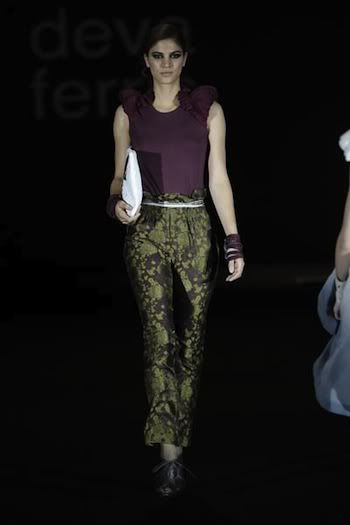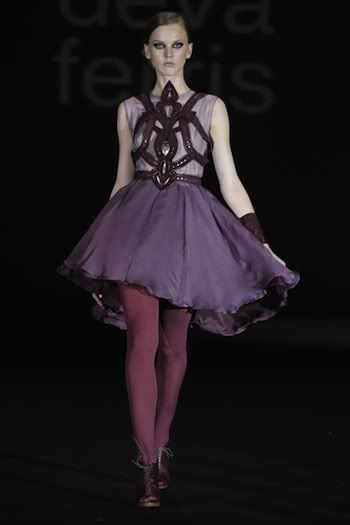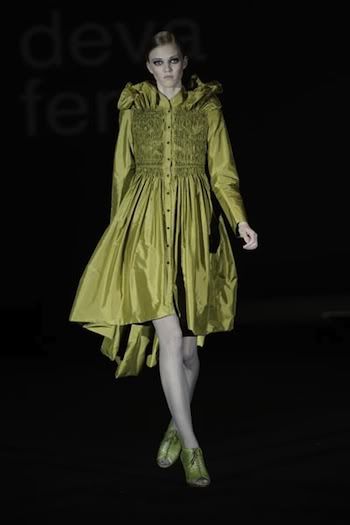 Emma Dobson's (much publicised) £4-cost upcycled collection was inspired by Edith Beale of Grey Gardens (Edith Beales; plural?), and she recycled fabrics - whether given, donated, or found - into gorgeous high end pieces. check the fur coat. my favourite pieces are actually the turbans; made from cardigans in true Edith style.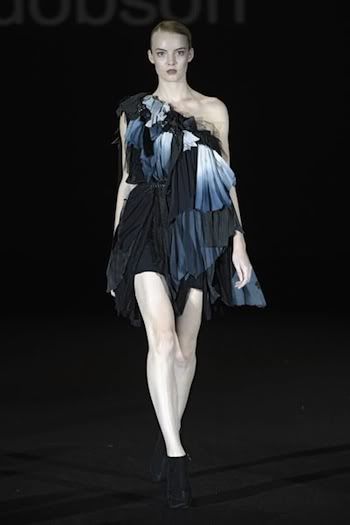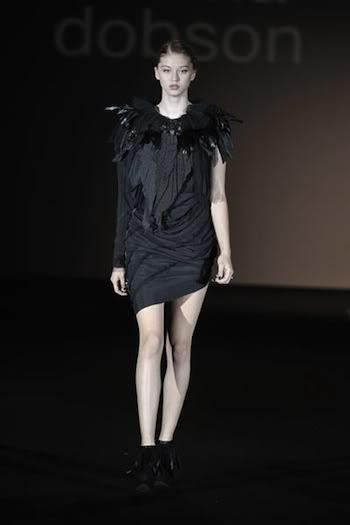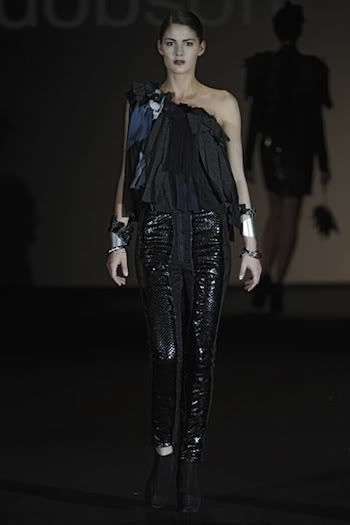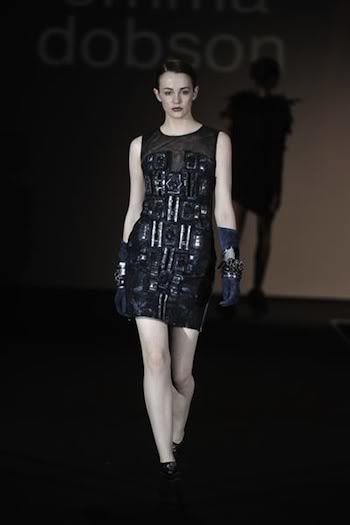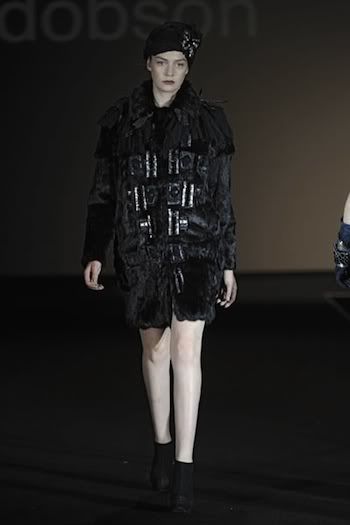 Charis Younger was also on the harness train; though in the leather stakes she really wins hands down (LOOK AT ALL THE LEATHURRR). 'The Human vs the Machine' made for lots of metallic/leather (often metallic leather...) details and lots of sweeping chiffon - most of which was printed and pleated. the finale dress moves so wonderfully, it's a shame i haven't got a video for you.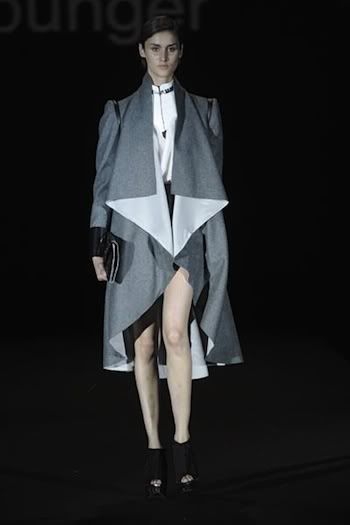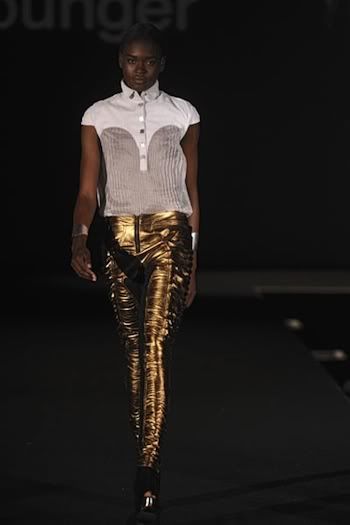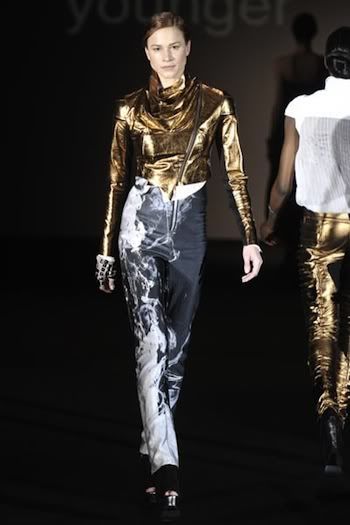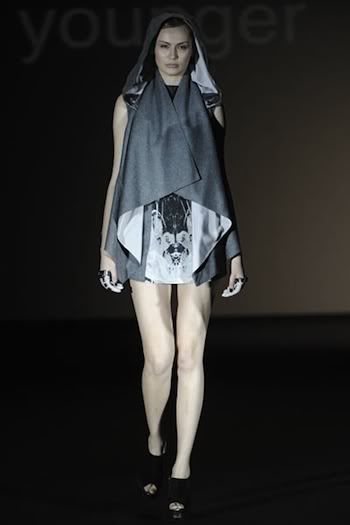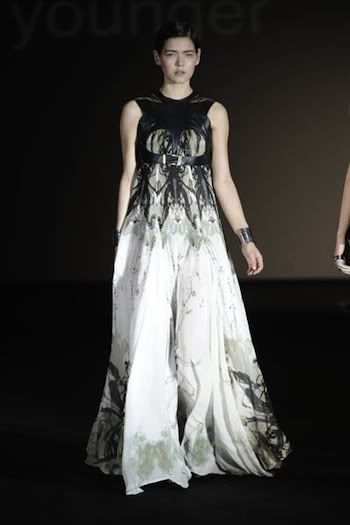 Carl Illingworth, as you might know from my twitter feed, is THE BOY. not only did he close our show, but he also got his badass collection into the gala show. to list my favourite things about Carl's collection would just be to list every piece, so i'll just let the pics do the talking. polka pearls are gonna be huge next season.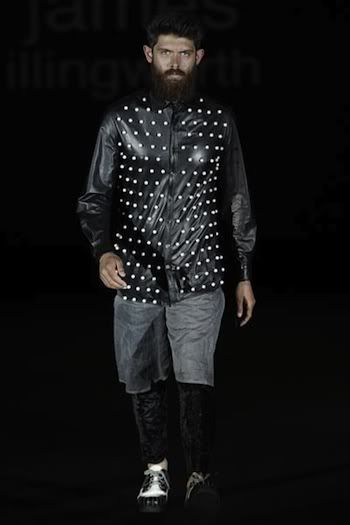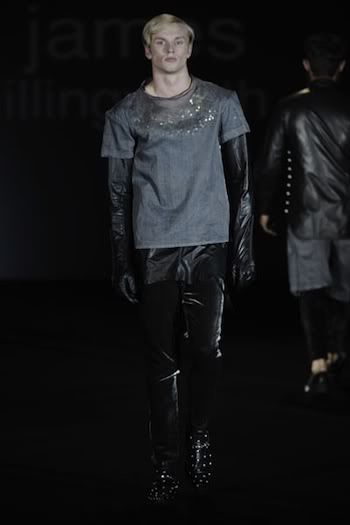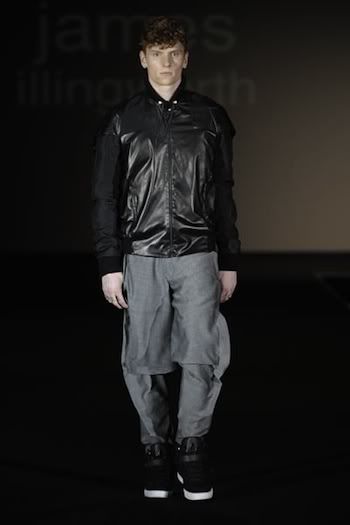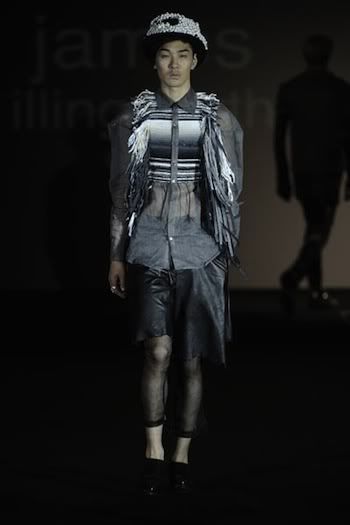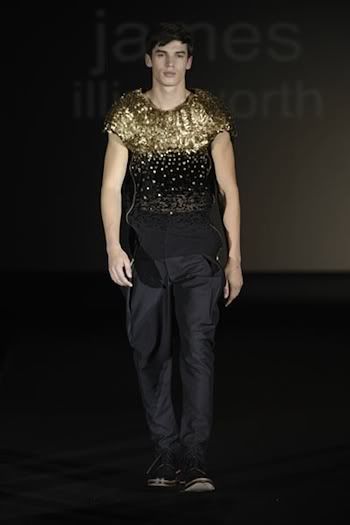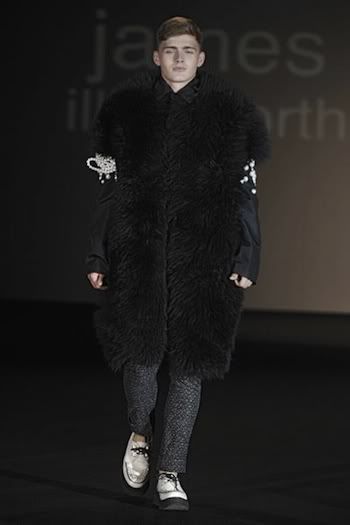 if you want to contact anyone from Northumbria (including me, but my
email is to hand on the sidebar there so...) I'll be able to get their contact details - do get in touch.
song selection!
laura's, harriet's, emma's and charis'.