there were some from our class who didn't make it to London - some inexplicably - but that doesn't mean they're not getting a feature. what it does mean is much worse photos, sadly (my tipsy/blurry/questionable camera work, soz). i might go back and add my blurry newcastle photos to Eva, Marielle and Jenni but I fear it would be doing them a disservice. if only i had catwalking.com pics for everyone at Northumbria!
i'm annoyed (this is going to be a theme with this post) that you can't see the silhouette properly, except on the first jumper, because it was fantastic. the big shoulders were in the trench coat and the blazer, and the cut of the blazer (you can't tell the shoulders are particularly interesting from the front...) is stunning.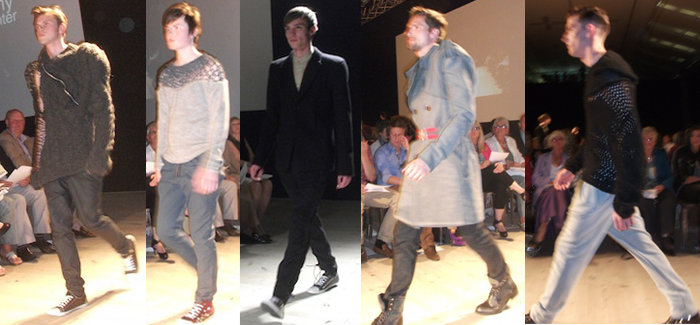 Clare Marshall
pirate themed; clare's stand out piece for me with the floor length silk number in the middle, which moved beautifully.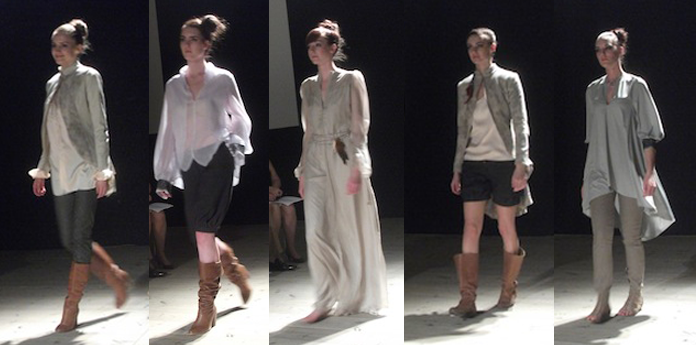 Clare Murray
glastonbury/festival themed hippie stunner
(appropriate if you've ever met clare, or indeed, seen her from a distance)
.
i'm putting in bids now for the floral blazer and the leather embossed skirt (look 3 - so sad you can't see pattern on the skirt; it's stunning) but i'll leave every other wonderfully patterened and sequinned piece for the rest of you to fight over - floppy flares, floral panelled cords, sheepskin shorts and massive floaty sleeves for all!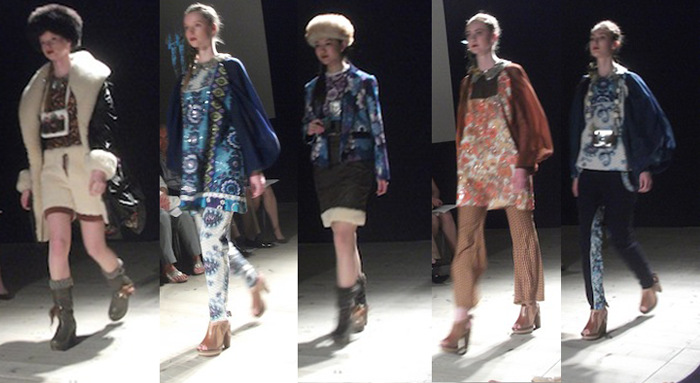 Elsa Bajracharya
did some fantastic knitwear - absolutely adore the skirts, and her use of the back of the knit so it's all loopy and textural.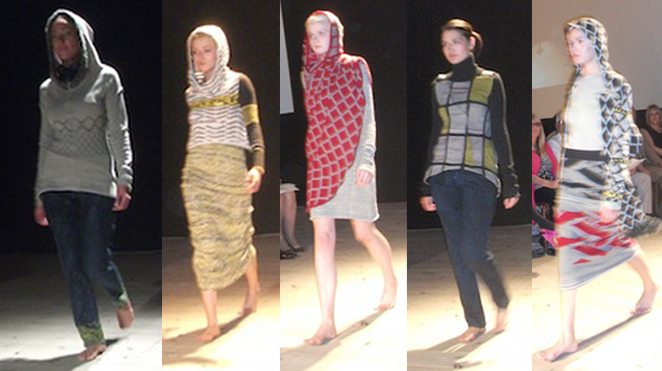 Emma Gosling's 40s romance themed collection was vintage-y heaven - some gorgeous details (embroidered triangle situation above the pleat on the first skirt, if you can make it out), but it's the last wide leg trousers and their glorious V shaped waist which were the standout for me.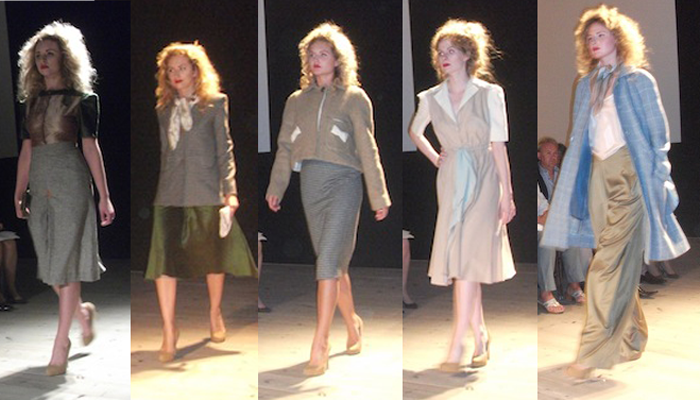 Jennifer Smith's collection was both sporty and feminine - in jerseys and denims but with 'flowers' everywhere; really making an impact. incase you can't tell, her theme was to do with matadors.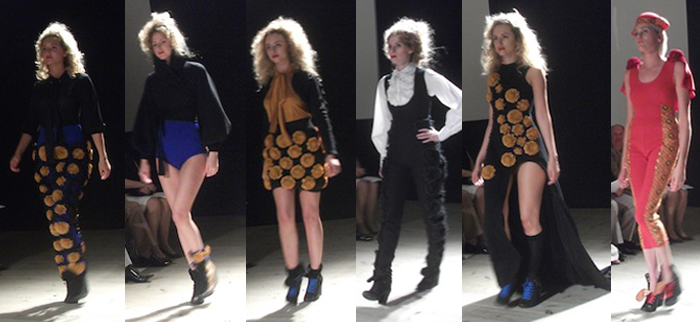 Julia Price mixed print, leather details and macrame (that first pink top was wonderful) into a really summer-y, exotic collection: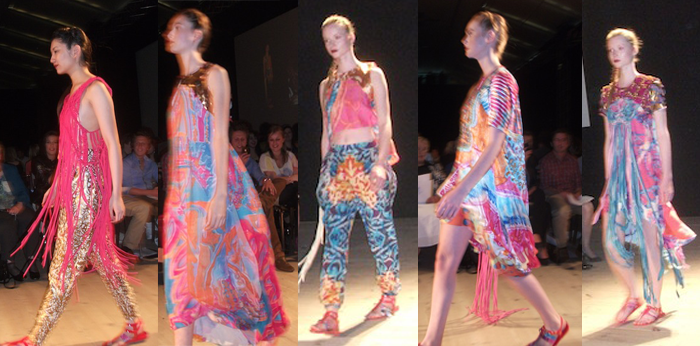 Lesley Ford
one of my favourites of all of our class for styling - so quirky, from the socks and shoes combos to the umbrella and the puppet. so sad i don't have a picture of the back of the last dress, with its line of buttons all the way down!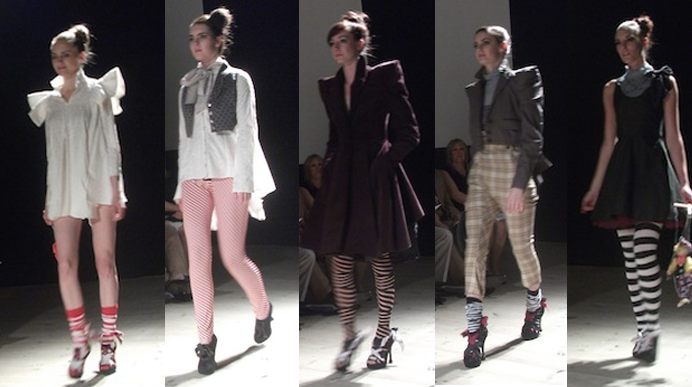 Laura Mees Harris, i apologise for missing an outfit (camera took it too early; and then refused to take another 'til the model had moved on..). her biker themed collection had magnificent leather details mixed with plaids throughout, and the last look was a leather jumpsuit (which model Carl rocked like his life depended on it. what a lad.)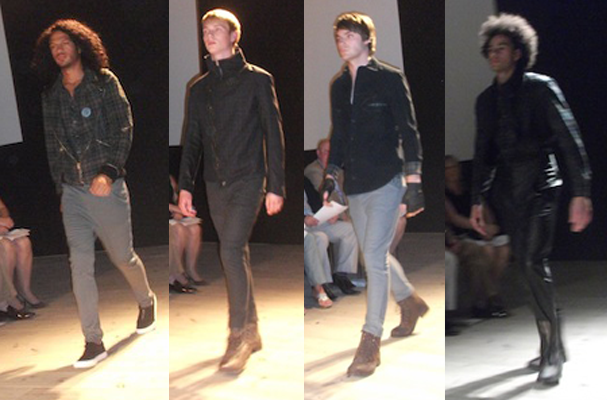 Scott Neil's collection was like the boyfriend to mine - military, cool, bit knitwear...i could kick myself for not having a good pic of the last outfit (the astonishing hand knit - by Scott - jumper and the kilt), but 2 questionable ones, i hope, make up for it.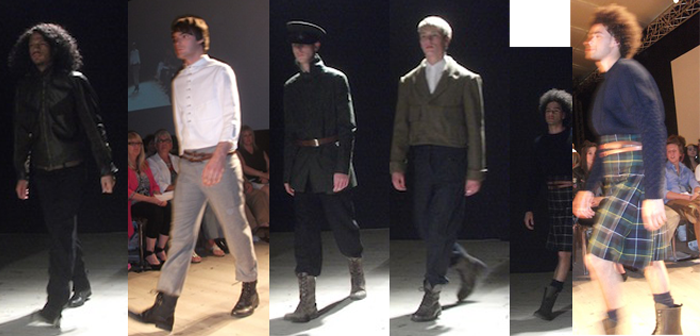 and finally, Yan Zhang's feathers and fringing and big floaty skirts, in which the second look really stands out to me.