hit it.
knife pleated skirts and interesting florals at karen walker. what i like about this season thus far is that florals are still here in a big way, but they seem to be toned down; given a slight harsh or gothic edge, or distorted somehow. these muted photographic prints against a grey-beige background mean the froth-factor is turned right down. there's something really retro about them, but the cut and styling mean they don't look like vintage pieces. adore the colours too; lemon yellow and royal blue against grey marl is a wonderful combination.
the dresses at rodarte were a little /too/ 'little house on the prairie' for my taste (the gathered panels from the knee and ditsy prints are the culprit, i think, though the weird collar situation in #4 is cool), but the coats are all beautiful. i don't recall a previous outerwear-heavy rodarte collection, but there should have been one if these full length beauties with crossovers, cutouts and double collars are anything to go by.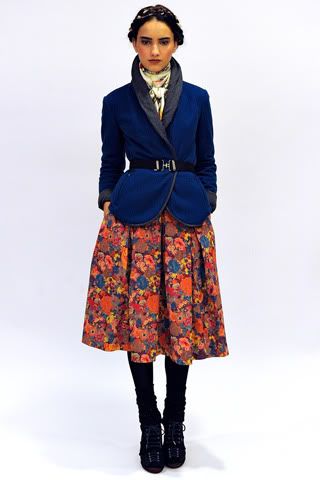 and finally, this
rachel roy
look is adorable (and so me).