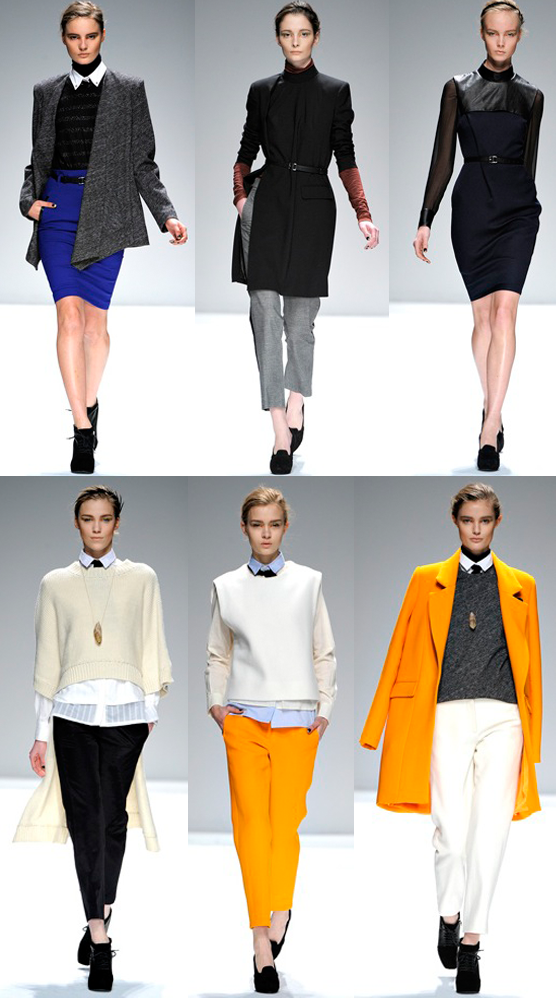 there's so much to like at
yigal azrouël
- elsewhere in the collection, brightly coloured separates clashed in the vein of jil sander, and shades of fuschia were to be found*, but above i've picked out the royal blues, the panelling in mixed textures (bit leather, bit chiffon) and some looks with fantastic layering. wonderful cuts all around.
*seems fuschia is one of the colours de jour this season, along with the aforementioned royal blue - both much appreciated.
and at 3.1 phillip lim, there are contrasting leather or studded sleeves abound, and fantastic accessories including the interesting cut on the court shoe. i appreciate an interesting take on a court shoe. the strappy sandals are a little too stiletto - a chunkier heel is always best* - but the straps themselves are nice (love the centre toe covering. not a covered toe, not quite an open toe).
that salmon/grey/blue colour scheme in #5 is gorgeous.

*at least from a comfort pov. is the wind changing? are chunky heels moving out and stilettos making a comeback? despair.
accessory shots from vogue.it