bit late to this one, since the ADAM show was a few days ago, but it had been bookmarked since it popped up on style.com...
there was something about this show that made me grin, and i'm gonna go out on a limb and call it a premonition. a style premonition, if you will. in that, somewhere between the topknots, the leather, the cropped jumpers, the collared shirts and the high waisted trousers is the feeling that this will be my wardrobe in a few years.
it's not quite me yet - note the fuller topknots, for starters, but also the slightly more grown up and sophisticated feel (but still
young
, of course).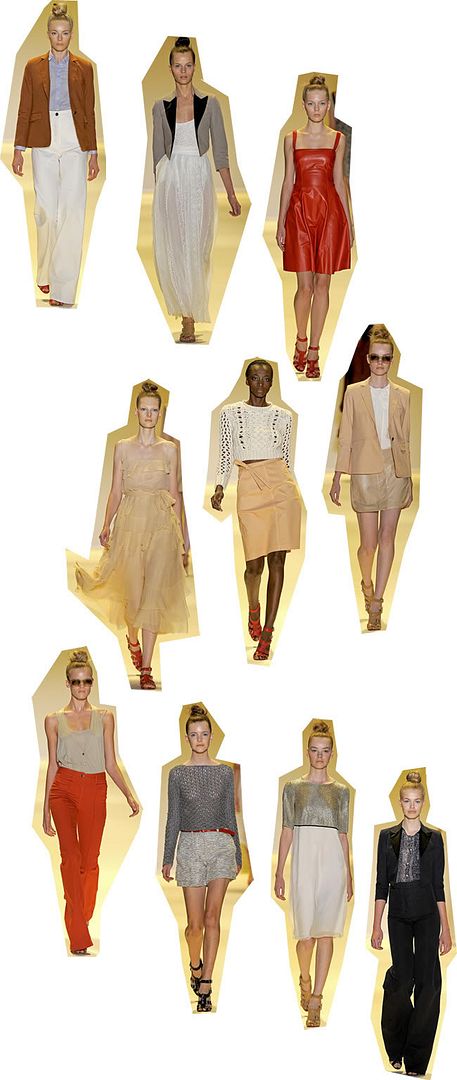 i mean, it's a simpler me, but that's what i mean. me in a few years, when my style has (maybe) evolved into some kind of chic affair rather than a slightly 'grunge-y', worn, rough around the edges look.
...which is, i think, the main characteristic of british style. nothing is too polished, right? which i guess is the thing here. this is new york me! this is polished and neat in a way that i could never be right now; it's just not in my nature.
this was rather less of a review and rather more of a "CAN YOU IMAGINE ME IN THESE?! I TOTALLY CAN!!" post, but really, look at 'em! great colour palette, great proportions (i can't resist a cropped jacket), and the epitome of new york style, which i am constantly drawn to yet can never quite simulate in real life.
also, a note to the red leather dress: oh how i regret forgetting when your vintage counterpart's auction ended on ebay, subsequently missing the end and losing out on the perfect cherry red number going for about 12 quid. sigh.