today is a slow day; a day when i am not doing much of anything, even though there are so many things i could be doing. currently watching come dine with me, and i haven't seen this one before, so it feels like an achievement.

something i've been meaning to write for a short while now is a little about some of the blogs i read - i am, as one would expect, a fashion blog reader first and foremost, but there are others (or ones that aren't just about fashion) that i hold in great esteem.

the way i follow blogs is pretty much broken down into categories too - those i follow purely for the pictures are confined to bloglovin, where i can see the pics and view the blog if the thumbnail catches my eye...
pictures

if not for my personal style, then for my sketchbooks and design work...
the point, readers, boils down to "here are some great personal style blogs, yeah?"

-
another day to dress up
is quirky and often vintage-y, which i guess means she isn't averse to wearing a turban, is a fan of a 70s-esque dress, and she wears trousers well. i'm in a trousers mood today, so anyone with the ability to wear trousers well makes me smile.

-
zoë cullie
or 'haiku ambulance', as my browser tells me, is another good-trouser-wearer. also headscarves. of all the blogs i read, hers is the one that speaks to me and inspires my personal style more than any other. i mean, while i might greatly admire the style of, say, queen michelle (scroll down, scroll down...), zoë's style is much more 'me', in an 'if our wardrobes got mixed up somehow, i think i'd be fine with that' sense.

-
stylorectic
is a lot more 'here's a bunch of similar pictures of me in an outfit' than the others (the type of blog i rarely find enthralling), but her use of scarves, sequins and leopard print is enough to keep me entertained. that, and the fact that she's pregnant right now and hasn't given up any sense of her style.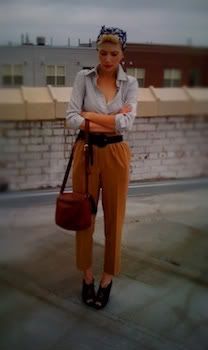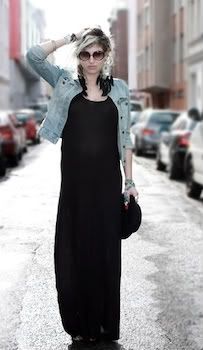 pics from another day...//zoe cullie//stylorectic
------------
words and pictures

from here on in, my google reader contains inspiration, but also, sometimes, things i do care about reading.

-
outsapop
is your one stop shop for diy inspiration. if you're a diy-er or a designer of some sort and don't already follow for inspiration or otherwise, get on it.

- of the "big blogs",
kingdom of style
is my pick over, say style bubble. while susie's style is awesome and all, she's sometimes a little overly girly in the designers she posts about, and i'm more interested in purveyors of leather, chiffon and feathers in neutral shades than i am those of pastel fringing. that, and queen michelle's personal style is awesome.

-
ganymede kids
is a recent addition to my reader, and i haven't much to say on it thus far, but there's a nice mix of wordy posts and photo posts. the right balance, i think, and a balance i hope i strike here...

- ...whereas
nice & shiny
is often quite picture heavy, but also relevant to my interests. Kylie shares my thrift-love more than most, and has awesome hair.

- i promised myself i wouldn't pimp out my friends too much, but since Ana is the only one who both a) does fashion-y things and b) posts once in a while, you should definitely look at
one fabulous thing after another
, even when there's some crossover when she's in newcastle.

- coincidently, we're both fans of
white lightning
. i don't know what it is about WL that i love, but love it i do.
------------
words

as one might expect, this section contains little in the fashion arena (though it is not a fashion wasteland, nono)
the blogs in this category are the ones i actually read - where as others are sometimes skim-read or flicked through depending on post, these ones are sitting back in my chair, slowly sipping my coffee, nodding and laughing at appropriate sentences type reading.

-
tom & lorenzo
, aka project rungay is a tv/media/fashion blog all rolled into one. as a fan of project runway, mad men, lost, and bitchy gays, this is in my top blogs and probably always will be. the one blog i read in a different way to the others (
as the posts are published, as opposed to first thing on a morning over coffee and breakfast
), T&L do some mean red carpet judgery, and have opinions about a great deal of reality tv. their 'mad style' pieces are like costume psychology on the women of mad men and are a great read.

-
the man repeller
is a blog i recently fell across but is completely relevant to my interests and probably yours too, if you're a fan of fashion first and attracting a man second.

- and i found that blog via the medium of
godammit
, my one stop shop for ranting and what i like to term 'random hate', in which one might display a completely unprovoked feeling of hatred for an individual. ok, so, hate is a strong word but 'random dislike' doesn't sound as good. anyway, sister wolf's 'comments for jane', directed towards the
sea of shoes
blogger, and her general disdain for the niche of vacuous, 25-pictures-of-the-same-outfit type bloggers sits right with me.


-
nogoodforme
is a blog i've championed for a very long time. i've been reading for about a year (...?) but i'm plugging away again if purely for newish feature 'DO AS I SAY' (...not as i do), in which laura jane (one of 3 ladies writing for ngfm, or a third of the nogoodforme troika, as they put it) doles out advice which isn't necessarily based on her personal experiences. said coloumn is genius because it provides soundbites such as the following:
"There is no point in maintaining relationships, romantic or non-, that overcomplicate your life. Complications will arise in any relationship, but I think it's very easy to tell when a relationship only complicates things. Those relationships are bad relationships. They are not relationships. They are simply "ships." Sink those motherfuckers."
- i keep banging on about
men i wish i hadn't slept with
, but it really is a fantastic and hilarious read and if it takes you 5 links to click on it and read then it takes 5 links. between the one liners and the parallels to either my own life or that of my friends, this could be written by someone i know.


- which is where
i heart ncl
steps in. northerners should almost definitely click and read and follow, but everyone should take a gander - not only because my upstairs neighbour aaron is the author, and he has a way with words, but because a blog about life and love in newcastle is a great idea. also, he started it merely yesterday and has already done 4 posts, one of which is a lil' interview with yours truly, which will, apparently, be a regular feature. with other people, of course, not just interviews with me. i have high hopes for
i heart ncl
, primarily because i haven't seen him this excited since he found crusty bread on sale at morrisons.
perhaps you've found a new favourite today; perhaps not. perhaps your favourite isn't represented and you think i should read it. perhaps you should leave a comment.