according to twitter just after these pics surfaced, there are very few fans of Miss Selfridge's A/W collection.
now, while some of the clothes weren't to my style (miss s is often too girlygirl for me), and some of the shoes raised an eyebrow (lots of open toes and a pair of clogs. clog-inspired boots for a/w = good, actual clogs are a little...summer-y, non?), i'm actually quite a fan.
or at least, i'm gonna get on the defensive.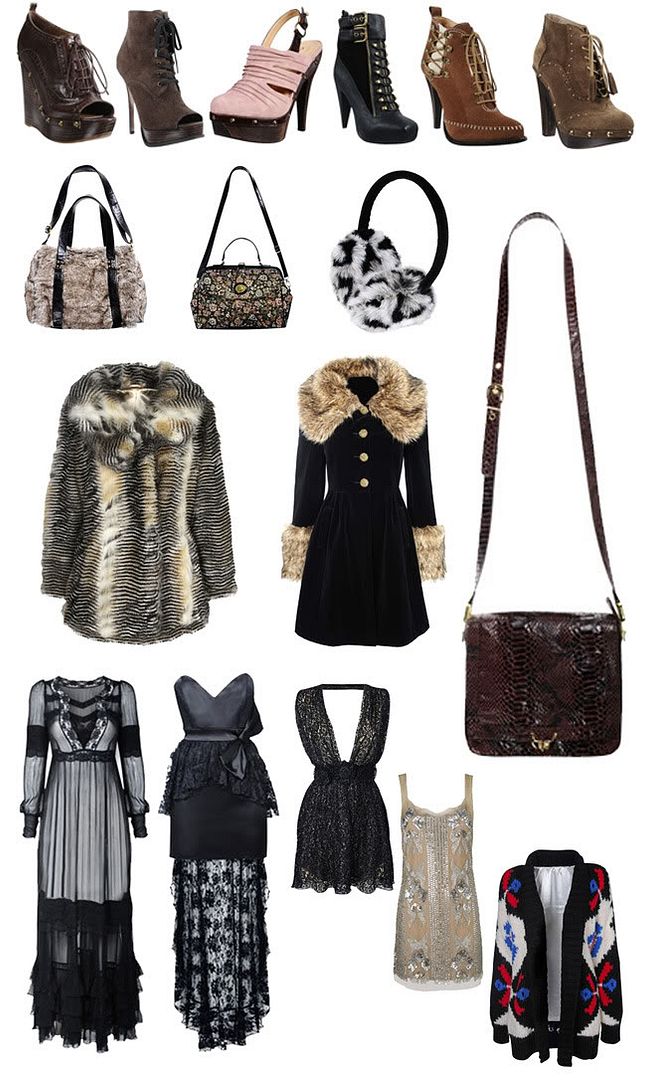 the shoes: come ON! wood (effect, i assume) heels and plaftorms, big brass effect rivets, lots of laces and buckles?
there were some heinous boots, yes, but these are all solid pieces (partics pairs 1, 2, 4 and 6). dark brown peep toe wedges with brogue detailing? very similar to my betty jackson ones, so i wouldn't buy them, but sweet-ass none the less.
accessories: leopard print ear muffs. i don't think i really need to say more.... i shall be wearing my fuzzy black ear muffs this a/w, though, huh?
these bags are all pretty cool too - all with that 'vintage' vibe, though the furry one reminds me of Giles' collection.
as for the fur coats - the first is so similar in colour, shape and size to my vintage one that i can't help but love it, and the coat with the collar and cuffs is similar to the one i'm slowly diy-ing (looking for a vintage fur collar to attach to it in a similar colour/shape to the miss s one; no lie)...
the clothes themselves are weaker, probably, than the accoutrements, but still with great potential.
ok, i'll give you this, the second dress is a little.....hmm. but imagine the middle skirt layer also in lace - a full bodice and a tiered lace skirt. not too dissimilar to the
asos dress i loved from yesterday
?
ok, so, it's NOT like that, but it's not quite as bad as the 'twitterworld' seemed to suggest.
as for the first dress (and the other 2 dresses + cardi, but not as much as that first dress) - ace. i assume/hope it's sheer - floaty perfection.
while i might not rush to the shop when this collection launches, i have a feeling the end of season sale will be a treat and a half for yours truly.