these Carin Wester wedges have been everywhere.
if you read a number of blogs, anyways.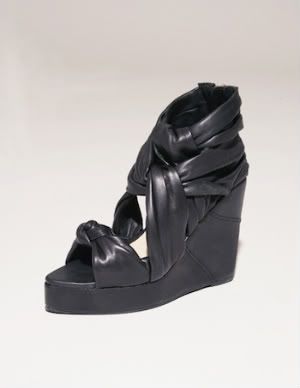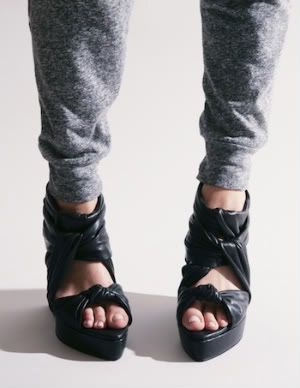 but of course, they cost MANY MONIES.
(also; they are mostly sold out.)
i'll give them this, they look pretty comfy. but the price tag is enough to stop me even considering them. and i'm not a fan of the toe shape.
so then, i went into town yesterday to buy humous from M&S (because it is the best humous ever) and pay a tenner off my topshop bill.
i came back home an hour later with said humous but without having any less to pay off my topshop bill, and with £22.50 less in my bank account. but i did have these shoes.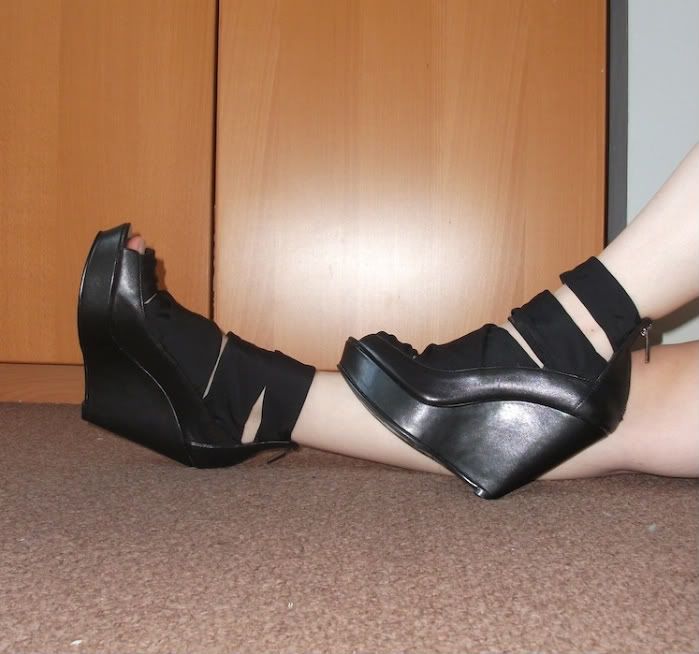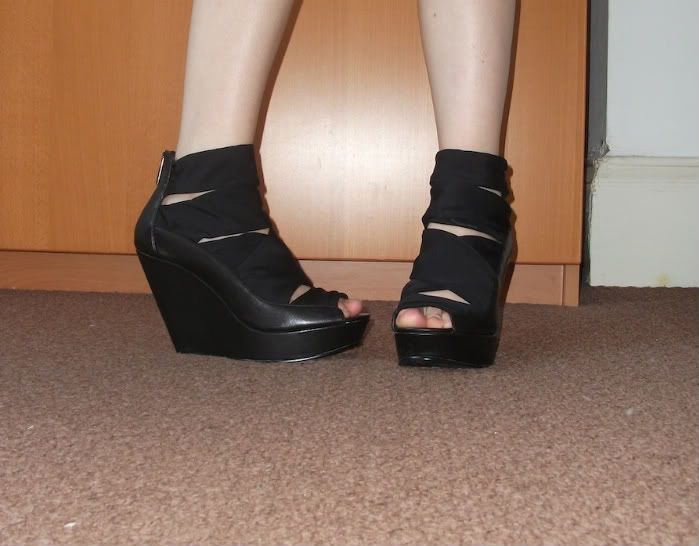 something a little familiar, non? but a) considerably cheaper and b) with a nicer toe shape. also they had hundreds of pairs in the sale for 25 british pounds-a-piece. (oh, they're from oasis. which happens to be right opposite one of the entrances to eldon square, and has massive sale signs in the window. godammit, i had resisted the sales so far.)
anyway, they are the comfiest shoes i've ever owned (as far as i am, so far, aware) and i stomped around the house in them all afternoon.
for said humous-and-shoe-shopping, i donned some velvet and cycling shorts.
i know what you're thinking. AWang, AW10. but lemme tell you a story, about this dress.
err, i bought in in 2008, at a charity shop. it was long-ish. i shortened it, and wore it for my 20th birthday night out (oh dear god that seems like so long ago), and some times since, and it's one of my favourite dresses despite my disdain for velvet and the lack of purple on my wardrobe. the zip broke late last year and i forgot about until last week, and i fixed the zip and had to wear it posthaste.
it now creates the biggest cleavage ever, yet has a tendency to slip down. i don't care.
as for the cycling shorts, they are PRACTICAL. such things are necessary for cycling in when you were such dresses.
...also they are from H! by House of Holland. and were in the sale.
maybe i did get drawn in by the sales.
did i mention they were practical?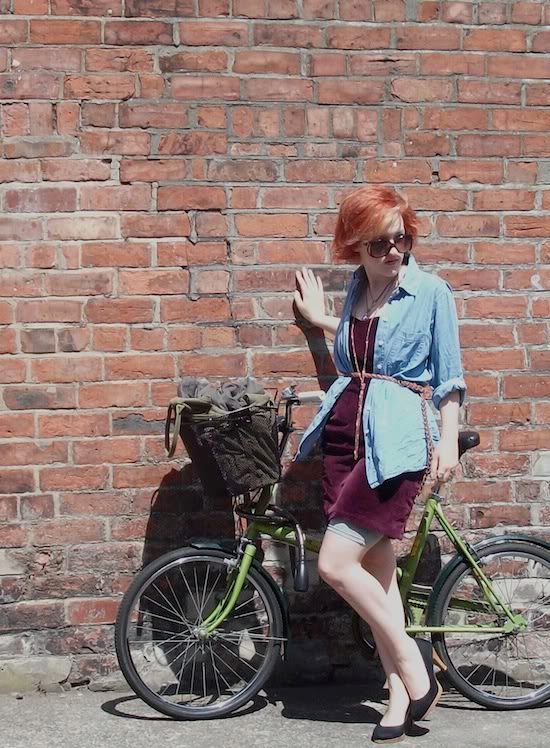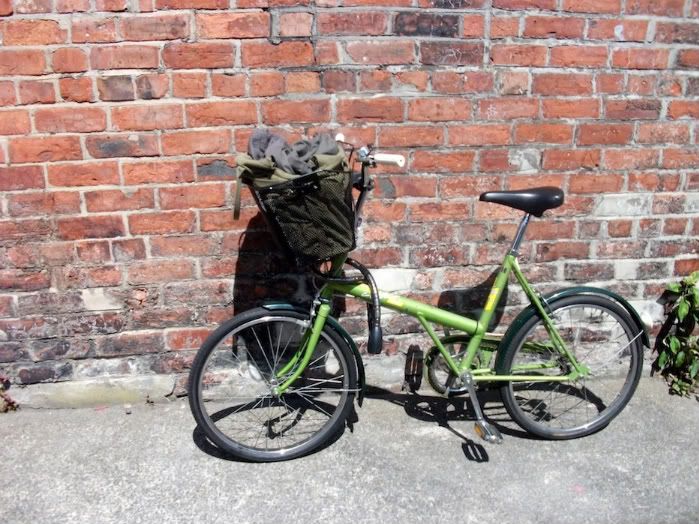 it comes to my attention that i've never shared the wonder of Freshy P/The Fresh Prince/my bike with the internet. here he is.
this is turning into a long post about nothing, but ALSO here is a coat that i bought in some charity shop or other recently.
i umm-ed and ahh-ed over it but in the end it's green and a nice shape and has pockets and stuff and i have a weakness for coats and jackets (apparently) so at £7 i had to get it. but i also had to shorten the sleeves - every coat i get gets shuffled up to my elbows. even my fur coat. which swiftly falls back down, but at least i try. a bracelet-length sleeve is much more flattering and the cuffs don't get as dirty/in the way (which they were on the orig length so there's another reason for shortening.)
anyways, here's the new coat.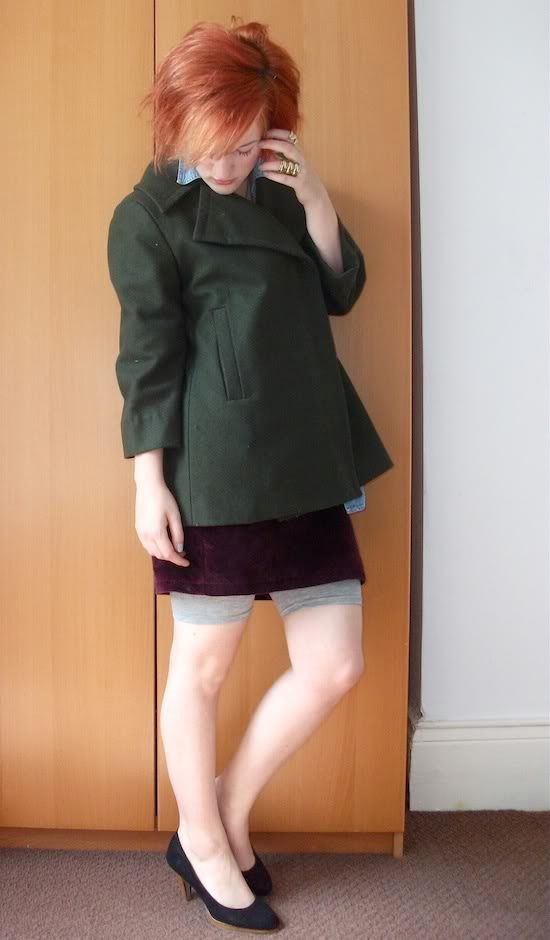 thrifted coat+denim shirt+dress//H&M ring+necklace//claire's accessories leaf ring//vintage short necklaces (??)//
H! by House of Holland cycling shorts//very old shoes whose origin i always forget//primark belt