So hey,
this giveaway malark
is still happening... Click on through. It's a whole lotta fun; prizes to be won. etc.





So I'm mostly not down with this clog trend. I will note that, in my eyes, a wooden heel does not a clog make. A clog is essentially a Croc with a wooden heel, amiright? Yes, yes I am.

Anyways, in the wooden heel stakes, a whole load of em are ugly things.

It occurred to me mere moments ago that if the criteria for being a clog is a wooden heel, I already own a pair - strappy brown leather sandals, as thrifted a couple of years ago...

Anyways.
The point of this ramble was as follows: £90 is a bit steep, but my clog-blindness was momentarily lifted when

these babies popped up on ASOS
.

Look! See! Gawp! Gasp!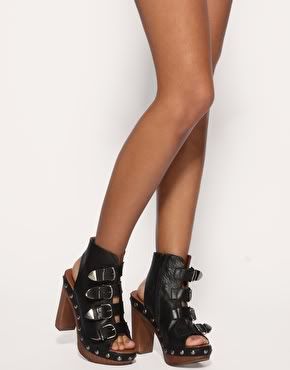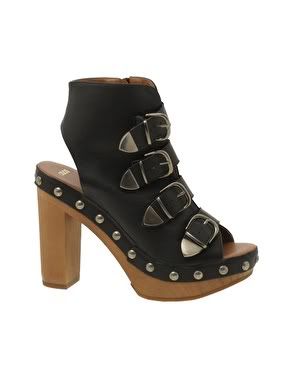 The wood heel/dome stud clog hallmark is there, sure, but it's like they bred with THOSE Opening Ceremony/Jeffery Campbell wedges with allll the buckles and this is the beautiful and chunky and tough baby.
Sidenote: I bought some buckle-y shoes - heels, not wedges - in that ilk in Matalan (!) the other day, and they are orangey/brown and amazing and were £14 and everyone was like "OMG WHERE ARE YOUR SHOES FROM ETC". Yeahboiii.

-------------