Continuing the money spending trend (must stop. must list those things on ebay. etc.), I bought a whole ton of stuff on Thursday, other than the makeup. Herein are some pictures of jewels and jangles, and a lil' outfit shot off of the evenings festivities.
2 x H&M necklaces//Primark necklace+ring
I haven't been to Primark for about a year (It brings me out in hives. Seriously. Can't handle that amount of people. It's not worth it. Not my idea of a good shopping experience.), but popped in to find a new skinny brown belt since the buckle gave in on my old one, and that's where I got it.
Couldn't find a plain one, but then there was a braided one; the only brown one left. Score. Then I found this ring, and that necklace, and a bag, and some tights, and some socks, and before I knew it a £2 was a £16 bag o' stuff. Gah.
Oh hai close-up. And a good shot of that ol' light grey polish.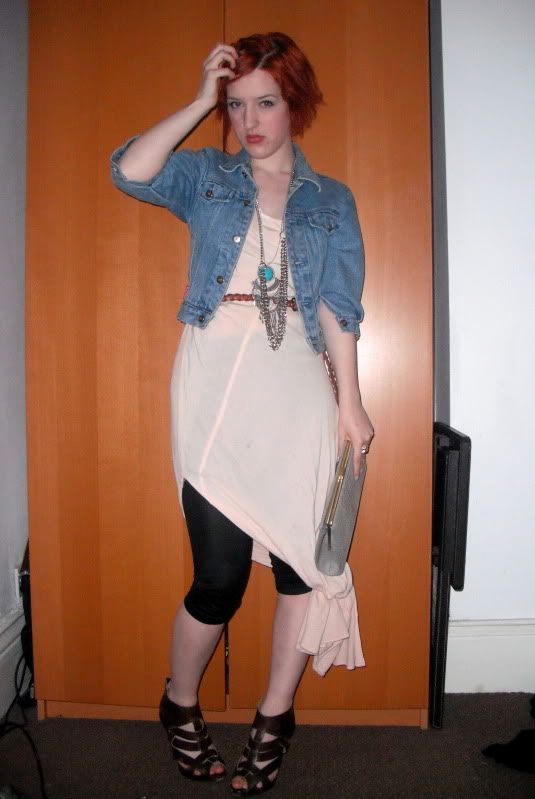 thrifted dress//ebayed jacket//topshop shoes+leggings//primark ring+bag+belt//H&M necklaces
I'm so into hair braids right now. You can do SO MUCH with short hair, honest. You just need to be creative. Although, no top knots. :(
I am now leaving you with the oblig FashionCrew shoe shot.

AND OH YEAH; I've only
got a right old Topshop Makeup giveaway
on, haven't I?

-------------