So, remember that extra post I promised
all up in here
?
Took these photos between getting in (cycling) from the show, wolfing down some food, and going out (cycling) to
Daniel's, which is the only explanation for how shiny my face is...
So of course, if you read yesterday's post (if you haven't go now, I'll wait.
Good.) then you'll know that I snapped up a stripy corset-y number, a cream jacket with all sorts of buttons and a big poofy flowery skirt affair.
What else to do but put them all on together in an attempt to look like a extra in a Victorian period film? (Complete with button detail ASOS boots!)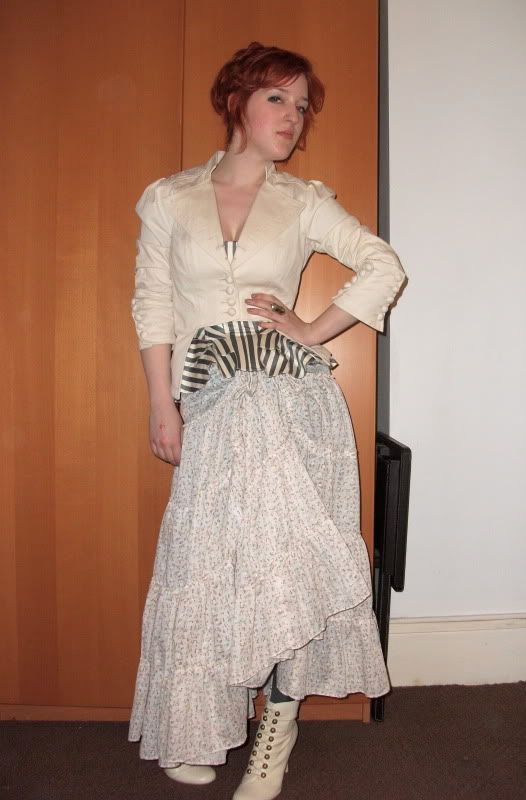 EXTREME POSING ALERT.
I am at a loss as to why I thought my boobs would fit into this corset; definitely gonna either attach some sort of straps or just wear it over stuff...
Since the skirt was the freebie (wahoo!), here's some more posing in it; this time as a dress. It's really rather cool - one drawstring controls the waist width; another pulls and gathers the front so it can be hitched up. You know how I love asymmetry...
Don't mind me, just fiddling with my belt.
Them shoes are the ones I got from Matalan the other day...
The colours and print of the dress remind me a little of these Chanel Resort looks - although, I hadn't seen the collection when I got it. Great minds think alike, 'ey Karl?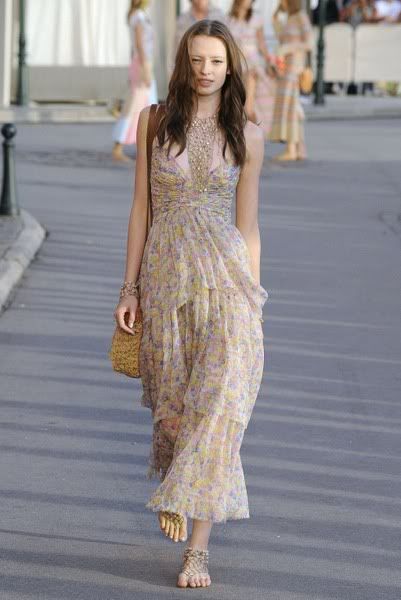 -------------