I've had the weekend to ruminate, and plenty of time to form a full on opinion, and all while it's still fairly new. Topshop's make up range - I'm givin' some away (scroll down!) and reviewin' it.

It launched 5 days ago, with events in the Oxford Street store (and I believe elsewhere? I would assume NYC, too), but without much noise up here... The range is pretty wide; they've definitely got all bases covered.
There's stuff for eyes, lips, faces, nails. There's everyday eyeliners, mascaras, lipsticks and blushers, then there's shimmer powders and metallic eye crayons, and a full colour spectrum of nail polishes and eyeshadows.
Then of course, there's a lookbook.
Yeah I took photos.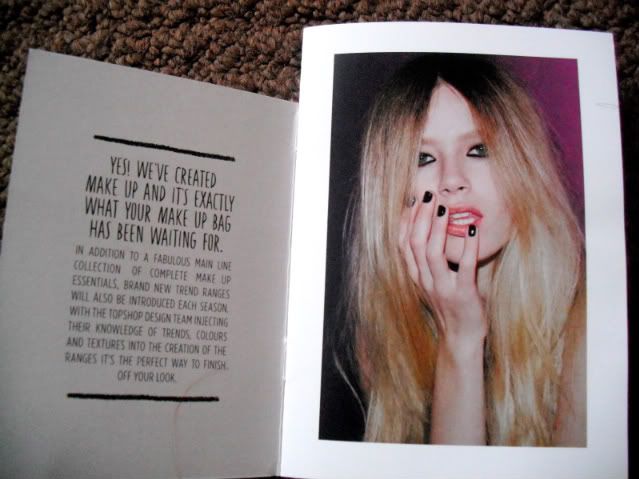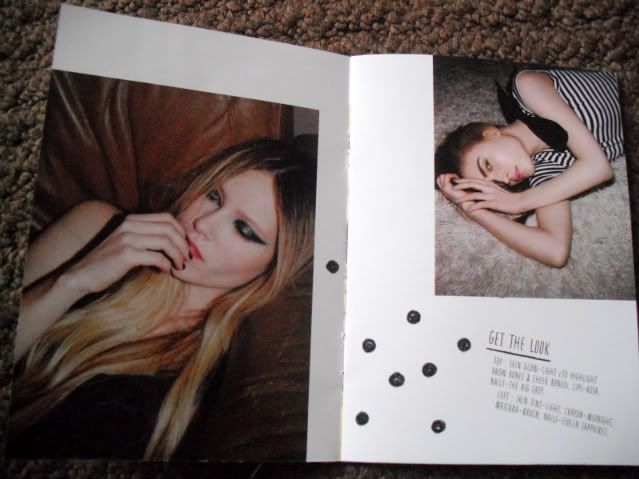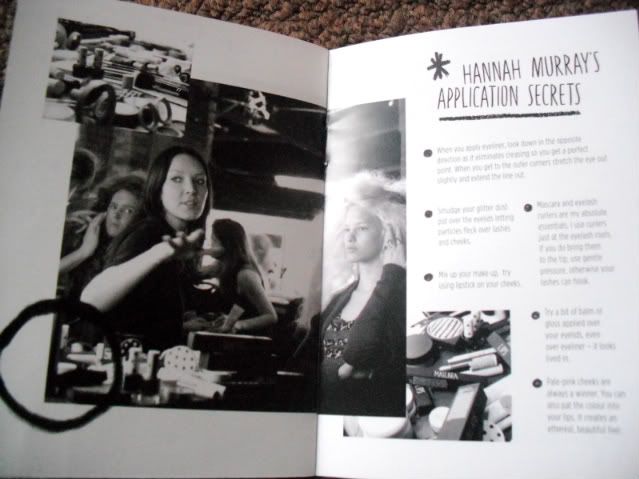 Said lookbook is pretty good, actually. Includes tips from Hannah Murray and stuff. Turns out the range is actually two ranges - one is the Spring/Summer 2010 collection, which I guess means come September/October, some products won't be available anymore but others will take their place?

Anyways, I bought 2 nail varnishes and a lipstick. And I got this bag. Which is a pretty cool bag.



While I was looking for a red lipstick (still am; have been FOREVER), the lipstick colour range is a tad limited, and none of the reds particularly suited me. Luckily, the part of me that wants nude shades left, right and centre was highly satisfied. I picked up the lipstick in "Mink" and the nail polishes in "Hopscotch" and "Nice'n'Neutral".
So popular was "Hopscotch" that 3 of us were wearing it that night on our course night out... (here are me and Bailey, flashing our nails and silver rings. And a more flashy one of my hand.)





Kim bought a darker shade for the lips, "Vamp", as modelled below... (Kim: "I always pull silly faces")





The lipstick is a gorgeous shade and an even more gorgeous texture (though I think £8 is a little steep for a high street range as opposed to a big brand, non?) - it's creamy and easily blend-able, and a lovely shade in a perfect matte consistency. That's a bit of a glowing review, but as someone who is hit and miss with lip-stuffs, I've worn this everyday so far. And topped it up throughout those days. LOVE it. Really glad I chose that shade.




As for the nails....well, I painted them as soon as I got home on Thursday, and it's now Monday dinnertime - and one of my fingernails on my left hand is still perfectly in tact, with 3 others only having tiny chips at the nail end, and the other one only missing a couple of chunks.




I'm missing off my right hand, because it's hard to see through the orange facepaint which is still staining it. Facepainting a number of annoying children's faces all weekend is so very not fashion; darling. That said, it's not too chipped, all things considered.




I guess what I'm saying is, it's pretty good for a fiver.

From what I've seen that other people have bought, the general consensus is "it's good quality for high street stuff", and while I thought the price was a little high, the quality kinda balances it out. You could do MUCH worse, and conveniently, it's right there in the shop I'm sure you frequent anyway.




I've more pictures to post from Thursday night with, hopefully, a clearer shot of my face+lipstick, but this post is long enough, dammit.


-------------


Now for the interesting part.

Not only did I buy these things for me, no no, I got a second stick of "Mink" lipstick, and a pot of the darker grey "Cloud" nail polish, for a lil' giveaway, since I hit 50 followers. :D.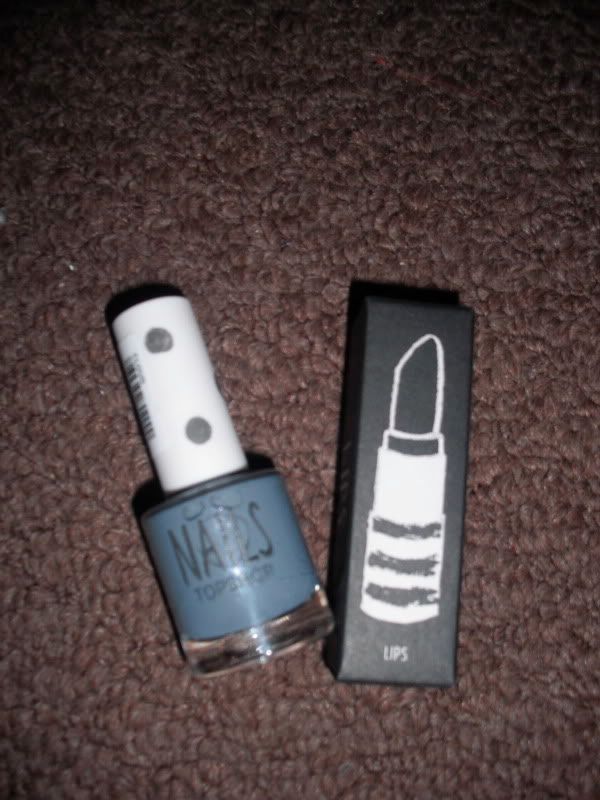 I'll open this internationally, too - to enter, leave a comment beginning with "TOPSHOP" - for another entry, blog or tweet about the giveaway, but make sure to @ me or I won't see it!

You've got til' Friday (14th May!) at Midnight GMT.

-------------