I'd like to show you something, and then I'd like to make some possibly controversial points, and I'd very much like your opinions on these things.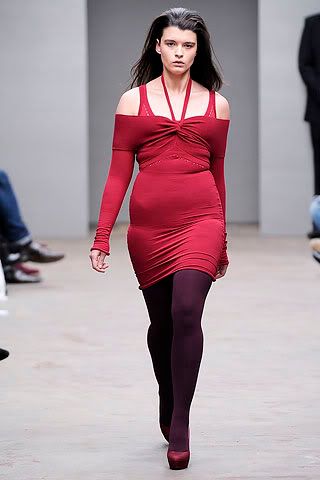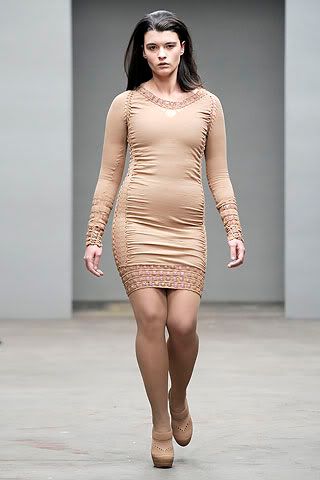 This is Crystal Renn, in the Mark Fast show at LFW.
My points are as such:

Crystal is fantastic - as anyone whose seen the recent shoots in W etc etc can testify. (there are links somewhere within this blog, but I'm sure you've seen them. They were everywhere a couple of months ago.)
The first look does nothing for her.
The second is better, I suppose, but I'm sure there were more flattering looks you could've dressed her in.
I find it hard to accept that fuller figured ladies would wish to dress in such clothing. It's pretty unforgiving. I'd have to be feeling brave to wear them, yknow? Without being of model stature, I'm sure many would be donning the suck-it-in pants in order to go out in public in a Fast dress.
So I ask you - the real people; the readers - would you actually wear a Mark Fast dress??
This is the second season that Mark has used 'plus sized' models on the runway, and as such I don't know whether I can chalk it down to a publicity piece any more (he steadfastly states that it's NOT for publicity). I'm sure he does want to sell his clothes to women of all sizes, and perhaps he is trying to say "hey, look, anyone can wear these!", but this is hardly the message I get from this.
The thing is, this is probs my favourite Fast collection so far (it'll be in my roundup, and I'll say more about it as a whole there, I guess), because he didn't just show bodycon, cutout, stretched pieces, but also more drapey pieces.
And I would think there were other pieces in his collection that would've suited Crystal et al better, and therefore would've a) looked better on his brand and b) made 'real women' want to wear those pieces, in ways that this display hasn't.