It is more than rare for me to rabbit on about beauty products and stuff, because (as you might've noticed) my skin is horrendous.
I figured once I was out of me teen years it'd start clearing up - as it turns out, 21 years and 3 months is, perhaps, the turning point cos my skin is slowly, slowly, clearing up.
Age might indeed be a factor, but actually I'm completely chalking it down to the following:
Lush
.

You'll know about Lush, I would imagine. S'all fresh, and vegan and stuff, and our house is filled to the brim with various Lush products due to one housemate (Dean) having worked there over Christmas and his boyfriend (Richard) being assistant manager at the Metro Centre store.
As such, we get a shitload of free stuff (mostly almost out of date fresh face masks and stuff, but yknow), and discounted stuff...
Ignoring the huge amount of bathbombs/bubble bars in the bathroom, I've been using the following.

For the face; Cupcake facemask & Greased Lightning spot treatment
Despite feeling a bit racist/like Roger in Mad Men (blackface episode, anyone?) in cupcake; and despite smelling like cocoa for the rest of the day, this shit is good, yeah? GL, too, dries my face right out, takes all the redness out, etc. My skin hasn't been this good for years, and I only discovered GL last week.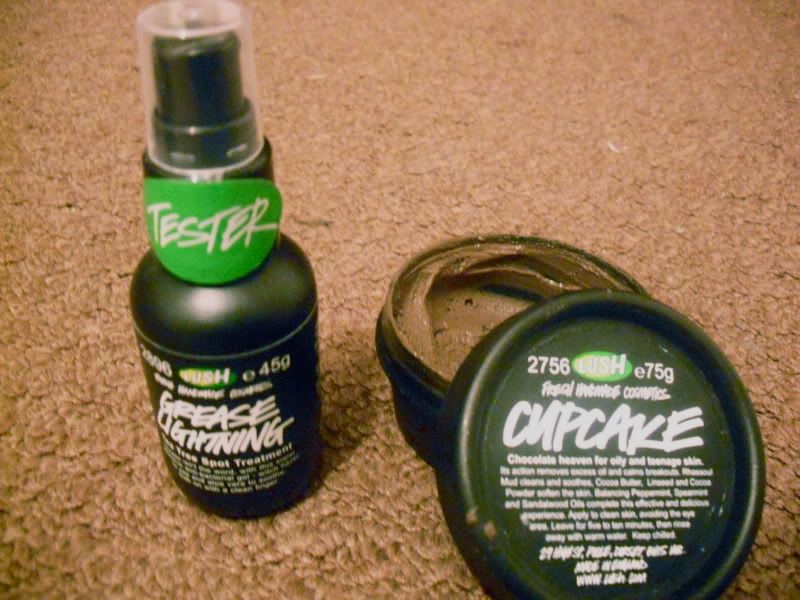 Otherwise?? In the realm of hair. Goth Juice (HELLO BOOSH REFERENCE), which is awesome for the amount of volume I like in my hair, yeah? And Rehab shampoo, which strips out alllllll the product. And I do use a lot of product. Not pictured, cos I don't have any right now, but Retread conditioner. I've only used the tester, but considering the state of my coloured and re-coloured hair, it's amazing. Makes it right soft. Must get another tester; or yknow, bottle.
Also Snow Fairy shower gel. Included cos it smells nice.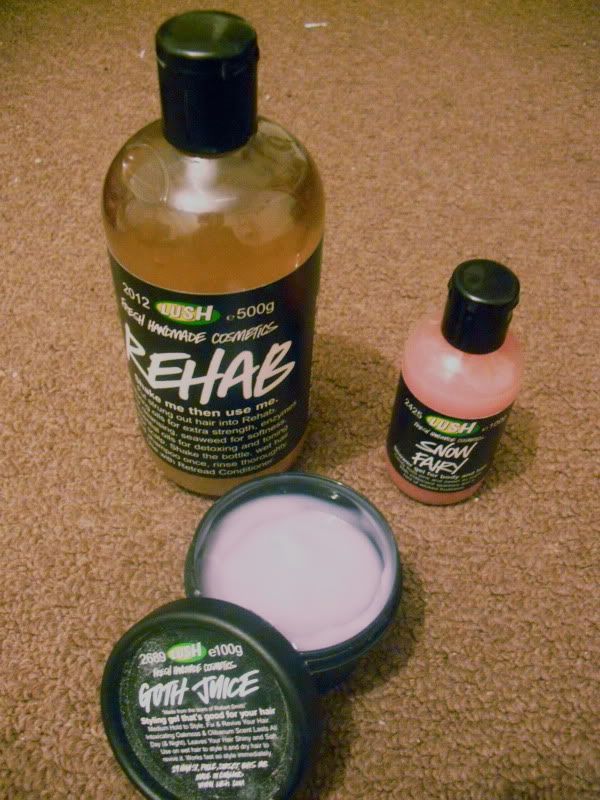 Infact it smells exactly the same as this:





Bubblegum flavoured lip scrub, which tastes like sherbet and I pretty much use it in order to lick it off. But I do have reet soft lips.

So yeah.
Lush can be pretty expensive, but go grab some testers, find your favourite products, and buy the hell outta the ones that work for you. They can't be beaten IMO.
Or get someone on the inside. It's worth it.

As in, literally the only other beauty product I use....well, generic moisturiser and makeup remover....is Aapri exfoliator, which is also amazing.

-------------