This is, of course, a photomagraph heavy post.

again, again, all pics from
style.com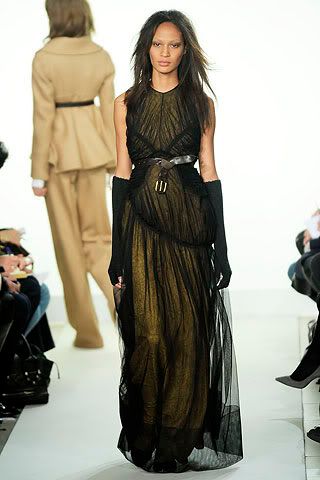 Aquascutum
I dunno; sheer maxi goodness, yeah?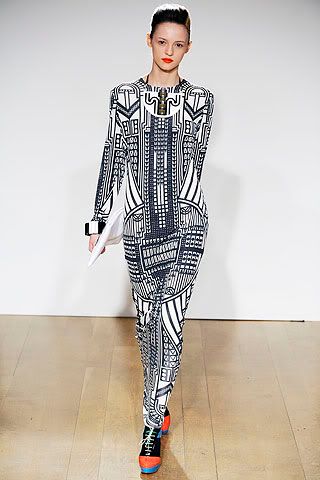 Holly Fulton
A lot of her prints were a bit too busy; a bit overwhelming for my tastes, but this maxi (HELLO, AGAIN!) was spot on. I reckon the line placement (vertical, with curves at the right places) could be really flattering too. I wonder if I'll ever get the chance to try this on...

Vivienne Westwood Red Label
Soz, perfect jacket alert.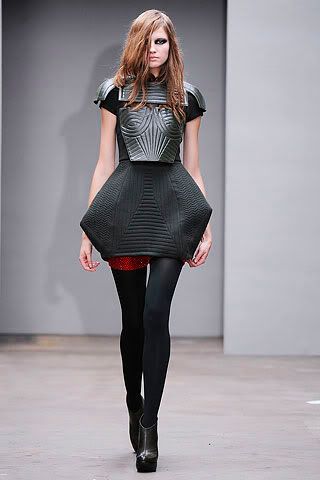 I've always been like "yeahhhhhh she's 'orite, I spose" bout wor Louise, but actually, the armour-ish topstitching/seam details and the shapes here are really rather awesome, and I'm quite a fan of the styling.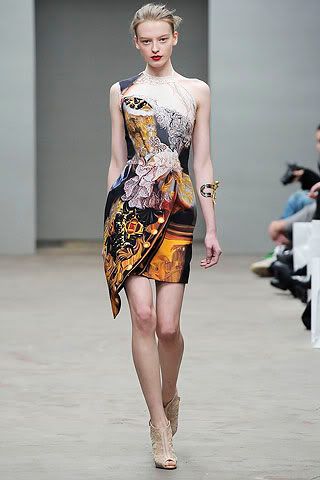 Mary Katrantzou
Again, Mary's prints can often be overwhelming for not-really-print-loving moi, but I stopped and gawped at the first pic here - absolutely LOVE it, can can imagine myself wearing it. God knows what's changed... - and I can't help but love the colours in the second look.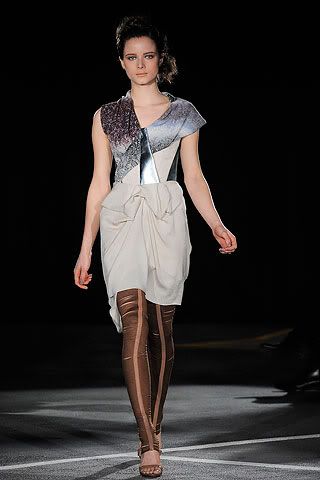 Peter Pilotto
You notice I feature two of the...blandest(?) looks here. Subjective, of course. The least printed looks, certainly, but the tuck and drape detail, the flashes of metallic leather, and the subtle addition of print sections here made me happy. I can't decide if the legs are stripped leggings (love.) or some sort of thigh high sandal (LOVELOVE.) but either is good. Carry on.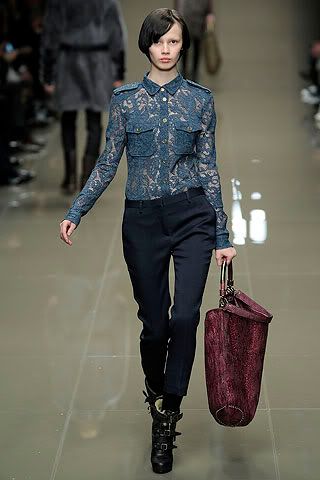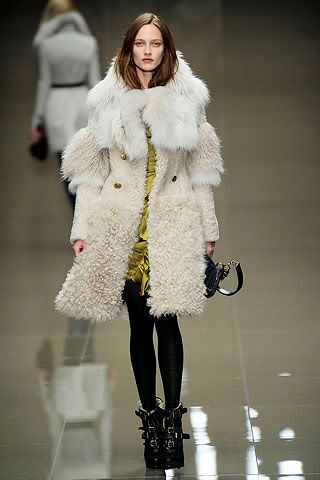 Burberry
I. NEED. THESE. BOOTS. IN. MY. LIFE.
Ok, for realz though. The lace shirt is a) a stunning colour and b) so designed that it
could
be worn sans bra. Not by me, of course. Those pockets won't cover enough; lord no. And that coat (the last look sent down the runway) is TO DIE, FEWBGOVWEFHOCEWOBGW.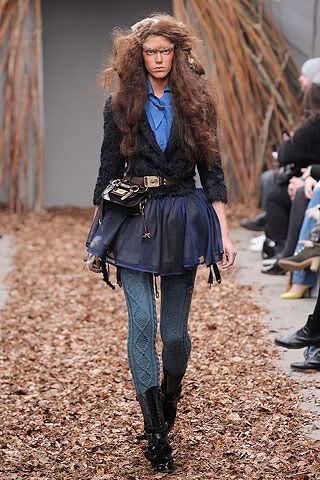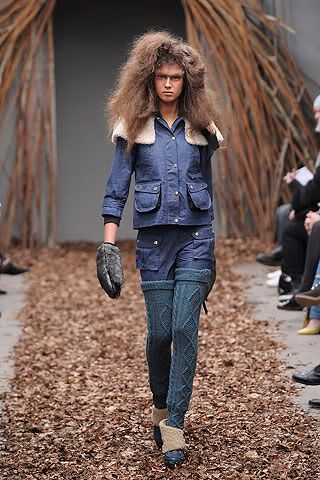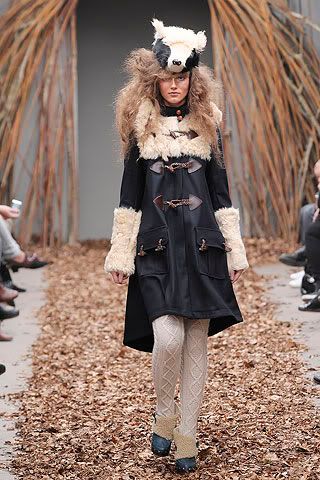 Topshop Unique
Topshop, darhlin', lemme address something: no one looks good with 3 inch long monobrows. I don't care how many other bloggers are absolutely buzzing off them; the styling of your show TOTALLY distracted me from most of the clothes. Yer models shouldn't look feral, yeah? Get it sorted.
That said, I would like to make the following points.
-
'Scuse me, look 1, is that a bumbag?
Cos I'm kinda loving it. It's like a mini satchel but SLUNG AROUND THE HIPS. How everyone is writing about the eyebrows and not this awesomeness is beyond me.
Ohnowaitit'scosthstylingistotesdistracting,GAH.
-
H
ey, look 2, t
high high socks over shorts/trousers? Is this so? Cos that's kinda interesting, and mebs something I'll try out (but probs never leave the house in)
- Hi, coat in
look 3, please get in my wardrobe. Kthanx.
- If those shoes are fleece-y clogs, I do not wish to know. If they are fleece-y boots, they can trudge on over here with that coat, posthaste.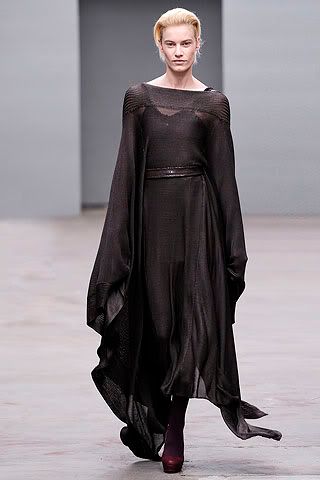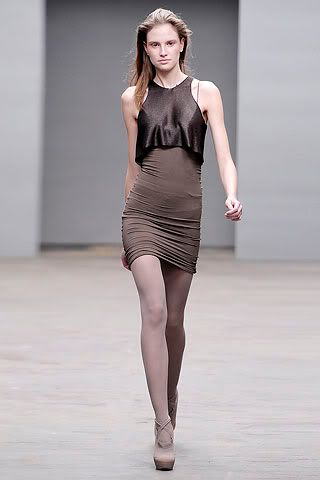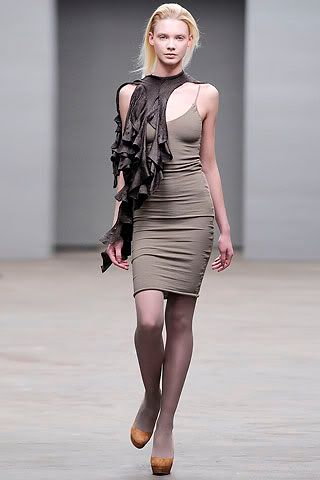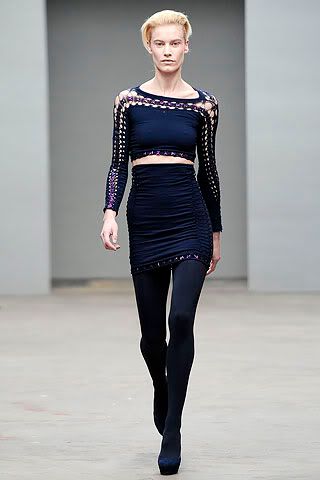 Mark Fast
Mmkay, yeah,
there's all this furore
, and that I stick by, completely. And yes ALL the clothes could do with a size-up, AND the styling is heinous - srsly, they all look like
I did on Tuesday morning
they've had a heavy night and could do with a bath and a good sleep, BUT there are some interesting pieces here, and it's nice to see a little departure from the skin tight. Namely the accoutrements - the drape-ish vest top in look 2, the shoulder thing in look 3. And I could very go for the top in look 5 - in the correct size, of course.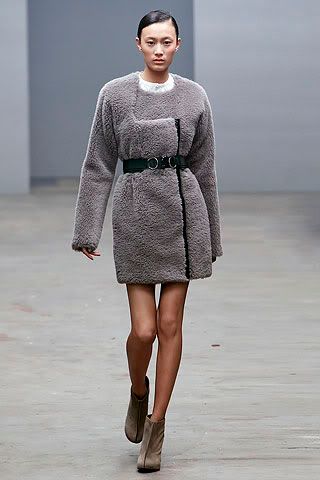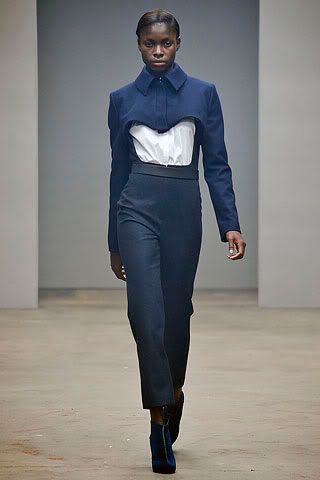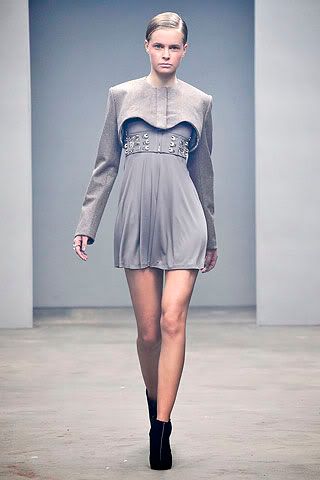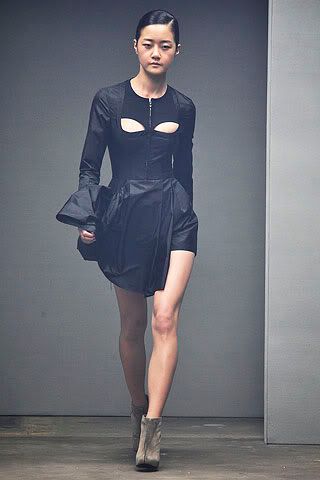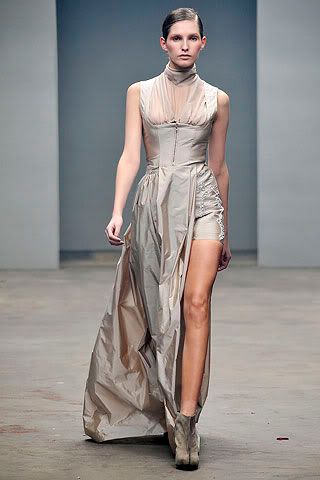 Marios Schwab
My favourite, bar one (yeah, any standouts are getting their own posts; heyyyy Todd Lynn).
I'm always a bit

of a Schwab fan, though he's not my favourite, his is certainly one show that I look forward to. The unusual necklines interest me, as do the cutouts - very interesting placements, and as such, interesting take on the whole done-to-death cutout malark. Also note the awesome fleece-y coat + awesome neckline, the cropped and curvy hemmed jacket (needwantneed), the corseted drape (look 4), and the asym skirt (look 5). Yes.
Notable absences from the normally wonderful CKane (really not a fan of either your fabric choices nor embroidered florals (MAJOR ACHHHH), sorry dude.) and other folks I look forward to in the form of Jonathan Saunders, and of course, sad for there to be no Luella.

-------------

Previous AW10 posts at: