Well now, quite frankly I meant to post about this weeks ago but yknow, other things came around that I wanted to post quicker and this never got done...
This is, in fact, another Vice-based article. And I warn you, it's pretty heavy.

Firstly, if you haven't seen the Guide to Liberia you should watch it
in full
or
by chapter
-
here it starts at part 1 of 8; you'll need a spare hour-ish to watch it all...
As it goes, Liberia has been through some stuff, yeah? Founded in the 19th century on the backs of freed slaves from America, whose government was modelled on the US's (even their capital city, Monrovia, is named after the 5th president, James Monroe), Liberia has been in turmoil for the past 30 years following a military coup in 1980. This resulted in a civil war and the collapse of the economy which devastated the country, making it one of the poorest, most deprived countries in the world.
Vice filmed all around the slums in Monrovia, which are among the worst slums in the world, and interviewed the inhabitants, including some ex-warlords. They also took a bunch of pictures...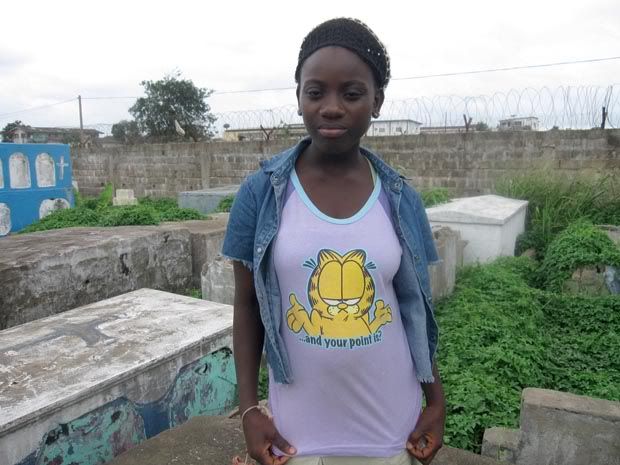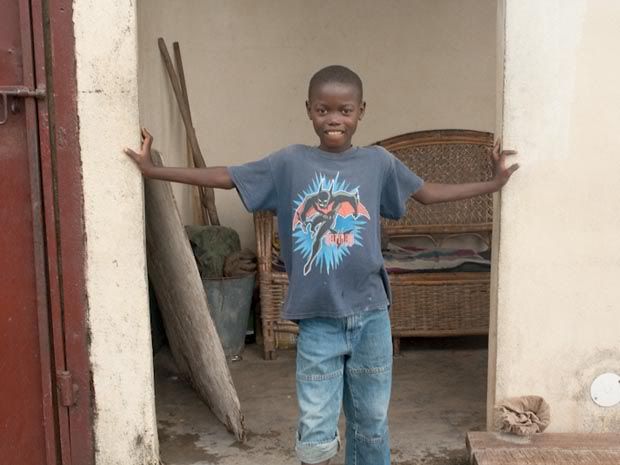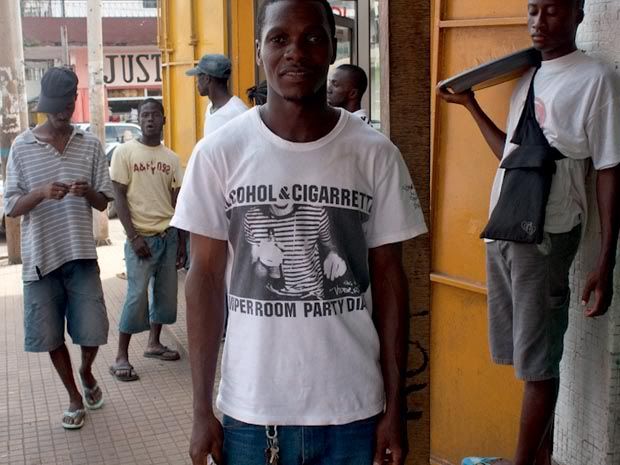 It fee
ls a little disrespectful to then take this into a fashion context, but also, I think, interesting.
These are people, mostly kids, from around the slums of Monrovia. Here, all in vintage style tees. Imagine these on eBay, or in vintage stores, where they would sell for a pretty penny...?
"Supply and demand comes with completely different connotations in Liberia. Demand does not control the goods supplied; it's the other way around.
Clothing exemplifies this inverted chain. Liberia's struggling economy does not have enough buying power to dictate what comes into one of the most import-dependent countries in the world. Its war-destroyed infrastructure means there's very little domestic production of anything.
Some new clothes do make it into the country. But outside the cheap Chinese kitsch sold in the potholed and rubbish-strewn Waterside Market, most new clothing is far outside the affordability of the average Liberian; as many as 60 percent of the country are said to live on a dollar a day.
So, demand creates a different supply chain where low cost is the trump. Donations from the US and the wholesale purchase of massive amounts of used clothes fill hundreds of sea cans with clothing no longer wanted by Americans. These end up all over Africa, but Monrovia—the capital city of a country built by freed slaves of the 19th century in the image of the United States—receives a high proportion of used American garb.
It's these packed sea cans that set the parameters of style. Trends get set by what shows up in the shipping containers, not the other way around. For example, around Christmas last year, a multi-colour striped t-shirt made of cheap cloth could be found for about 80 cents anywhere in the country. It's near impossible to pass a day without seeing the "Be the Reds" shirt, produced by the millions to promote South Korea's football team as they hosted the 2002 World Cup. And sometime in the spring, a wave of cheap top hats showed up on the street, starting a trend for young men on the streets of the capital."
OK, so, from this, I get two trains of thought:
ONE (the heavy one)
Are we in the western world so jaded as to pay so much for what is, essentially, just an old tshirt (or a skirt, or a pair of leggings...)? We consume much too much of everything as it is, but it's becoming a bit of a joke when we're paying £50 for an 80's bodycon dress which are somewhat readily available.
I will excuse the avant garde, and the designer vintage, on the grounds that they are much more rare, much more one off. But a tshirt is a tshirt, and if the vintage piece looks just like something that's all over the highstreet then what's the point?
I always have a reservation with vintage, as much as I love it; so often is it overpriced. I will often turn down pieces on eBay (both vintage and second hand) which I feel are too expensive. It'd have to be a particularly special and/or well made piece for me to consider spending a lot of money on it.
Yeah, and, I'm not entirely with Mary Portas on her charity shop mission (it's connected, what?).
Charities need money, yes, of course, but upping the price of common items is not the way forward imo, for then it is just the same as the overpriced vintage. Better if her mission involved pricing pieces - good quality, rarer, more unique - accordingly, and those which were unlikely to make real money for the charity - high street basics, etc - be sent off to those who do actually need them. Surely places like Liberia would be better served by second hand clothes than those who will buy them from charity shops? Old jeans, leggings, tees?
Of course, having more clothes are the least of their worries, but yknow, every little helps and such.
TWO (the pondering one)
I find it interesting that in such a climate, such ideas as 'fashion trends' are still present. It feels like a very organic route. It is the same as our trend process, but on a basic level.
We see, we want, we buy. Or, more truthfully; we see, the high street decides what's easiest to copy and does so, we buy.
We see, we take, there is no other option is surely the Liberian way, and it seems odd to think of there being a much pared down set of trends, non?
Listing the trends (counting on fingers...) for the new season could take over two hands, but imagine if our trends were determined by purely what was available then and there?
Would it force more creativity (especially in those wishing to stand out)?
Would we feel a sense of community (as we all wore our second hand top hats)?
Would those inclined to design do so still - and if so, would it be a case of re-appropriating available garments, or finding any available fabric with which to create your vision?
I think such a climate could be a creative breeding ground, and would be interested to see what could come out of places such as Liberia given the opportunity. Maybe we should be donating things like unwanted sewing equipment (no electrical products, of course), and then perhaps Liberians and other 'third world' populations could gain a better quality of life.
That sounds a bit 'fashion can save!' but what I mean is...well, if you've seen the videos, you'll know how these people spend their days, and surely anything is better than that.