So me and some girls from my class were gonna pop over to Berlin when fashion week was on, but...we didn't end up doing it, yknow? Last minute/lack of being arsed/just starting back at uni etc etc

But I've took my time getting around to checking out
the shows from BFW
(they can all be seen on this site!), and mebs now I'll post a bit about some that caught my eye, yeahhh?

The BFW site is pretty awesome, by the way - they list fabrics, colours and accessories used in each collection, which is unusual but brilliant.


ARRONDISSEMENT AQ1
I
nteresting cuts, love the embellishment on the 4th look's trews. The blue in the 3rd look is a beautiful shade, too. And are those velvet cage leg adornments??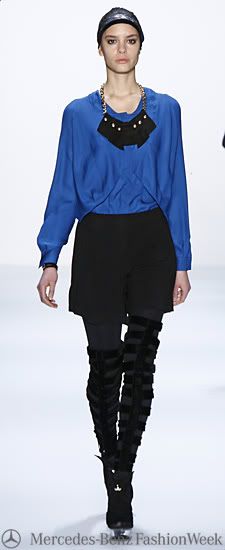 LENA HOSCHEK
Slightly mismatched, these looks...? I dunno what it is about the first, but I was amused by it. Cute military dress; awesomeeee duffle coat! Seriously need it.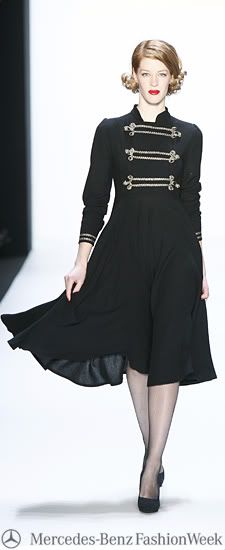 MARCEL OSTERTAG
You could've taken one look at his and known I'd be a fan - grey geo prints, structure and sheer, wheeeeeeee! I love the shape of the trousers in the third look.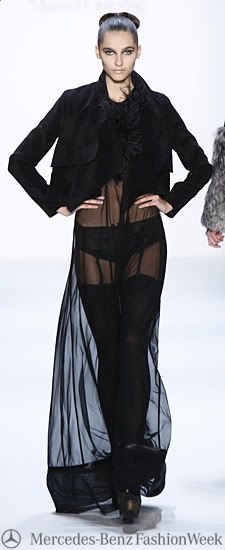 SAM FRENZEL
These knits are AMAZING. Look at the second one! That dress is amazing; and if I could knit better I'd be DIYing that bad boy.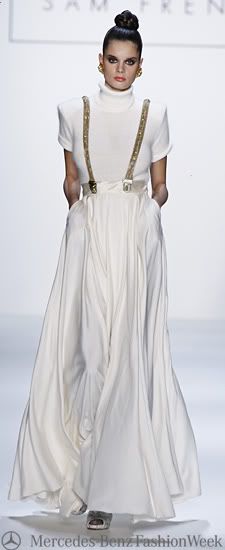 STRENESSE BLUE
Some excellent check mixing, and the perfect leather dress. It looks butter soft.
Sometimes I wish I could touch fabrics through my screen.