in advance, all pics are from
style.com
These are random looks I dragged to my desktop for one reason or another. Let's talk about em.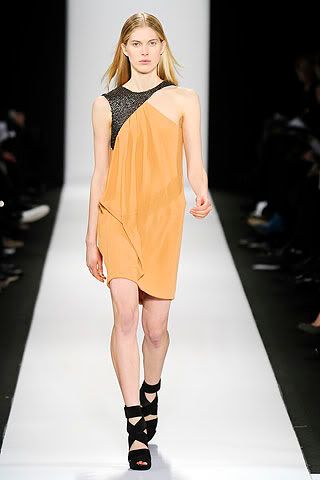 Narciso Rodriquez
I remember looking at this and going "I want to wear that". Pure and simple.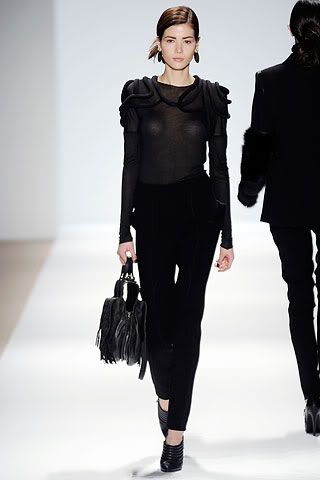 Yigal Azrouel
Loved the extra thin knit with the cable-y shoulders.







Vera Wang
Stared at this for a good 5 minutes; giddy at the thought of sheer ruffly-poofiness. Nuff said?







Kimberly Ovitz
Gahhhhhh distressed knit and asymmetry drooool
Loved the asym looks in this collection vair much. It was similar, but done differently to both last seasons Haider Ackermann and (ofc) this seasons Philip Lim.
Oh my, I do love asymmetry.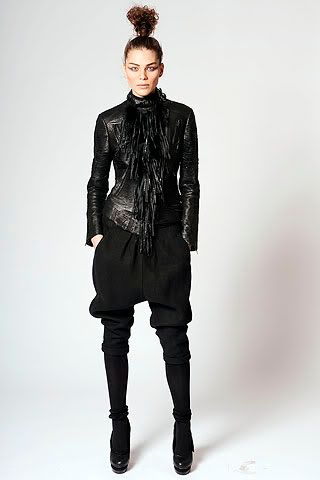 Malandrino
This is just cool, yknow?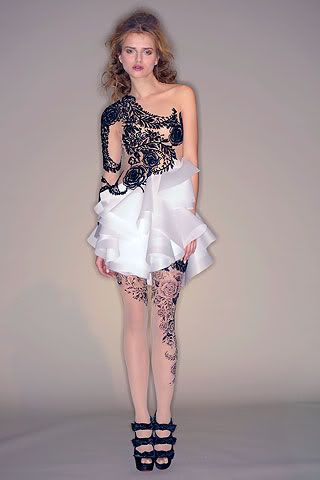 Marchesa
Marchesa tends to be, a bit, too 'redcarpetplzwearmestarletspeeeez' for my liking, no matter how beautiful the pieces are. But I love the way the top is tattoo-esque and blends into the skirt; remind of SS10 Givenchy Couture, which I adored. Coulda done without the printed tights (?) carrying on the tattoo effect, but I can't put my finger on why it is that I don't like that. Too matchy-matchy, p'raps?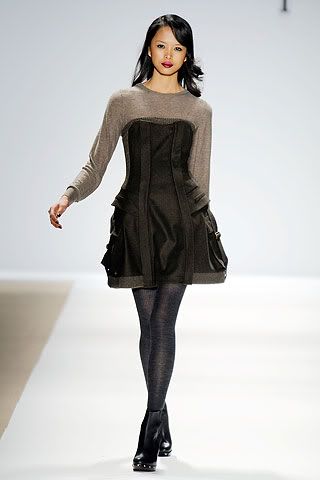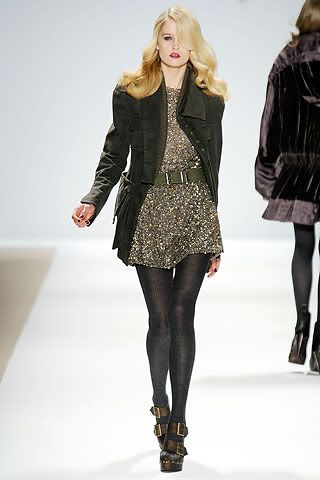 Nanette Lepore
I think I ummed and ahhed over the first one, finally deciding if I was wondering whether to save it for later or not for that amount of time I should probs just do it. Another thing I can just see myself wearing. Love everything about the second look - casual sequins, grey tights, the cut of the coat, the colours of all the pieces, and the shoes. Oh my, the shoes.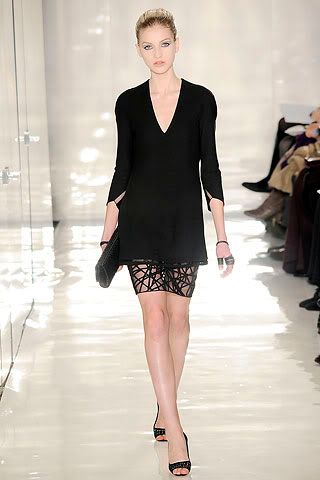 Chado Ralph Rucci
The little peeks of sheers and cut outs here intrigued me. Sequins with chiffon done in a way which isn't overly girly, OTT, or infact anything other than classy and interesting is a success in my eyes.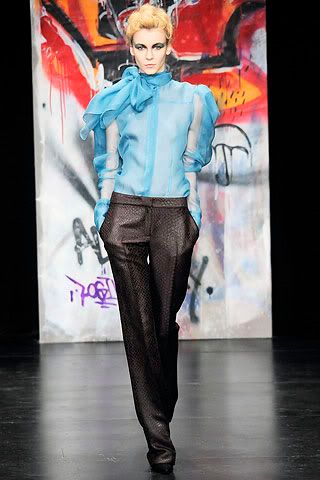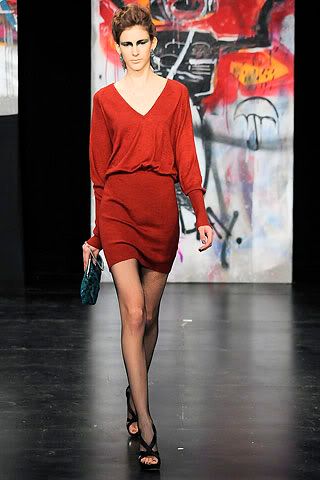 Douglas Hannat
The blue blouse is everything you could want from a blue sheer blouse - let's face it, if you're gonna wear an almost neon blue, sheer blouse, you might as well go poofy sleeved and pussy bowed too. The red dress is like the perfect throw-on day dress, imo.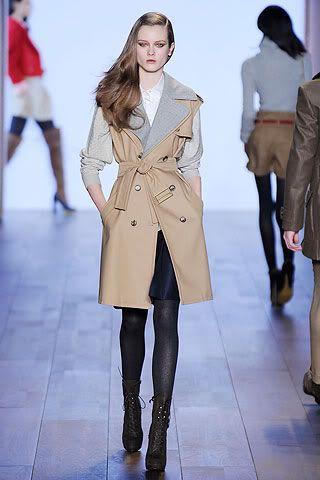 Tommy Hilfiger
I was surprised to find stuff I loved here, but then I found Hilfiger in my tags, so evidently I've featured 'im before. There were some standouts here - slouchy tartan jackets; some lovely looking grey jersey; this wonderfully perfect checked skirt that I need in my life, and the gorgeous peacock coloured and folded skirt in the first look all caught my eye - but setting eyes on the sleeveless trench with the jersey lapels made me say "YES" at the screen. For all the trenches I've seen, this is the most modern, sporty take on it. It seems to be building on AWangs SS10 outing, non?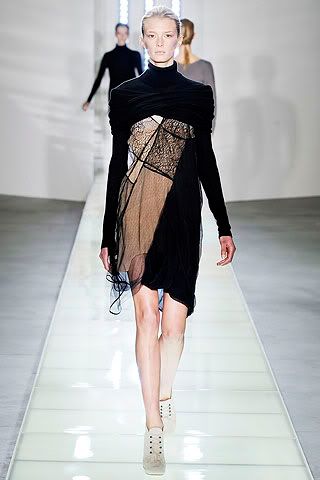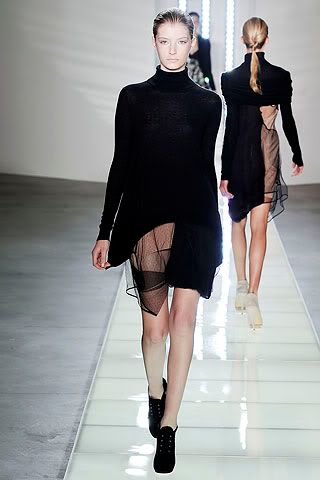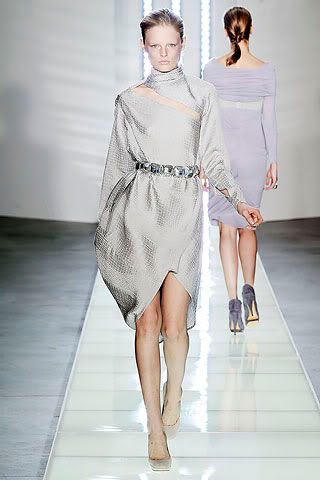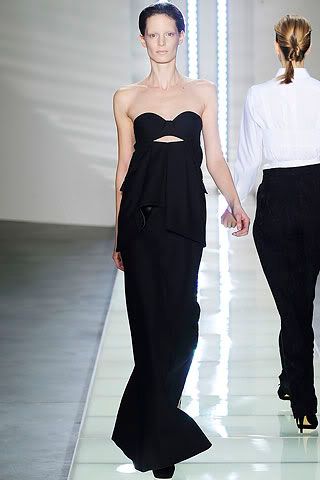 Preen
Cut outs and delicacy under structural (but still soft) shapes; I like. But for a collection I pulled 4 looks from, I don't have much to say on it...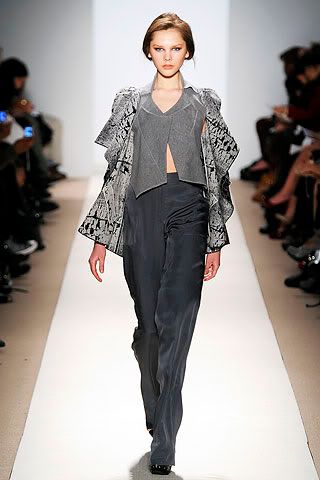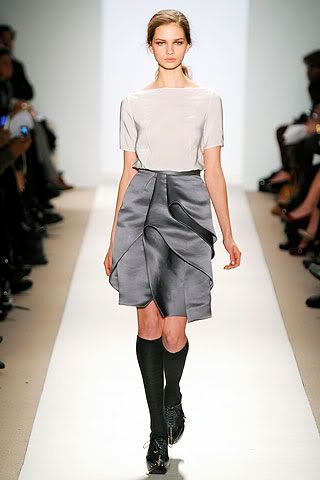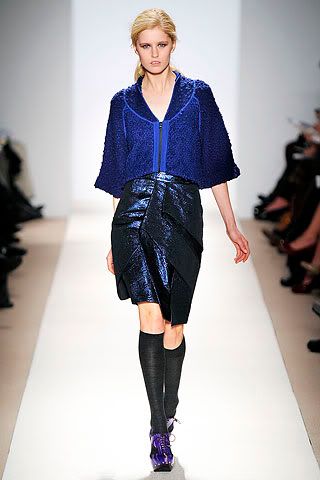 Brian Reyes
Here there be more grey jersey; more foldy/loopy/pleaty detailed skirts; interesting layers and sheeny shiny, loose fitting, extra comfy looking trews. Plus sequins, and that matte metallic-y tee in look 3, which might just be perfect. Yum.

-------------