As previously stated in
this post
, the new year brings looks at new (AKA previously unmentioned) designers. First up is recent (2009) graduate
Albertine Tucknott
who actually is
totally not featured
in any of the fashion156 photos I posted there. She might've been in one of the ones I didn't post. Otherwise who knows where I found her?

I feel kind of...cheeky? Probably not cheeky. Unhelpful, perhaps....ha, I dunno. Well, I feel "?" for posting about a recent graduate whose not a Northumbria-er; gotta represent the home-slices, yknow?
But Miss. Tucknott is University of Westminster graduate with experience at Jonathan Saunders, and Markus Lupfer. (I will add, some of these do call JS A/W 09 to mind, non? The rich colours and fabrics...although, not to poo-poo Mr Saunders;
big fan, big fan;
but I do like this more. Inclusion of sheer black floaty maxi goodness, what can I say.)

Inspired by films such as Flash Gordon (1980), and Federico Fellini's 'Roma' and 'Casanova', the gorgeous colours and rich fabrics here are stunning, especially coupled with the wonderful pleated and pressed fabric treatments. And I adore the styling - look 3, with the liquid-esque gold drapery under the structured jacket; and look 5 in it's entirety, with the heavier pleat detail tunic over the sheer black maxi with the metallic waist belt! Even down to the shoes; it is perfection.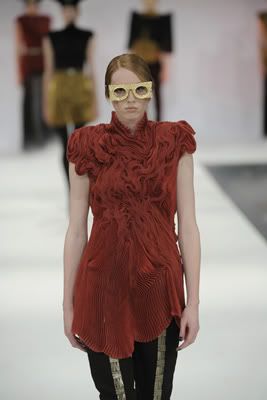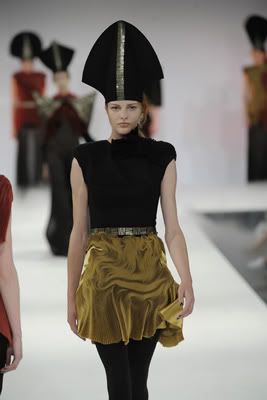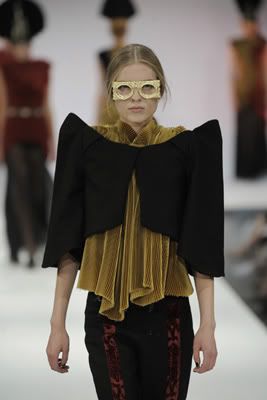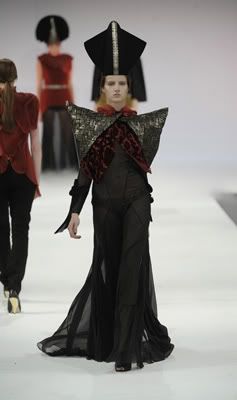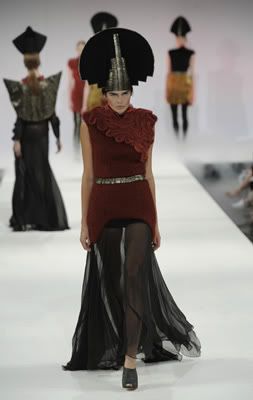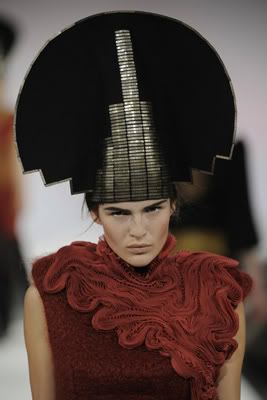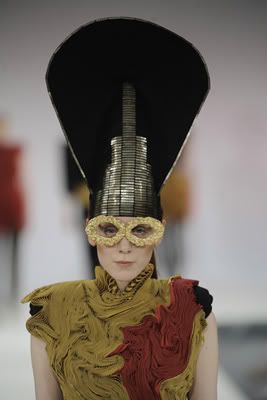 I will add, the headgear reminds me of the Timelords - I would say 'well played!' and 'good timing!' re:the HUGE DEAL that was made out of Doctor Who* this festive season, but perhaps Russell T Davis' costume folk had been paying attention around June and Graduate Fashion Week, non?
OK, so it's probably more of a religious/bishop reference. What's your point?
PS, if you figure out what I done with the title, well done. I think I might be a genius, but it's hard to tell. I might just have gone mental.
Probably the second one, let's not lie.
PPS, you should definately check out
this Style Bubble post
. And read the comments. Which I may or may pop up in a couple o' times. Healthy debate for a lazy Sunday, I think.
*FYI, Who fans, I think I'm in a big ol' minority RE: the next series. I mean, give Matt Smith the benefit of the doubt, no? I am and will always be a MASSIVE David Tennant fan (I mean, have you seen him?!), and he'll always be *my* doctor, but yknow. Russell T. "OVER THE TOP" Davis isn't in charge any more! Stephen Moffat aka the best Who writer is! He literally wrote all my favourite and/or the scariest episodes. (The Girl In The Fireplace; Blink; Silence In The Library)...
Anyways, in the previews, dem angels off of Blink are back (cut to me hiding behing a cushion/the couch/my mac), and MSmith is donning a tweed jacket and a bow tie, which is always nice.