Sticking with a knit theme, apparantly. Infact, it's like unofficial knit week up in here. Where everyone else is wittering about various shows at fashion week*, I shall be wittering about "knit one, pearl one".
Kay, not really, but still buzzing off the 'I can kinda use knitting machines, woo!' vibes means I'm kinda looking at the construction of these in a new way. Even though I'm not going into knitwear anytime soon.
Still think I'll look at getting a home machine for the summer break, just to mess about with it.
Although summer break will also be 4th year sketchbook and dissertation prep, if not actual dissertation time. Ach.**
So yeah, anyways, here:
Brazilian designer
Lucas Nascimento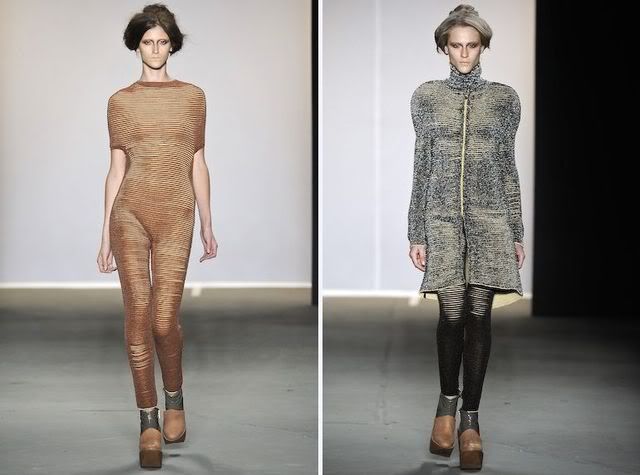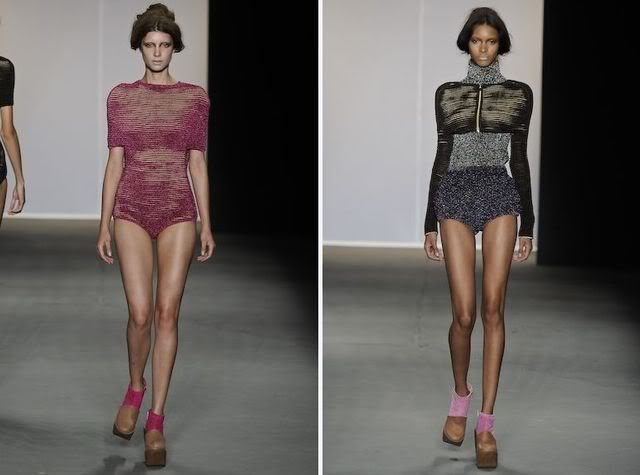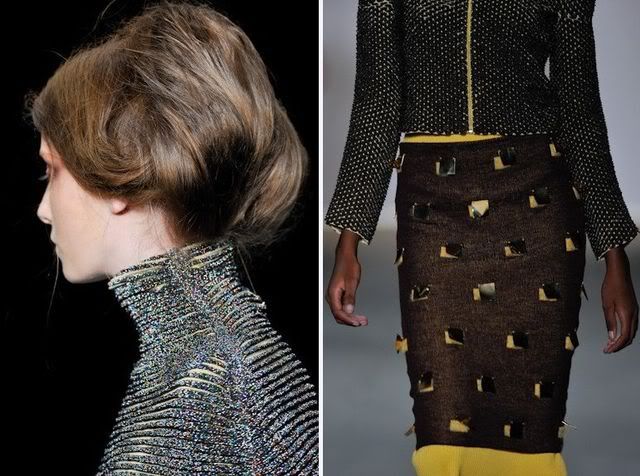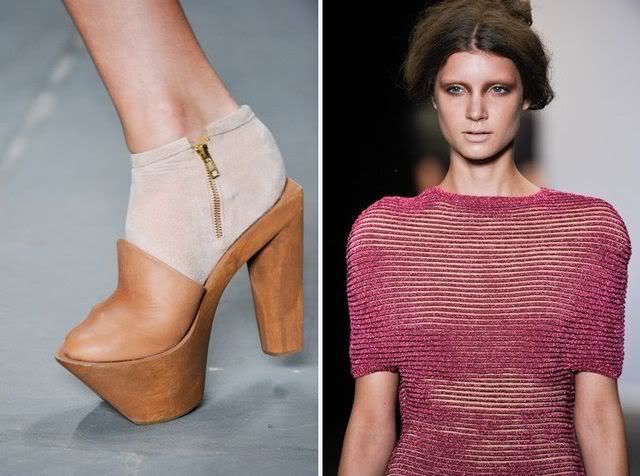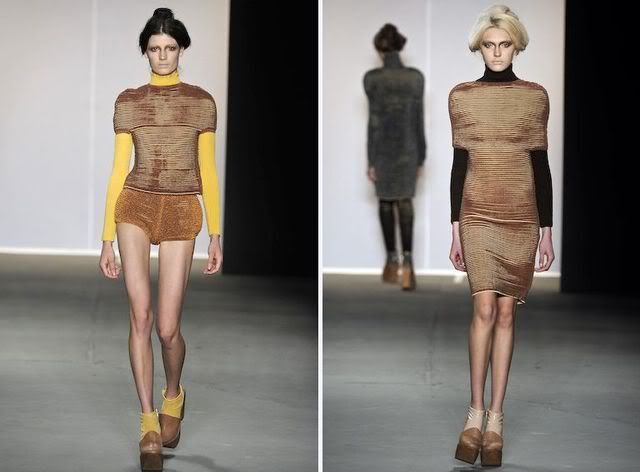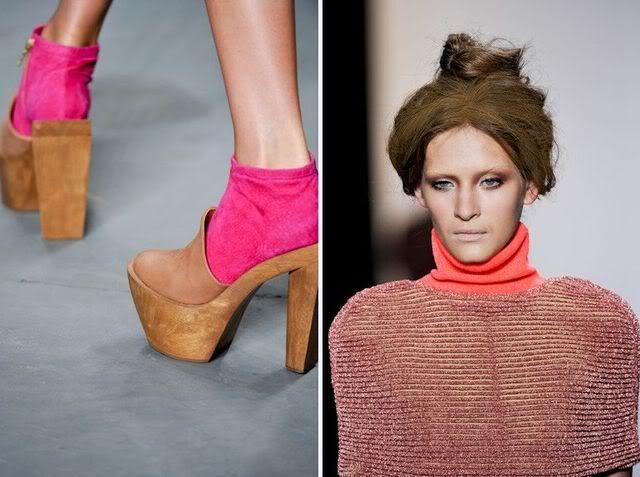 So, knit with shape? I'm a fan.
The ribbed and rounded shoulders with the layered turtlenecks are pretty awesome on a number o'levels - look 9 is, with the hot pants too, is probs my favourite. Although, dude, skinny legs much?
Must try not to inject the 'body image' deals into
every
post.
Hmm.
Although, saying this, my actual favourite
piece
is probs the cropped zippy number in look 4.
Also - the shoes are the clog-esque, but in a tolerable way (I'm sorry Chanel, i can't get behind your vision. Uncle Karl, please forgive me.)
After closer inspection of the shoes at the end, I see that the 'socks' are actually a part of the shoes (which is awesome, and I didn't figure it out straight away) - although socks with side zips would be equally awesome and unusual...many kudos. Said shoes are by
Klaus Jurgen Schmidt
(whose website is under construction***), btw.
Always looking at and loving the styling in shows. Styling can always elevate a show from OK to SEVERAL SHADES OF WIN in an instant. So much fun.
--------------------------------
* Don't plan on covering fashion week, other than a roundup of each city, perhaps, at the end of them? I dunno. Last fashion month fell as I was travelling; it was tiring posting about them once every day or so. And usually there's not much to add. Maybe a collection will have to wow me. But FYI, I am ofcourse looking forward to Alexander Wang, McQueen, Haider Ackermann, Ann Demuelemeester, Rick Owens, Gareth Pugh, Christopher Kane, Marios Schwab, Jonathon Saunders, Hussein Chalayan, Rodarte, Roksanda Ilincis, Peen, Proenza Schouler and YSL, inpartic. That was a longer list than I thought.
** I know it's quite a while off, 4th year, but then again it's not really. I plan wholeheartedly to keep up posting and writing and all of that but I can't promise it'' be anywhere near as frequent...just an FYI, yknow?
*** what's with all the 'under construction' websites, designers?!?!