I finally got around to Christmas shopping - this time on friday I had zero presents and now I only have two to get (and I know what they are and where I'm getting them, I just haven't bought them yet).
Ah, the wonders of Internet shopping.
This prompted me and Gemma to have a lengthy conversation about internet shopping vs actual shopping - I wholeheartedly endorse actual shopping; I ALWAYS try things on and I like to feel fabrics and look at construction (as encouraged by uni tutors...), but when it comes to Christmas shopping (or any shopping involving Primark), I just can't take the crowds. Shopping shouldn't be rushed, it's a leisure activity. It's my main source of exercise, man.
The only exception for this crowd-based rule is sale shopping, but even then I'm certainly not one of those who gets up at 3am on Boxing Day and queues up outside...pretty sure these people are a bit mental.
Unless I'm buying something that can't be found online, or something I really need to see in person, Christmas shopping is a lovely chilled, stress free experience that can be done in a day.
Course now I have to wait for my etsy, ebay, and amazon purchases to make their way to me, but there you go.
my point is, in the search for prezzies (including Luke's birthday one!) I inevitably come across things I REALLY NEED IN MY LIFE. Including this: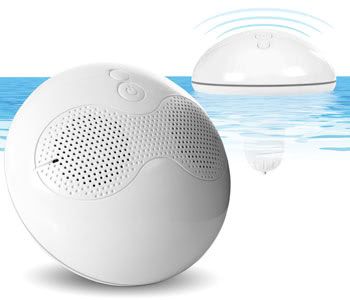 When I have a bath, it is always accompanied by music; through my tinn-y, crappy speakers which are all wires and threat-of-drowning-ipod-y. :(

These speakers are all FLOATY AND WIRELESS. Genius.
I can imagine they'd be ace floating around in the pool on holiday and such, too, although no plans for any holidays right now. I wonder if they'd be down with me taking it along to Byker Pool and floating it about there while I swim? Man I haven't been swimming for ages.