An avalanche of outfit posts, that is.
Christmas dinner (post coming later!) was on Friday - it was a right old treat; I done a lot of cooking and drinking and playing games and then dancing at Jukebox, and was worse for wear on Saturday but had to do it all over again (well, the eating part) at Bryony's fake christmas.
I was "going for" a "victorian" look.
I put the brown dress on on the morning to wear to cook in and was gonna get changed for tea, but then I put this super awesome and amazing vintage blouse on to keep me 'warm' (blouse what I charity-shopped for a fiver when I worked in Cancer Research) and tucked it under so it was at the same height as the waistband and decided that was a festive enough outfit.
Fur coat (what is super warm and fluffy and I can't help but snuggle in) & beret for popping to Boots/the post office....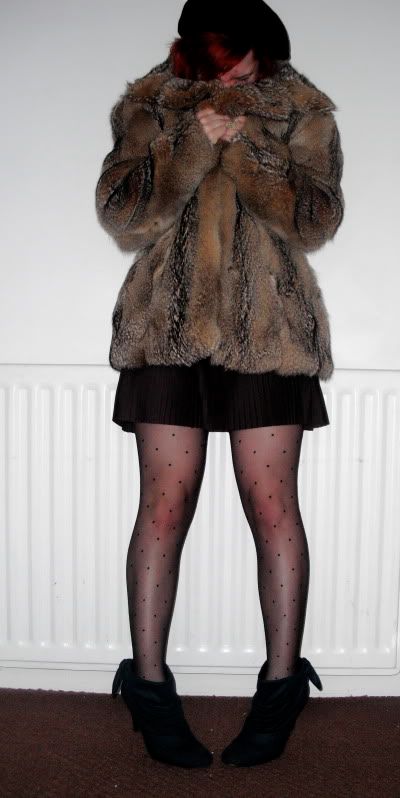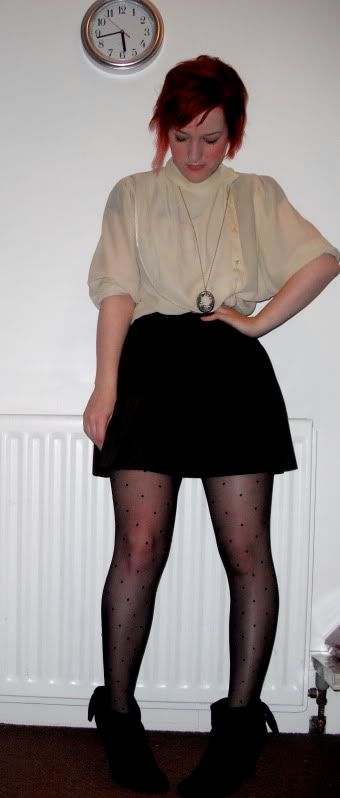 beret, some shop in Australia; fur coat & blouse, vintage (fur coat from Paris!); brown dress a
freebie off of placement; tights from tightsplease.co.uk; boots from
peacocks (?); necklace off of portobello market.
And the tights! The tights I ordered when I was in Dundee, the first time. THE START OF NOVEMBER. And they finally got them in stock last week, and they came on Friday morning, and I got in on Friday night to discover I'd managed to ladder them in approx 4 places. NON IMPRESSED.
Debating buying some more (they were only a fiver) but god knows how long
they'll
take to get here. Gawd.