OK, so my first few hours. I got in from
that
bus journey at about 12, and couldn't check into my hostel til 2 so I had some food (EXCELLENT pumpkin soup; I do love pumpkin soup. Might buy a pumpkin and make some when I get home, 2 days!) and then a shower when I got to my dorm so it was like 3 by the time I left.
Excellent hostel, FYI. St Christophers, with a bar/restaurant downstairs and lovely rooms, and a dorm full of Australians (what's new! I'm pretty sure there are about 3 people left in Australia cos they're all backpacking round Europe).
Anyways, since I wasn't too far from Montmartre I wandered up there. I've wanted to go there since I first fell in love with Moulin Rouge; you can imagine my excitement....
Montmartre is pretty cool; it had some excellent graffiti. YSL graffiti: the classiest ever...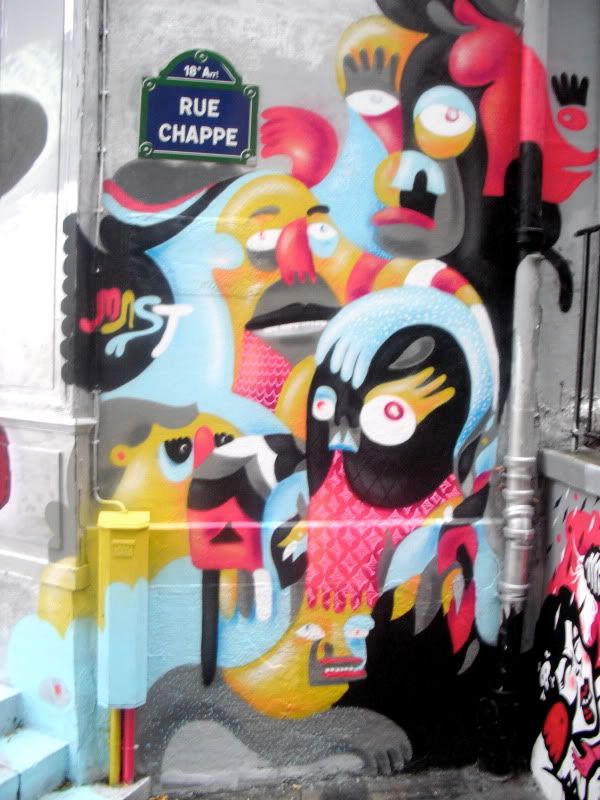 Photos from around about, including the little curvy streets and me and my umbrella (MORE RAIN!!! I am LITERALLY the rain God, all bow before me; etc) infront of MR, and the Sacre Couer and view from it...
I assume the view would've been several times more awesome if it weren't for the rain.