I have a free afternoon (actually, I'm free from now 'til Wednesday afternoon, and then I'm full on busy for a month*) so expect a small avalanche of posts, and more over the weekend.
I've been somewhat busy this week.....
Since Friday last week I've done something every day; regarde:
Friday was a birthday/leaving night out - you know you're getting old when your friends are leaving uni and moving away to join the real world - in which I stood outside the Dog & Parrot talking to random people for half an hour cos they were all late; how dare. We went to this new night at the o2 Academy, which was passable
(by which I mean, it was SUPERLAME apart from the fact that Daniel was there, home for the weekend from Edinburgh; they played us some Gaga; there was tipsy bouncy castle-ing; and the perks of having previously worked at the academy were finally revealed to me in the form of getting drinks from ex-co-workers after the bar is closed....)
I even managed to meet up with other friends afterwards and sneak into Jukebox for 10 minutes. Rebellion!
Saturday was a gig put on by some of my DJ friends; with some of band-based friends playing (I know too many people. A by-product of going out a lot this summer. Gotta love connections and networking.)
Monday was a trip to
Stateside
with Dean. It's the most wonderful little '50s diner on Pink Lane, and was a goodbye to Daniel before his train home as well as a loan appreciation meal which has become something of a tradition over the last year.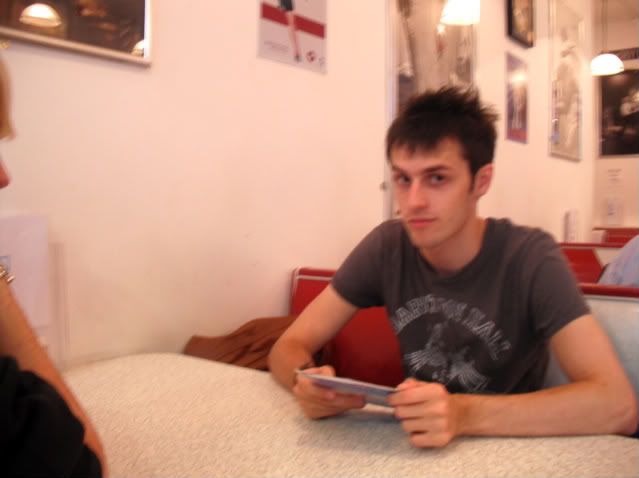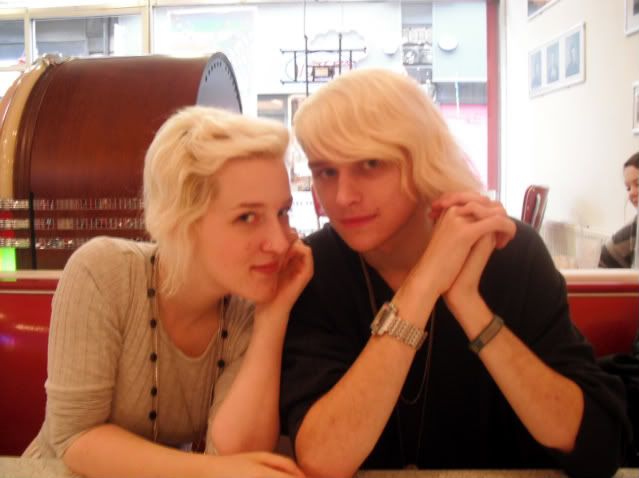 I ate the biggest burger known to man (actually; it wasn't. I almost went for the Kong burger, which had more bacon, but I opted for the slightly smaller burger).
Totally still figuring out this camera, btw. A number of my photos from Monday/Monday night are fuzzyyyyyy and unfocused....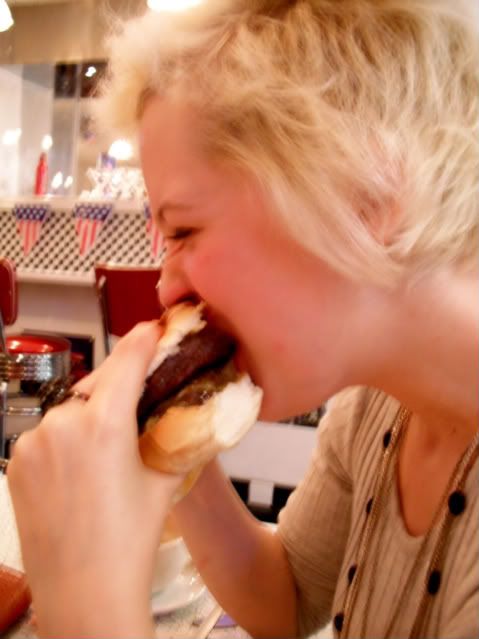 ...I couldn't eat it all. 2 burgers, with bacon and cheese, chips, onion rings, salad and coleslaw. I left about a quarter of the burger, which is pretty awesome kthanx.
This photo is totally hot.
FYI, Dean had a Beer&Bud pie, and Daniel had an all day breakfast. The joys of Stateside: cheap&awesome&plentiful fooooooooood XD

After Daniel left, me and Dean had an americana moment.
Note completely off-centre photo. Nice.
There are some shit-hot outfits to share from these times but I'll whack em all in a new post, probably. I'm going through a "how many ways can I way this piece" phase right now, trying to figure out how light I can pack for the next month. Although, inevitably I will take more than I need. Hmm.
I'm also in a "losing jewellery" phase, having lost my pink flamingo brooch that I got in New York (;__;) and a ring which I took off in a charity shop when trying on an awesome shearling coat which I totally bought (FOR A POUND! SALE RAIL WINS AT LIFE!). Eurgh.
Monday night was a Stereo outing, as is the norm, but this time with the term-time beauties, returned from their respective corners of the country after the summer! Good times. It was packed; and awesome.
I buzzed off to Lincoln on Tuesday, and went out around town on the night. There are pictures to be uploaded....screw it, Lincoln gets its own post. But I had a wonderful time with Ana and a lovely afternoon with Mark on Wednesday!
Last night was Florence! She was awesome. I didn't take my camera; for some completely unknown reason; and my phone doesn't zoom, so no pics (she was wearing something sparkly and floaty/batwing-y, very awesome. Black & gold and lurex!). Better than expected; as I had been told she wasn't particularly awesome live, but yeah. Good times all round. And then Stonelove last night! I met A LOT of new people; god bless Freshers Week. I do like meeting new folk.
I think we're up to date? Yes. Back to the FW posts!
*In case you are unaware......EUROPE TIMES! I'm gonna post up my proposed itinerary in the next few days and I'll put it in the side bar, mostly for the use of my mam.....