It's the big hitters, people!
Not just on the London circuit, but in general - Christopher Kane, Marios Schwab, Luella, etc....some of my favourite designers. Although; not feeling Luella this season! So no inclusion here.....
OK, so maybe not *the biggest* hitters; I'm thinking Balenciaga and Balmain are the shows most are now looking forwards to since they've been so influential in recent seasons....but anyways.
There are A LOT of looks to get through today, so I shall get cracking.
Looks 1, 2, 4 and 6 here are the ones which stand out to me as something quite special - I mean, gingham looking almost classy?? Beautiful. Plisse pleats and interesting splits combined with panelling, some of it sheer, make a wonderful combination and another stellar collection. Which is to be expected, of course; this is Christopher Kane we're talking about! Man, I wish I'd gone on placement there, even if just for this week. Hrmph.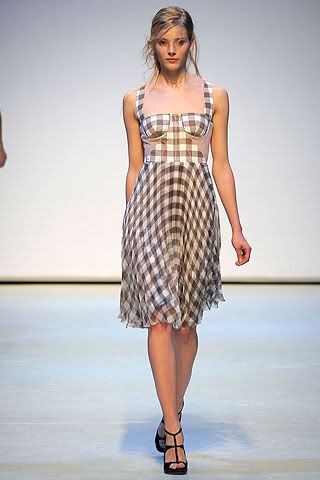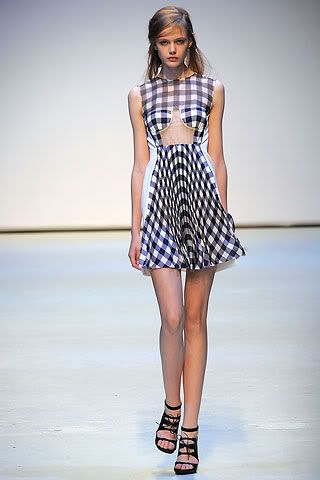 I adore the play on proportions here - the crops in the 1st and 5th looks are epicly cute, as are the perfect layer lengths on the 1st look in general.
I really, REALLY am not a fan of the pink sparkly tees; but the boxy shape over the jumper and flowy skirt is a hot look. As are all the twisted and manipulated dresses, IMO. I love the super sheer polka dot dress too ♥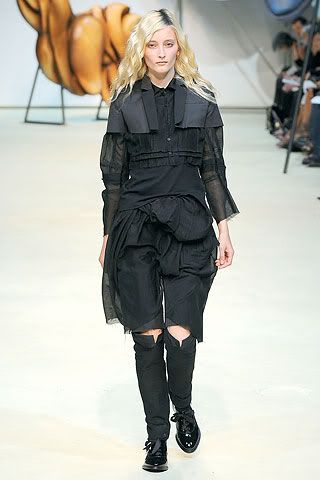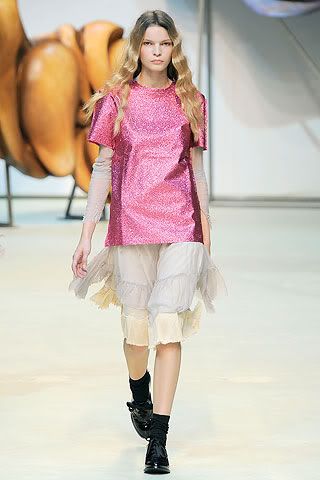 J'adore the shoes, for starters. The higher, 4-strap ones, more so, but YUM.
Not usually a fan* of the handkerchief hem, but as Pringle went for a "back to our roots" feel with the knitwear, the way the skirts fell and the mix of textures really brought me round to the idea, and I'm currently covering the gorgeous pleated layers of the first look, or the gorgeous grey in look 7.
Yellow and grey is a stunning combination, too. I think I'm going to have to incorporate more of this super bright (but not quite neon...) yellow into my wardrobe, which already houses a multitude of greys...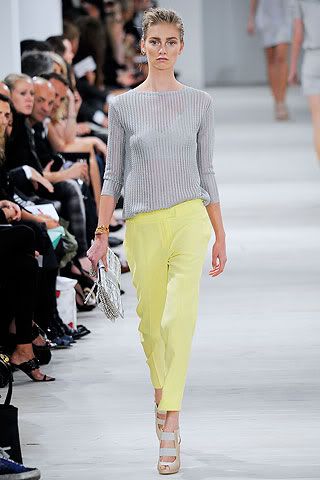 Let's ignore the irony that I was listening to Maximo Park** as I viewed this collection and look at the gorgeous mix of brights! Of course, this is what Paul Smith is known for but all the same, that mix of candy pink shades in look 1 just WORKS.
Again, not usually a massive proponent of PSmith, but look 5 sold me on this collection - I love how that skirt sits. And the mixed polka dot dress is SO cute.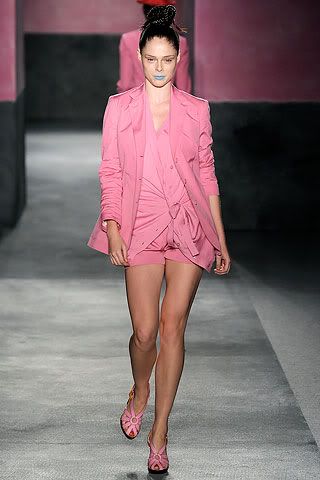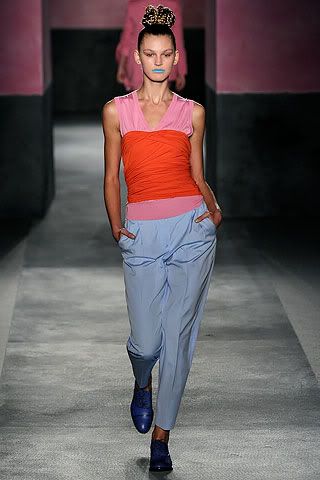 Hot tailored suits with a futuristic edge accompanied my draped gauzy tops? Pretty much sums it up. I could post one picture and you'd get the idea, but each of these looks is so well done that they deserve an airing. J'-ACTUAL-dore.
FYI, Chris March on Project Runway totally used hair as an adornment a couple of years back. The world wasn't ready for it.....apparantly it is now. It was at Martin Margiela last season too, yeah? The ribbon (?) jacket in look 9 is stunning....
Also; the metal shoulders? FIERCE. And I rarely use that word. Anymore.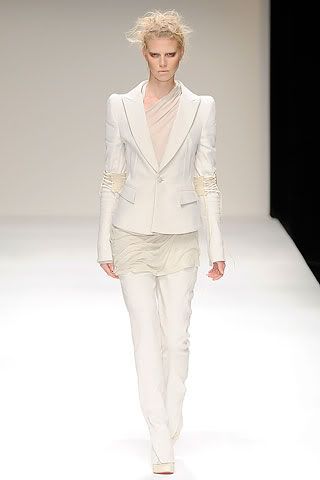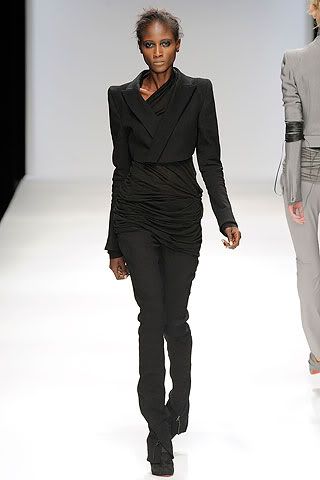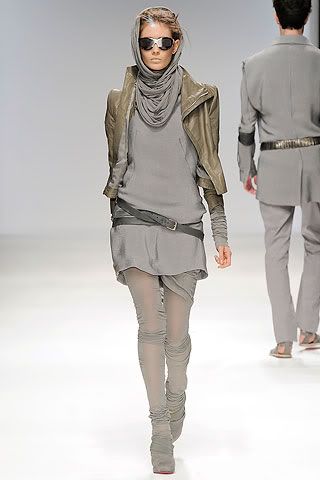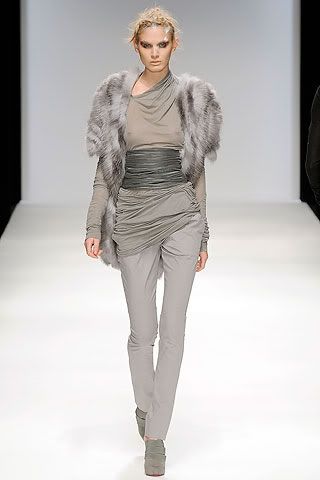 Well, yesterday I said I was excited to see this collection after the Topshop blog posts, and I can't say it disappointed, really....I mean, there were some clunkers, and the look in the backstage pics that stood out most to me didn't look as good on the catwalk, but the styling was a bit "when it was good, it was very very good", and some of the pieces are highly covetable on there own.
The skirt in look 1! The double layered blazer under the cropped blazer! (if this isn't the case; it should be. Extra thin, gauzy layered blazers would be a good look....
*notes for future reference*
)
The cropped sheer shirts! The cropped chainmail style tops! The pleated silk crop over the gauzy shirt! The gorgeous colour mix in look 10! Everything about looks 11 and 12!! Wheeeeee! (FYI, it was look 4 I had singled out in the backstage pics, but yeah, somehow it doesn't seem to work as well under the harsh lights of the catwalk. Bad craic.)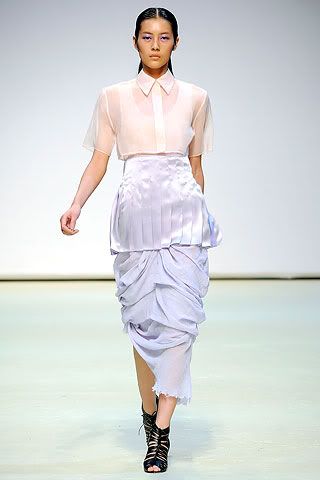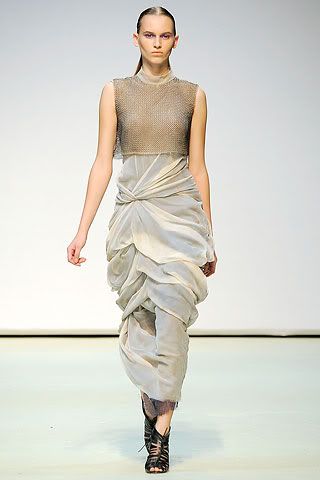 --------------------------------------
*I've been saying this a lot lately. I guess you can tell the designers I like and the ones I didn't realise I liked, I guess....hmm.
** For those unaware, Maximo Park's lead singer is also called Paul Smith. And he is ALWAYS hanging around Newcastle City Centre. Love for this.