I've officially moved home.
Goodbye Newcastle, Hello Durham.
A whole one train stop further south.

Not that I'm stuck for things to do (blogging, reading, dancing around the house while the parents are at work, applying for jobs, continuing to update portfolio, start learning Italian again, revise German (maybe), sell things on ebay until I get a job, maybe unpack even though there's nowhere for any of my stuff to go, play with cat, etc etc) but one more to add to the list is wool-based fun. I do have at least one unfinished crochet project and now a new knitting one I 'aww-ed' over too much to ignore.

Crocheting involves this:
clicky click
- which, as you can see by the date, has been a long time coming.
Well, I started my own version (cream, navy and pale pink) last summer, and then 4th year happened, and I have a sleeveless and VERY SHORT dress at present which hasn't grown in any sense since about October. Must at least lengthen the skirt, even if I don't add sleeves...

The knitting project involves
this
much more recent post (from, err, today) and involves the 'play with cat' option from my above 'things i can do while at home and unemployed' list. I give you the catnip mouse.

HOW CUTE?!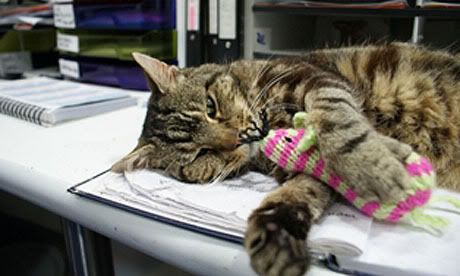 It's for a good cause too, so in case you're sat at home and looking for something to do, maybe knit a mouse and send it to Battersea Dogs and Cats Home to give the cute balls of fluff something to do, bless 'em.
And for good measure, I'll make Tinker one too (though he's definitely not bored.)