or shape, seams and shirtdresses if you'd rather.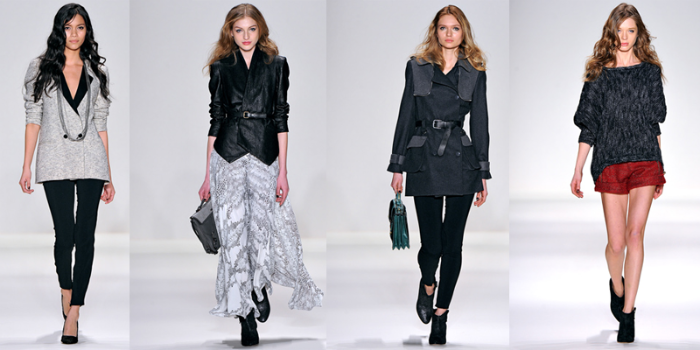 nothing truly remarkable at rebecca minkoff, but nipped in waists and leather over floaty pieces are always appreciated, and some nice colour combinations (the red shorts/grey jumper) plus cute document wallet style bags (always endearing, even if you can fit little into them unless it's, yknow, document-esque).
graphic panelling at rag & bone in bright primary shades and/or neutrals, with a little texture-mixing, too. particularly interested in the middle dress, given that the shape and placement of the panelling is somewhat similar to the shape and harness placement on one of the pieces in my collection (a piece i'm currently umm-ing and ahh-ing about whether i want it to me a floaty silk type of affair or a buttery leather type of affair. choices, choices.).
not too sold on the tartan pieces at r&b, though. which is odd, cos i do love tartan.




and at nahm - ally hilfiger off of tommy hilfiger's daughter new thing, with nary manivong, it was all about shirtdresses (and docs, duh.)
nothing new of course, but the 'burnt toe' docs are nice, as is the too long placket (#2), the asymmetry and the sometimes odd colour (burnt orange, mmmm.)