this is a 'first' collection in two notable ways: the first i'm writing about from Paris, and the first this season that i went through the whole thing gasping and putting in mental orders, then swiftly mental-cancelling them due to huge expense.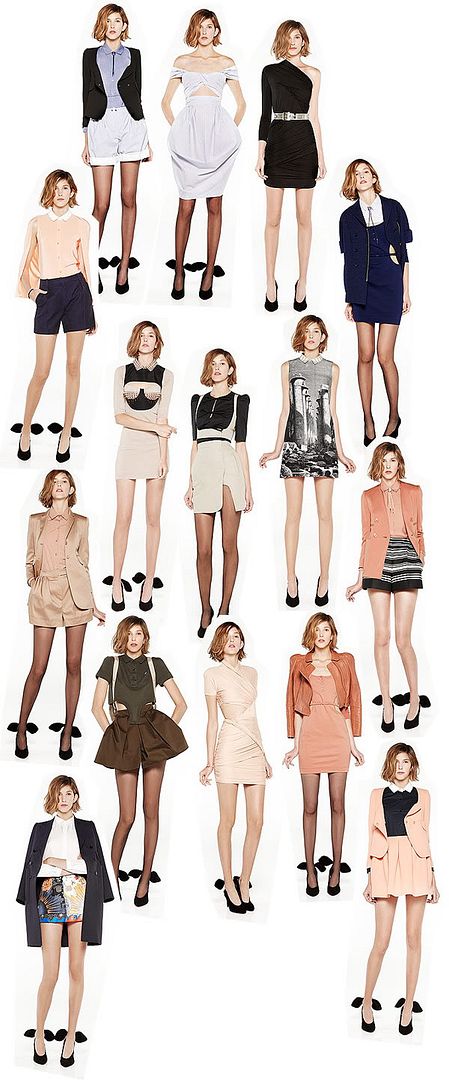 i was sure i'd written about carven before, but perhaps they were one of those brands i meant to write about...hmm.
but, as i said about jil sander below, simple-on-the-surface pieces which i just want to wear. though here, that need to wear is multiplied by 10. maybe 100. little jackets, interesting cuts on skirts and shorts, draped and gathered form-fitting dresses, cut outs and high collars all feature, but it's the GORGEOUS colour palette of peach shades, dark blue (not quite navy), black, cream, pale blue, and, of course, shades of khaki which makes me a little weak at the knees. and the prints are great! shift dresses, for example are so note my thing - no waist definition, no sale at this end - but that grainy photoprint number with the little collar is begging to be belted and worn POSTHASTE.
to illustrate just how much i am feeling carven this season, vidi this: the only show where i've pulled a couple of looks out of the ones i love because i love them even more. there are no words, i think, to describe how much i need this dress (particularly the printed one) in my life - the only item seriously still on my mental order list.