i can only agree with the words of
tom&lorenzo
on this one. quote:
"For the most part, we think she pulled it off. Granted, if McQueen himself had put this collection out, he likely would have come in for some criticism for being too self-referential, what with the lizard skin and butterfly motifs popping up, as well as the feathers, the gold detailing, the wheat, and the unusual silhouettes, all of which were to be found in previous collections. But Burton had one major task to accomplish: to prove to the public that the brand goes on. There's a sense of continuity here that was much-needed for her inaugural effort. It'll be interesting to see what she does going forward but for now, this collection does the job nicely by serving as both tribute and introduction. It's not all perfect, but it is exactly the direction she should take."
indeed. exactly. quite. most of the pieces here echoed back to previous collections, most notably (to my eyes) S/S10's shapes, the volumes of A/W08 and bird themes of S/S08 - arguably three of his stand out shows, though one could say that about any 3 mcqueen collections.



stunning, as always.
also of note? the shoes... (my favourites below. you know i love and ankle boot.)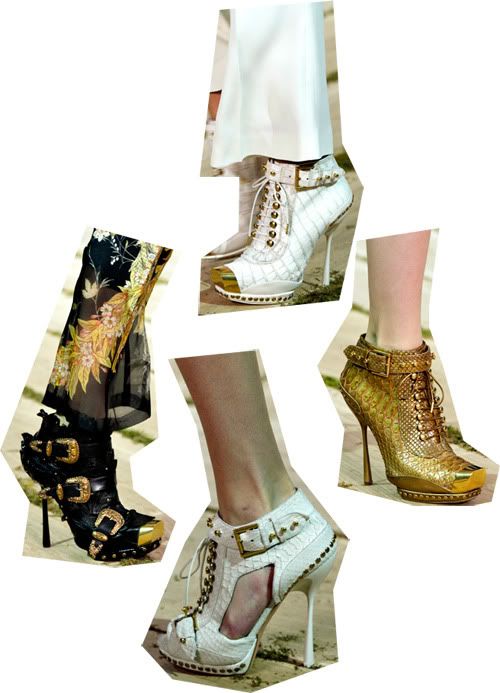 ...and the hair. utterly fantastic; probably the best hair/makeup i've seen all season.