11.
11!
where does the time go?
two posts in one day; i do spoil you.
(still no postman.)
style.com finally updated yesterdays collections, and rodarte's was one of them. i am, indeed, one of those people who looks through every single look from every single collection - i am a fashion student after all, though i'm pretty sure very few people from my course share my slightly mental habit (it's very time consuming...)
i found it to be a bit of a departure for the mulleavy sisters - all the hallmarks of a rodarte collection are there, but something has changed; they've moved on a little, and i'm not sure i can quite put my finger on what...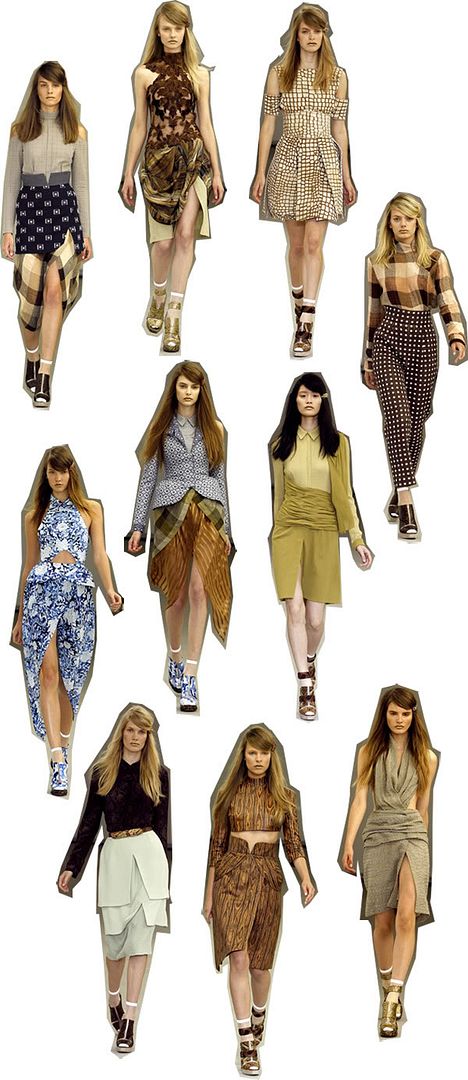 ...but i love it. i love this collection. or, i love this cross section of it.
and the thing about rodarte is, usually, i'm not a huge fan. their collections are often overly fussy for me, even though i'm anything but a minimalist. but here, there is a shift! it's probably as close to minimal as they'll ever get but it's my kind of minimal - check out the bottom 3 looks in particular. there's no fuss (see: 25 textures in one dress in their last collection), but there is structure, drape and amazing print, and then there are the printed minis and checked and dotted separates which are great together too (the 4th look! awesome.)
the best example of their move on would be the green ensemble in the middle - all pastel shades of one colour, with a hem line and shirt/collar detail that wouldn't look out of place in a celine or jil sander situation, but with this big drapey waist panel and shoulder detail. wonderful!
of course, there were pieces like the second one which were pure rodarte (though even this is cute and reined in from their usual look), and especially the last few looks of the collection, which lost it for me. and yet, i'm excited to see where they go next!