you may recall a most wanted item i posted about
here
the other week - sheer, asymmetric black dress (ok, beach cover up affair) from Topshop. as it goes, it's the only thing from that post that i DID buy (oh, and the spotty dress from ebay, but it's too small so it's been added to the blog sale pile. SUNDAY. BE HERE.) and it's pretty awesome.
i do not know what i'm doing with my face in this pic.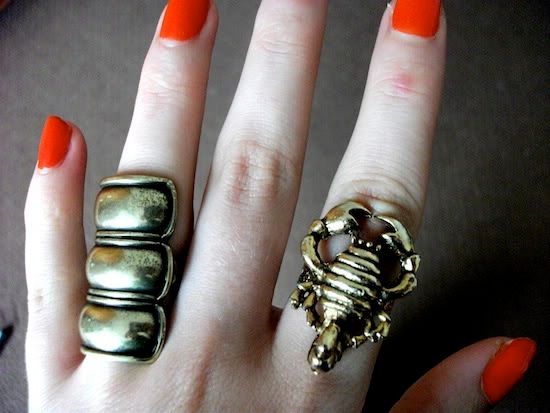 leather jacket+bandeau top from ebay//jeans+dress from topshop//
rings+necklace from H&M+etsy//vintage boots//barry m nails
eurgh, i hate my hair down.
beehives/tiny topknots make everything in my wardrobe look better.
the scorpion ring is new, and bought from Aquanetta at etsy which is AWESOME and full of star sign based rings and other cool/cute jewellery at like $6 each. ridic.
being the actual epitome of a scorpio*, i had to get it.
the store sells some pretty cute vintage too....
oh, and: hey, new followers! say hi ;)
*or an even more typical scorpio III, if we're getting into personology. i have the book that link goes to, as discovered at the charity shop mecca that is RSPCA byker, after first taking an interest in it when my housemate in london owned it. fascinating. and dead on about other people i know, not just me.)