despite saving money for a trip to london in the not too distant future (for research and definitely not for any sort of shopping), i'm now, as always, coveting some items.
i don't know about you, but if i'm a fan of something it ends up in my bookmarks posthaste.
currently bookmarked (and ebay watching)...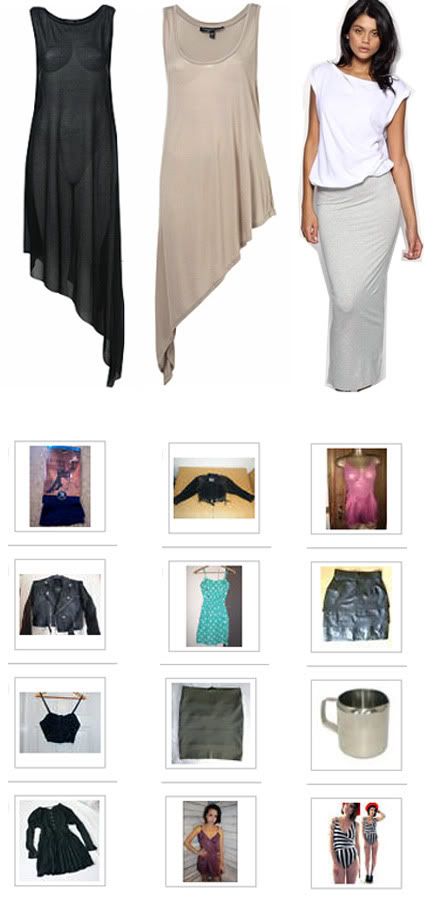 bottom rows:
navy tights//leather jackets//vintage lace+satin bodies//
more leather//cute vintage dresses//tiered leather skirt//
sequin bustier//anything khaki//err, a stainless steel jug for frothing milk. how'd that get there?
sheer sleeved dress//more vintage lace nightwear//graphic swimsuit
you know my love of asymmetry. although the first one is a beach cover up and the vest and maxi are both thin jersey and therefore totally supposed to be summer pieces, i'm looking ahead to autumn and desperately wanting these pieces for layering up and teaming with fabulous coats. preferably leather-based ones. which brings us to the ebay portion of the
evening
post.
i have a search out for leather jackets (as well as vintage pale blue jeans, preferbs high waisted, and chelsea boots, preferbs tan, but none in my size are presenting themselves to me. what gives, ebay?), in a cropped, tight, biker style. i love, adore, and cherish my Rick Owens inspired leath-urrr, but i just want cropped sleeves. i can't help it. the perfect one will turn up eventually.
vintage lace+satin nightwear numbers are all up in my grill right now. i own one - bought for layering purposes - in cornflower blue, from beyond retro, which has since made it into my pyjama rotation. cute, comfortable and perfect for warm summer nights. i can't bear to be uncovered when i'm sleeping, whether we're talking clothes or bedding. unless i'm drunk. or err, not alone. anyways, i want more in more colours, but of course the "underwear as outerwear" trend renders these expensive. ach.
as for the rest? i like anything khaki, sheer, leather, sequin-ed or polka-dotted most of the time, and these just happen to be on my watch list as of now.
side note: also craving pale pink.
hey new followers, btw. sometimes i have a surge; it is nice.