a spot of charity shopping yesterday resulted in my finding a great jumper.
i need more jumpers, really.
i live in northern england; it is, more often than not, pretty chilly up here.
said jumper was giving me a Prada a/w vibe....
...so i figured i'd see if the 'chunky jumper/belt/full skirt' look was one that was gonna work for me. if Prada is celebrating curves*, i'm really the target audience, right?
thrifted jmper+scarf//vintage dress//primark belt//topshop shoes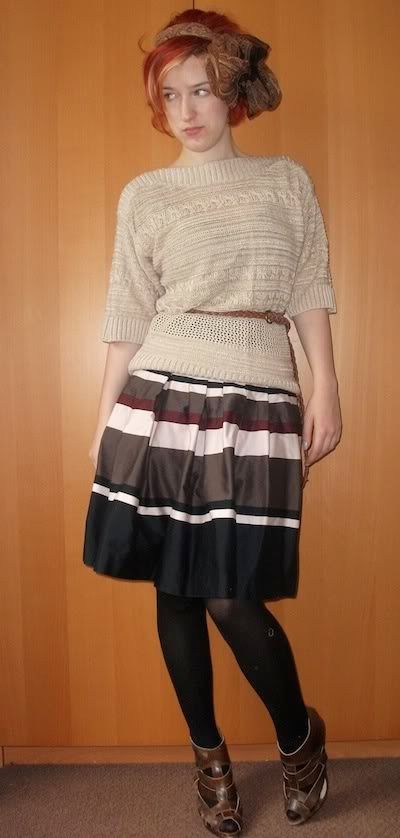 h&m skirt//all others as before




apart from the shoes (sos Prada, the bulky silhouette on a short person really doesn't lend itself to kitten heels, or indeed, anything dainty. midgets take note, a high heel is almost a necessity if you're gonna go chunky jumper/full skirt), i think this is a pretty fair 'budget' replica...




the first dress gave me too much bulk, even with a belt pulling said bulk right in.

the skirt-based look, though, was much better. but still, leave your waist undefined AT YOUR PERIL.




even though this trend/look/whatevs is pretty much geared towards my body type, and the skirt-based look was pretty much a winner, i think i'll more likely end up wearing this jumper in this way (aka pretty much over the outfit i posted yesterday.)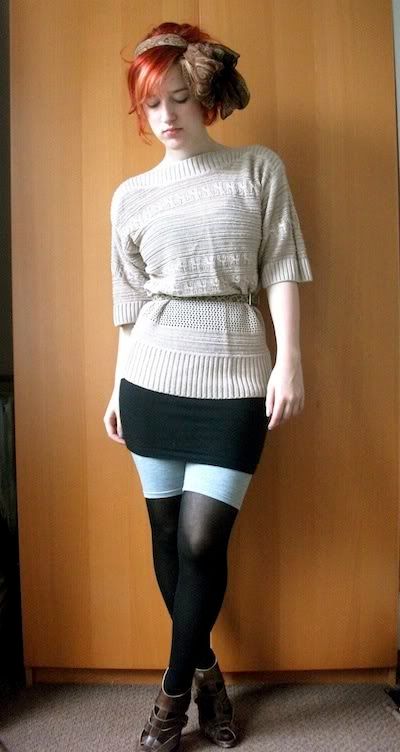 dress bought in rome//h! by henry holland shorts//leopard belt//others as before
so my initial "i'm getting a Prada vibe, but for £3.25" didn't really pan out, but the shoulder shape and pattern of the jumper is a keeper for sure. and pretty similar to some of the jumpers on the high street right now (hi Topshop.) - finding a "trend" piece in a charity shop always makes me happy.
*and by curves, i obviously mean boobs. y'know.
I'm down in London from Wednesday (4th) til the following Tuesday (10th) - mostly researching for sketchbooks, but also partaking in some blogger meet ups if that's your thing. Londoners, also, lemme know if anything good is occurring in that time frame.
PPS
Blog Sale. tomorrow. be there or...else. i have, like, 40 things to sell. some high street, some vintage, and a valentino skirt.