swimming is fun, right?
i mean, exercise is generally encouraged, and swimming, cycling or walking is about as much as i can muster.
but - and given this is the season for that sort of thing - finding decent swimwear is harder than you'd think.
the criteria?

- affordable
- not too similar to those i already own (one royal blue knot front/cut out Topshop one piece, one black bikini made from H&M high waisted bottoms and a Topshop halter top)
- preferably something in a stripe, an interesting pattern or a khaki/coral/something like that block colour.
must be nice, yknow?
cut outs/interesting details preferred in one pieces, so as not to be too 'stuffy',
or something
.
- and (most importantly) be suitable for ACTUALLY SWIMMING IN.

because, as it goes, a large number of swimwear available that fit the first 3 points are suitable only for lounging by the pool.
i am not a lounger.
i don't tan; i burn.
also, i'm not going on holiday any time soon.

so, internet, do your worst: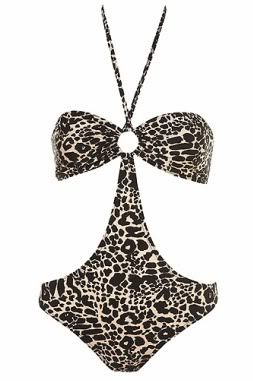 as evidenced by my current arsenal, topshop is my go-to. these are the nicest looking on the TS site right now, but i doubt either of them would sufficiently secure
the girls
while doing lengths. I'm not a big fan of the style of bikini top where the cups are attached to the string but free to move around. because move around they will, and exposing oneself in Byker pool is not at all desirable.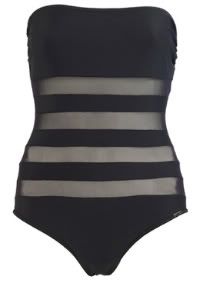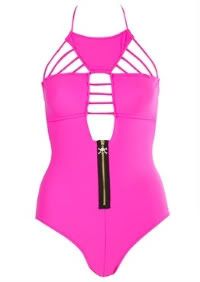 river island (the store), i do not like. i don't know what it is about the north east stores, but they cool stuff from the website never makes it's way there, while the orange hued folk of the north do. in droves. the site though, has good stuff.
my point is, i saw none of these in the newcastle store today but they are varying degrees of awesome. i'd be in love with the second one if it weren't so eye-searingly pink; and the last one if it weren't £60.
side note: river island's shoe department is like a sea of catwalk rip offs. good ones, like, but i could literally walk through it going "miu miu, alexander wang, burberry..."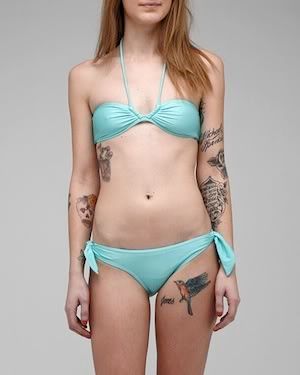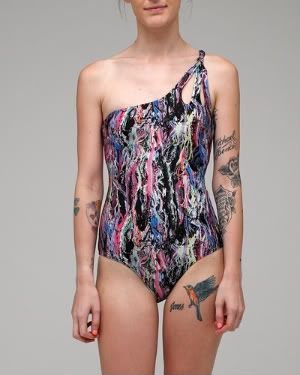 need supply is normally a little high priced but these pieces aren't too bad (the first - from cheap monday, is in the sale for $30. i forget how much the second one is, but its from label 'insight' which is pretty cool - see below)
this is another problem i encounter. much like high street bras - hey Topshop; H&M; et al; your bras are gorgeous, a lot of the time, but i'm sure you are losing thousands of customers by stopping at a D cup. isn't the UK average a C? shouldn't you at least consider a range for larger busted ladies? just a thought.
the cheap monday bikini top looks snug on the model; i can't imagine how i'd ever fit into it (see also: american apparel)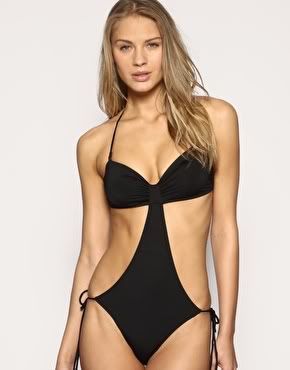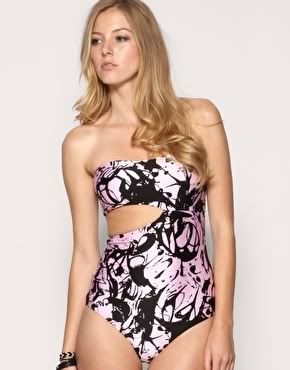 and so, to asos.
i was sure i'd been on there earlier and not seen anything, but in writing this post found a bunch of great options.
above are pieces from Mango, two more from Insight (which are way better than the need supply option IMO) and two options from asos' own range.
the coral asos one is, i think, in the sale, and has the desired cut outs, but this option is cheaper and ticks all the boxes:
ok, ALMOST all the boxes (note the free-to-move cup/strap design. noooooo!) - but it IS khaki with gold accents, with decent straps and plentiful cups, and is under £25 for both pieces. oh, and it comes in a coral-y shade, which is even cheaper.