So, for the next week-ish, you can enjoy some Northumbria 2010 graduates, courtesy of moi. The Newcastle show was on Tuesday, and if I know which ones are going to GFW I'll let you know too (err, if you're going). We saw some of their sketchbooks today too so I'll add info there where I can...

Some things:




Thing 1: I'm leaving womenswear till last - there's menswear, knitwear (which is excellent this year, ouioui) and textiles/print to come first, but I'm starting with 2 womenswear collections cos they are the ones I happened to help this year.
Thing 2: This is the quality of photo you can expect. Deal with it.
Aaron Kirkup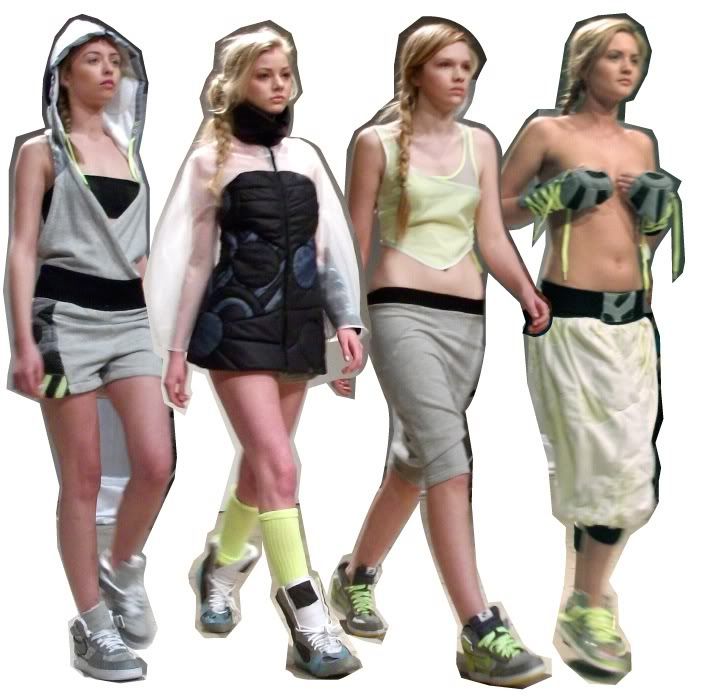 All sportswear pieces inspired by hip-hop and graffiti - not gonna lie, I did like 10 minutes of work for Aaron (sorrrrryyyyyy), but some of his pieces were awesome (padded cape in 2; extreme harem sweat shorts in 3...), and he customised his shoes thusly: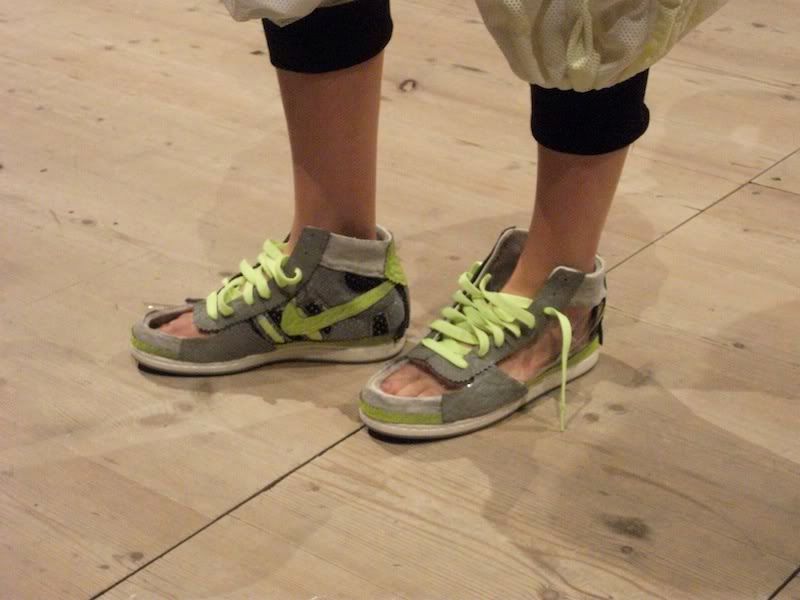 Annoyingly, there's a lot of details you can't see in any of my shots, but Aaron used reverse applique in places which was really cool, with cutaway mesh fabrics and neon pops.
Yasintha D.J. Kudage Dona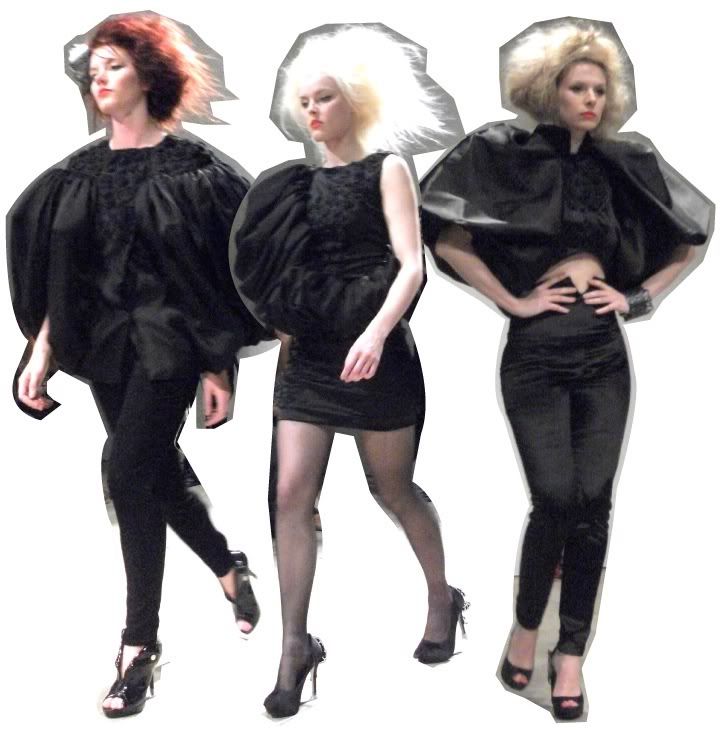 ...or Yasi, for short. Who I did A LOT of work for, but whose other dress didn't walk at the 12pm show? I dunno if she didn't finish it in time or if it was a mistake, though...
Anyways, her collection has big poofy capes and sections paired with shift dresses and tight fitting trews (which were really rather awesome and I'm sad you can't see them better.). My part in it was all those ribbon-flowers, which you can't really see, but which took me at least 1 day a week for approx 7 weeks (so, a full 7 days, I guess) and I didn't make all of them myself. Yeah.
Semi-related note; I started a tumblr a while back but aside from reblogging Lost based hilarity I haven't really used it. Now it seems like the perfect place to write about all things 4th year.
As such, this blog will stay as a personal style/rambling type of place and things that fly will be the place for all sketchbook imagery/toile annoyance/pattern cutting hardships/questionable illustrations/finished pieces, and maybe some of what the rest of my class is doing. Maybe.