I bought some shoes. Lots of shoes. Some time ago. (I could've posted this at least weeks ago, and I did not. Ho hum. The fast-paced nature of the internet and blogging...)
Pic-heavy post ahead...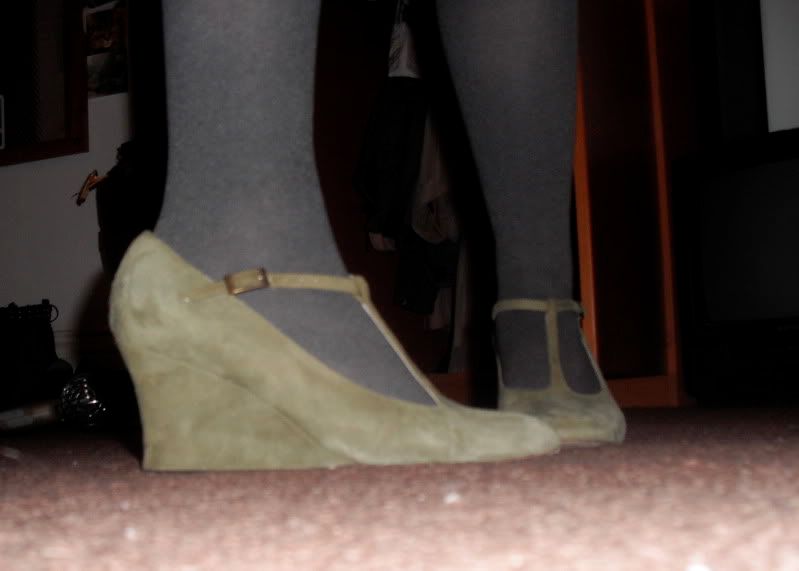 green mary-jane wedges; ebay (tenner?)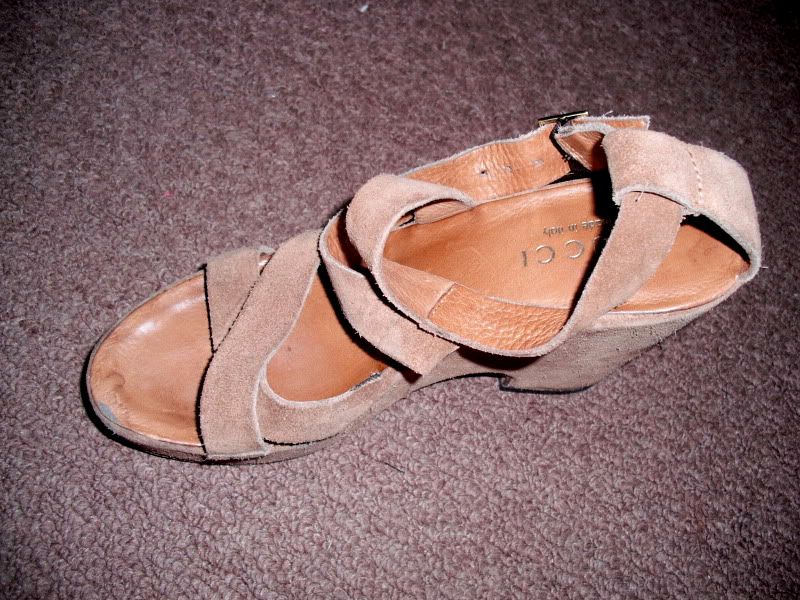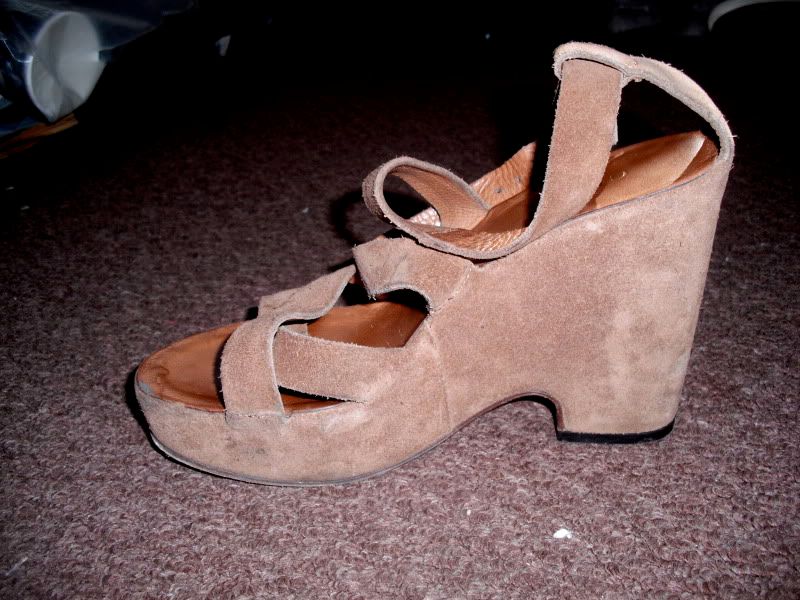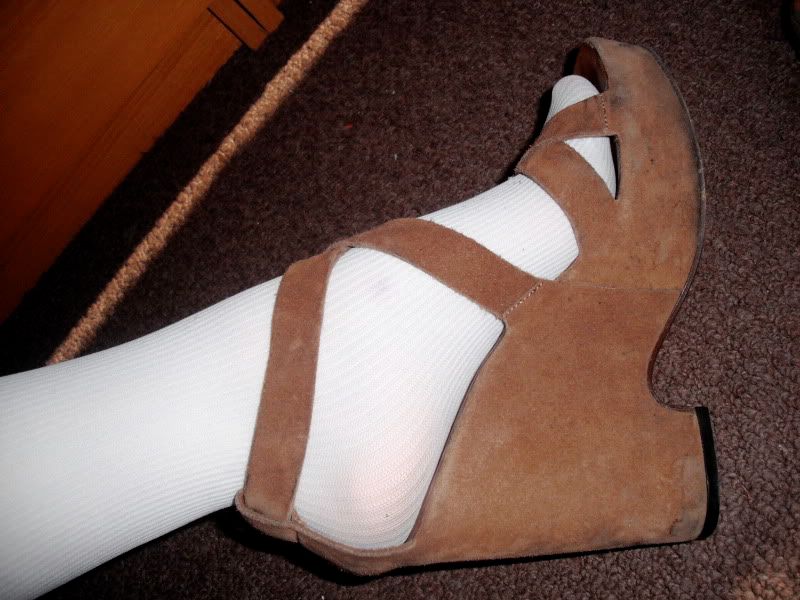 VINTAGE GUCCI WEDGES; YEAHBOIIII; ebay (£36 bwahahahah)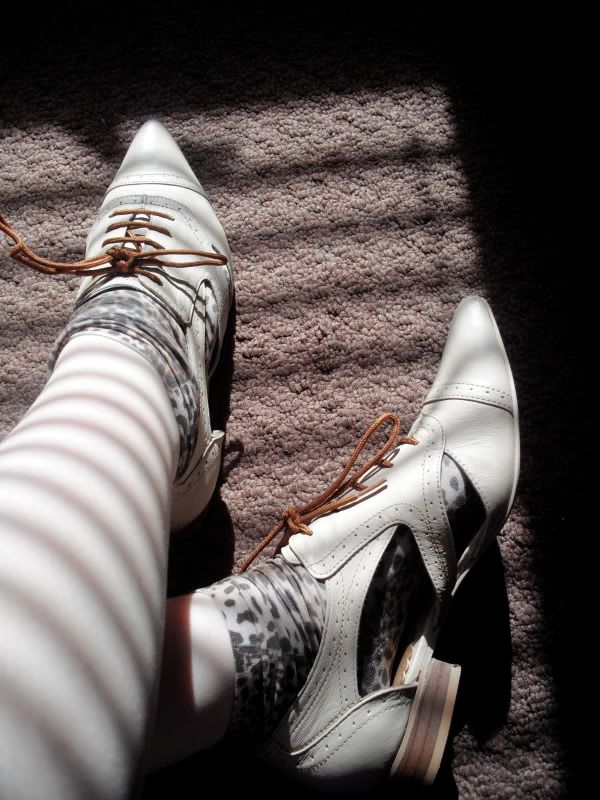 cut out brogues; ASOS via ebay. (£15? I forget) socks; H&M.
Feet have proper blisters off them; THIS IS WHY I ALWAYS WEAR HEELS; LESS FOOT TORTURE; forrealz
But they are awesome, so...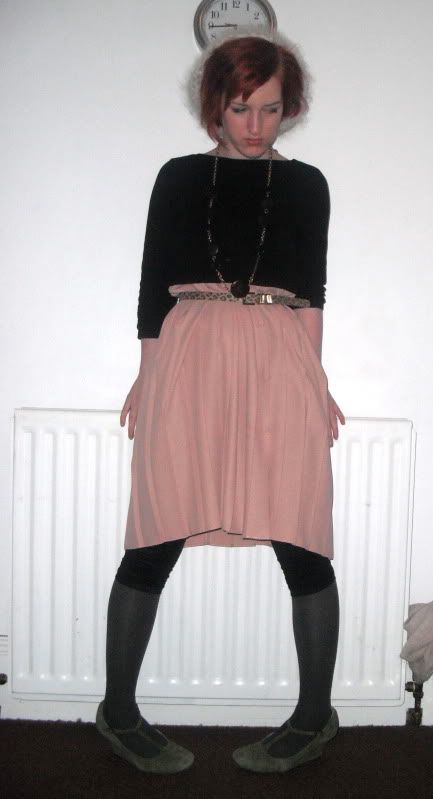 thrifted cropped jumper+dress//topshop half leggings//H&M tights+belt//handmade hat//belt off mam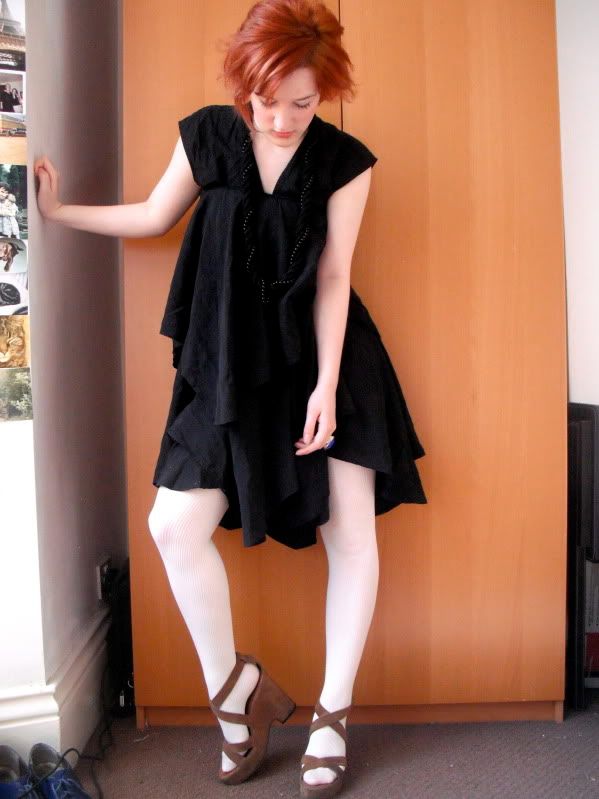 vintage dress//H&M necklace//Topshop ring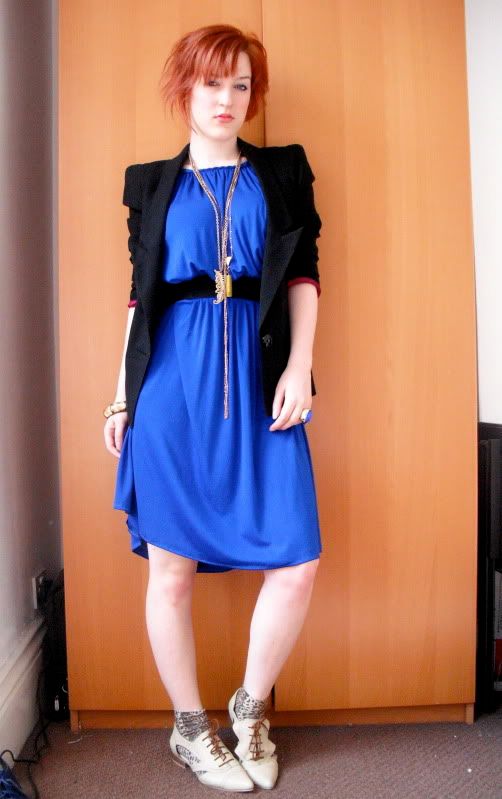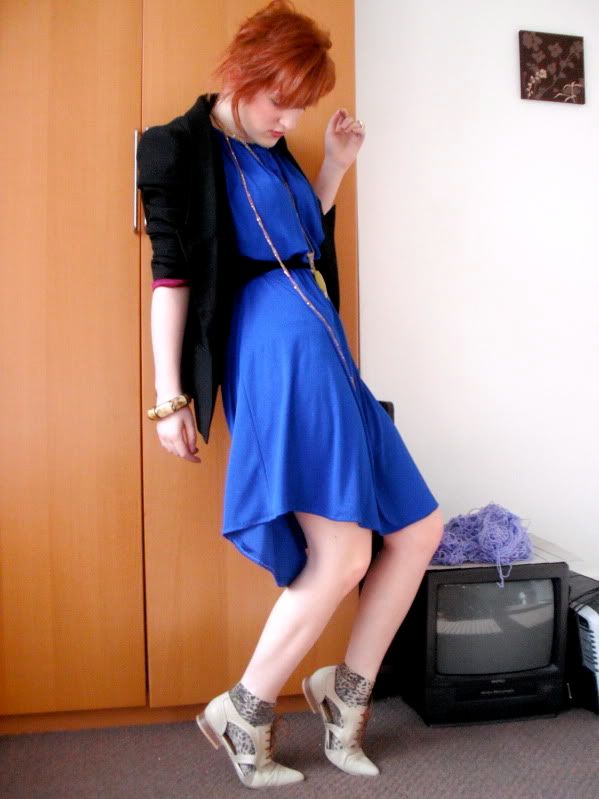 Topshop blazer+ring//vintage dress//H&M socks+necklaces//bangle off of some shop in New York
Wore this out in the actual world yesterday; walked to uni; hence blistered feet. HOW ANNOYING.
Lol at TV and broken printer in background. OO reminds me, phone back council.
And the hotness. The hotness that I haven't worn anywhere yet; that I can't really walk in (practice needed), and that I think I'm gonna have to wear plasters with in anticipation of rubbing zips up the back....
CHRISTOPHER KANE FOR TOPSHOP MESH SANDALS FOEWHVOIEHCOEHWGOVHWEOFCHOIQVWBE (£41, off of ebay, of course)
Also, topshop blazer//Valentino skirt off of ebay (SUPERMEGABARGAIN), necklace off of ebay
I need to stop wearing so much black, because, as Nina Garcia knows, it doesn't photog well AT ALL.
Oh, I also got these things off ebay recently: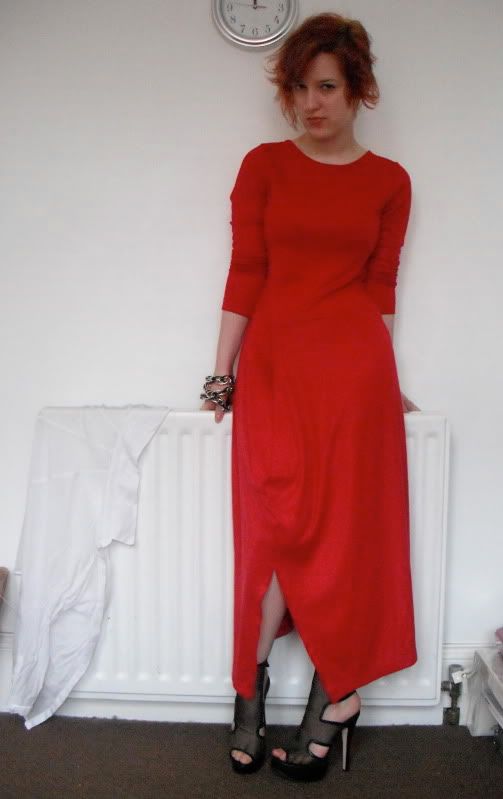 SWEET-ASS DRESS. It is awesome. I'm in it now. WELL comfy, also. There's another shot of 'dem shoes also. Note chunky necklace as bracelet.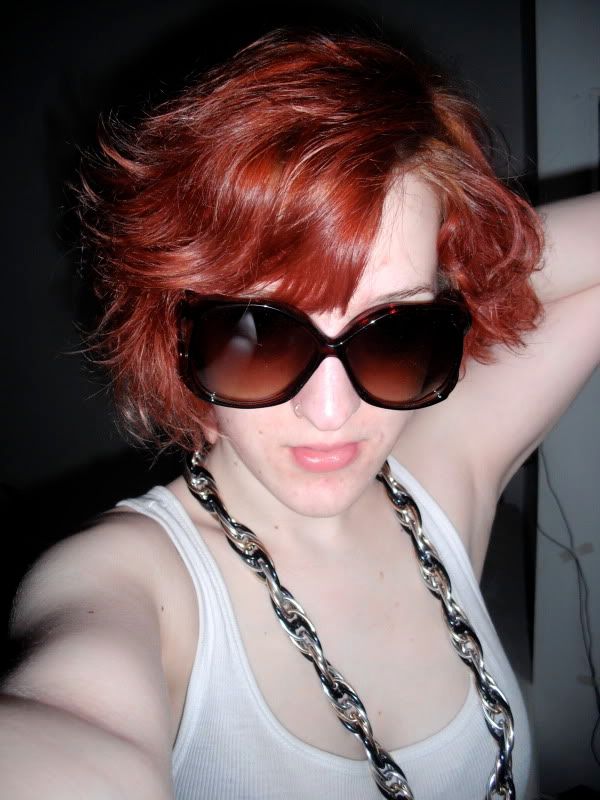 Vintage sunglasses, cos my big sunglasses randomly broke while in my drawer (?)
...and my little round John Lennon/Gaga ones don't suit me AT ALL.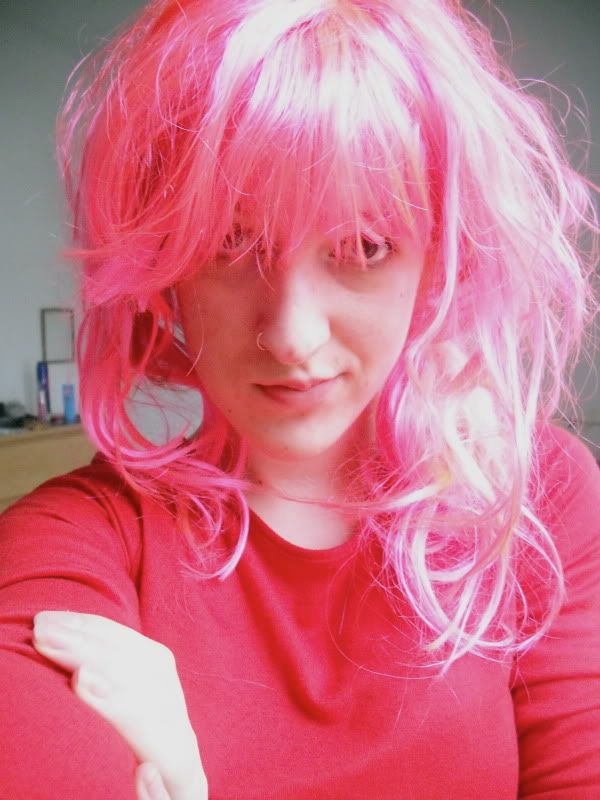 I do not know why the colour is messed up in this.

But this is my wig for Alicia's wigparty what was last night, and which I never want to take off.




Highlight of the night: When 99 Problems came on and me and Alicia scream-rapped along and, I think, terrified the gays with our knowledge of JayZ lyrics. And anytime a song by anyone off of Isle of Wight fest came on I shouted "JUUUUUNE", which at Jukebox is every other song. Strokes, Blondie, Beatles (Beatles/Paul McCartney, same diff), Vampire Weekend, JayZ. WINWINWINJUNEISN'TTHATFARAWAYWAHOOOOOOOOO.


-------------