Kay, so, I said I wasn't gonna plough through the collections in any shape or form except those I had a big reaction to. This is mostly cos o' the ready-to-wear malarky, cos there's just so much, y'know? Unless there's something akin to McQueen S/S10, that I literally must express love for, don't expect extensive coverage*.
That said, there's some badass couture which needs to be addressed, even if it is a couple o' weeks old.
Armani Prive
Famed cos of Gaga off of the Grammys, but that were all custom made - the crystals and sparkles and 'night sky' vibe is all here, in a way I approve of whole-heartedly. Structure and form and piping/stitch/pleat details!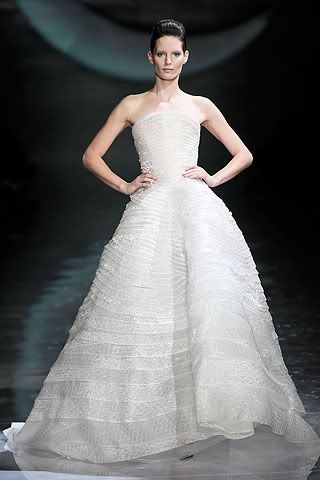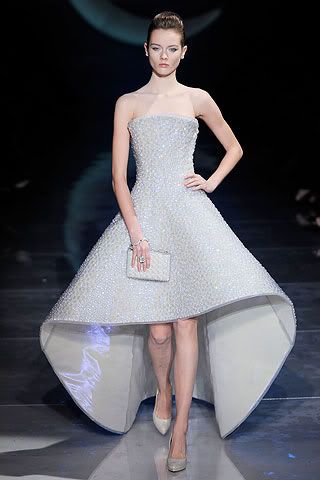 This is both menswear and A/W couture instead of S/S, but I have epic love for the trench detailed leather.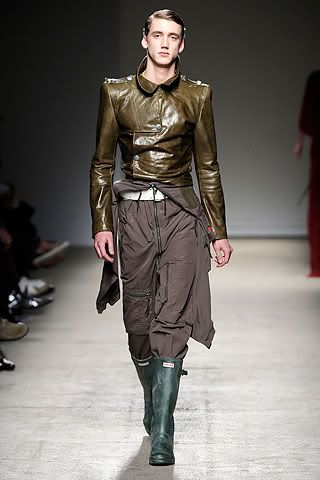 Jean Paul Gaultier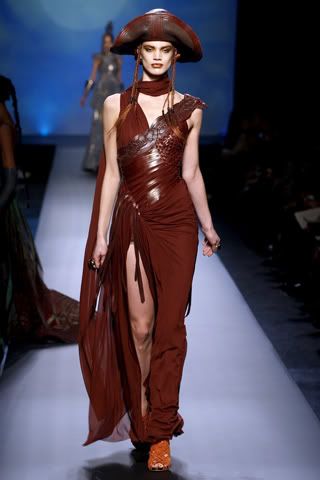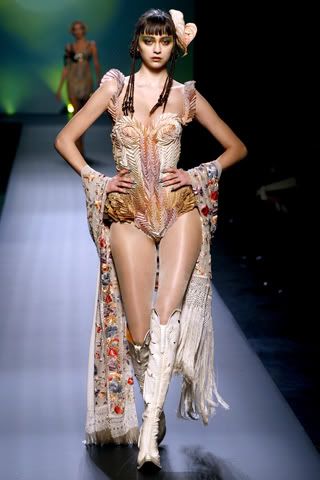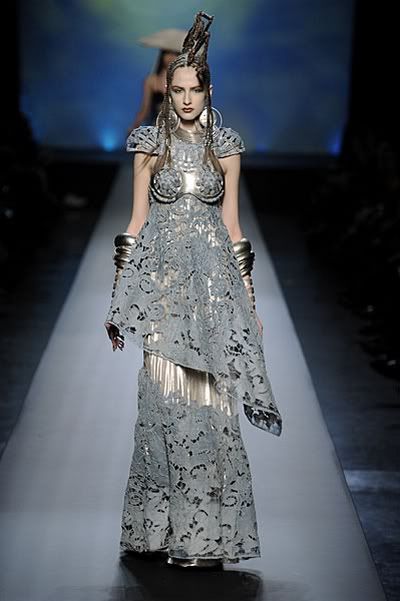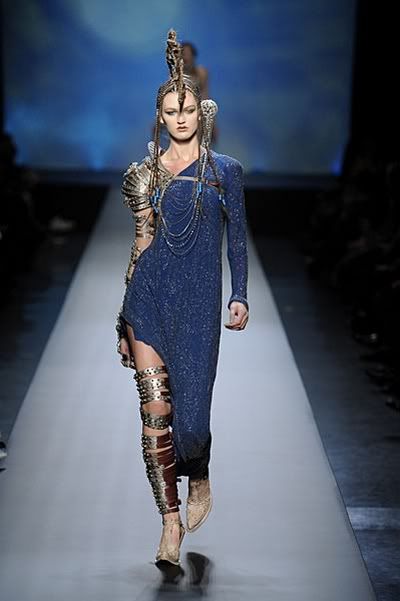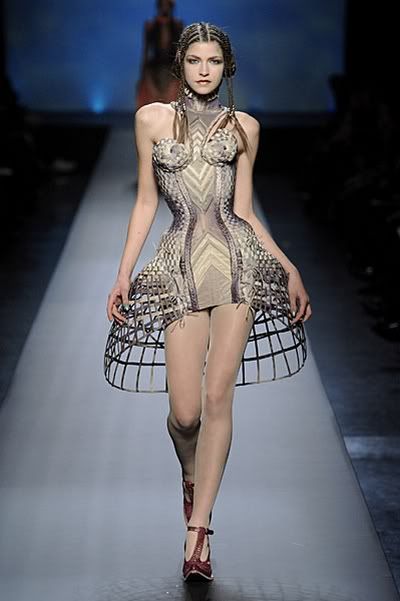 Yeah, yeah, that's all well and good, but let's look at those details.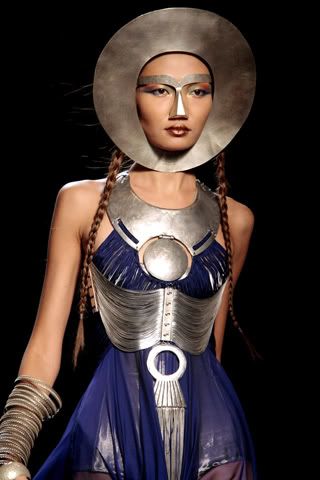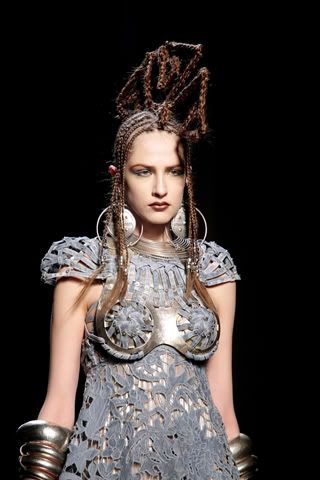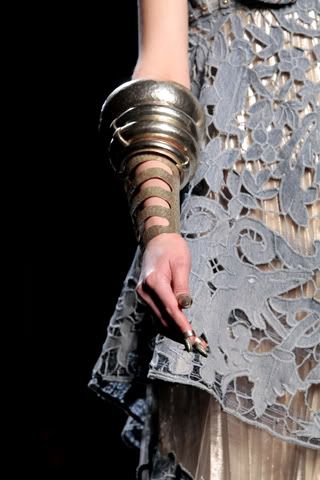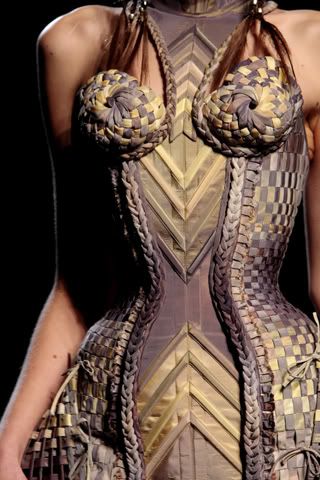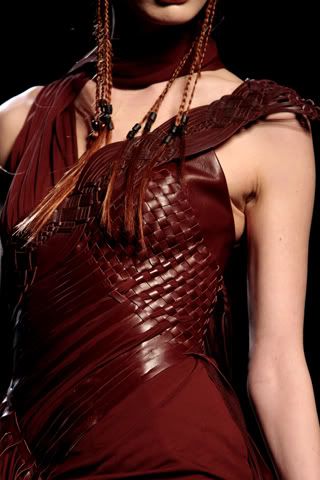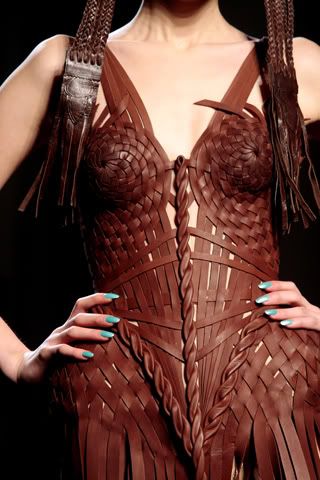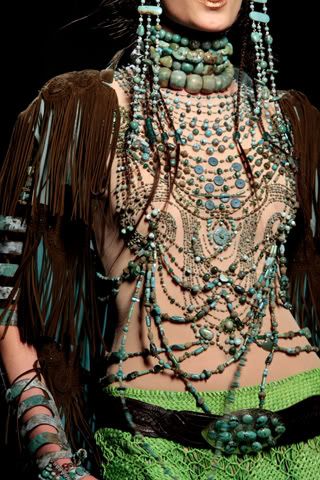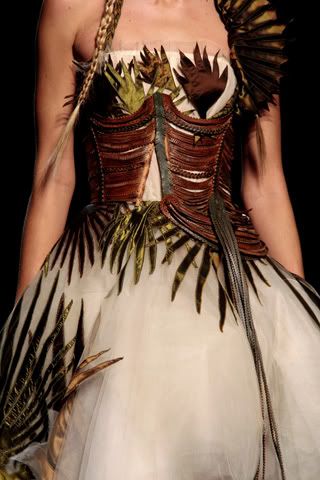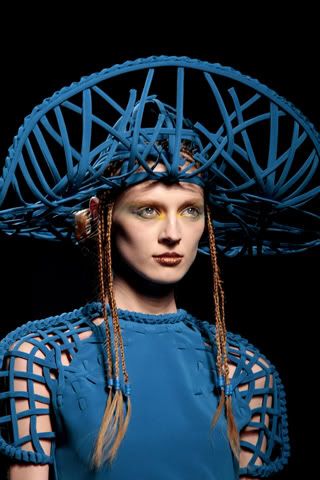 OH MAN.
JPG, you are a legend. Now Lacroix is no longer about on the couture scene, I think I've a new fave.
Where Galliano @ Dior kinda...keeps it classic Dior...and Chanel carries on being Chanel, and houses such as Alexis Mabille push out collections which are pretty much indeterminable from RTW collections, Gaultier is keeping it awesome.
Beautifully made (duh.), interesting, somewhat innovative and new, but still instantly recognisable as a Gaultier couture collection - IMO it has everything I could want.
Metal embellishments, leather weaving, Avatar-esque beaded pieces, structure and form... ♥ ♥ ♥ .
That armour shoulder stuns me.
Although I'm not sold on that palm tree print/theme, and there are pieces not featured that I'm fer sure not into.
But then, no collection is absolutely perfect, right?
I'm thinking about doing my dissertation on couture, or rather "Is couture still relevant?", but I gotta clear it with my tutor and stuff...
I've actually got a few ideas to run past her, so we'll see.
-----------
*mostly cos I'm not there. If I was viewing these IRL, then that would be blog worthy, non? A different perspective, etc. But hell, if you want to look at em and form an opinion, go look at style.com, or, there are plenty of blogs which add their take, yeah?