Another fashion156 alumni(?), although not a knitwear specialist(!).
Danish designer
Louise Amstrup
has mixed sheers and sporty fabrics in cool colours with hard edged prints of shattered glass and the like for S/S10, creating a feminine but contemporary collection.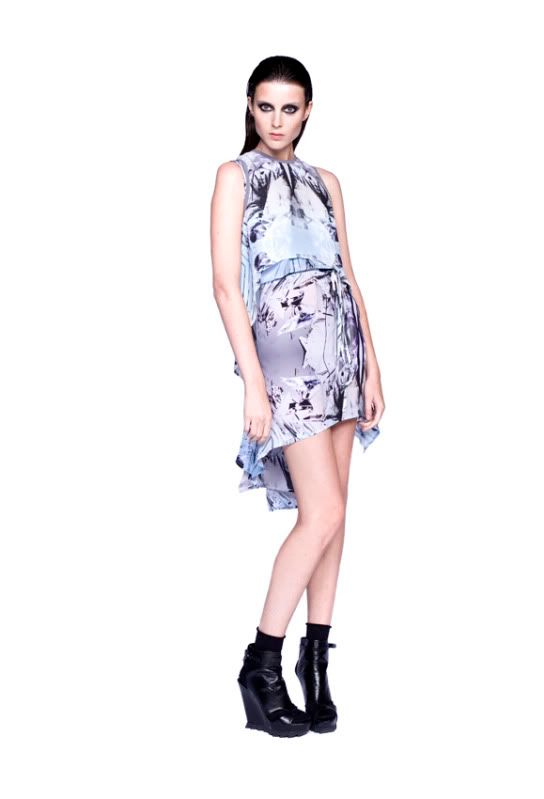 The mix of silhouettes and shapes are interesting here: sporty, close fit pieces, panelling, overlays of sheer pieces, drapey volume, tulip shapes, big lapels, cinched waists, flowing fabrics and structure in all forms (pyramid shoulder details, anyone?) all feature, and all manage to seem modern despite most of these phrases conjuring the vintage idea.
You can't tell me you don't hear '50s' at cinched waist, or '80s' at big lapels, right?
There's even a little fringing/tassles up in there.
I suggest you click on through to
Louise's website
to see more of the collection and the range it covers while still being cohesive.
Most good, most good.
There's a sheer, volumous coat that is to die, and I love the layering of different sheers in different colours in some of the looks. As previously stated this week, styling can make or break a collection, and I think it's just right here. The shoes are awesome.
Previous collections only cement Louise's aesthetic - an orange, sheer, draped tulip skirt from A/W09 is to an epic win; and there is leather and lots of ruffles here, too.
I'll add, ruffles that don't make me want to throw things.
If a ruffle can be tough; hard; then these are it. Lovely.
Currently stocked in a handful of shops in Europe and New York (check the website, linked above), including these places online (all still stocking A/W09):
stylepaste
,
rousiland
and
koodos
.
Big thanks to Frankie from Louise's press agency for sending over some big photos!