Hmmmmm NYFW is over for another 6 months, so it's on to LFW today! Woot! I know people working there too; and I found out yesterday I have connections meaning I could've got tickets to shows...next season, I am going to abuse these connections.
Anyways; onto the awesome.
There's a certain slouchy, 'just threw this on' kinda feel here that I like, particularly with the colour blocked trousers in the first look and the shirt dresses in 4 and 5 - the way the skirts fall and layering in look 5 is interesting. I don't know why, but I can't think of the top underneath as a top, and I keep referring to it as 'arm leggings'.....weird.
And I NEED the skirt in 6 IN MY LIFE!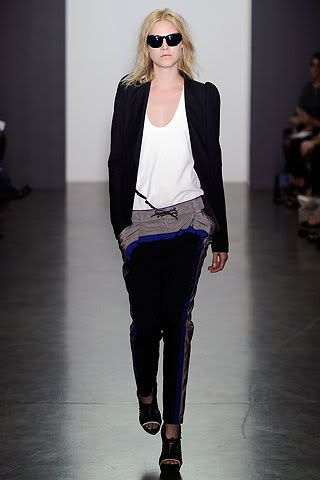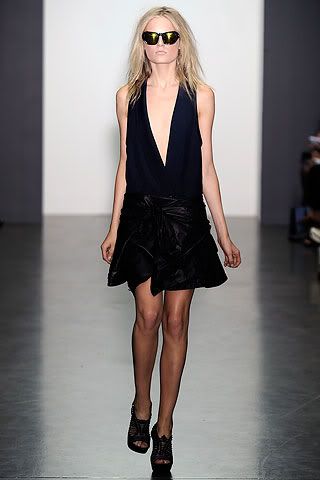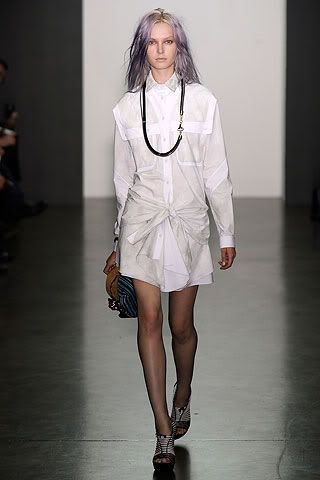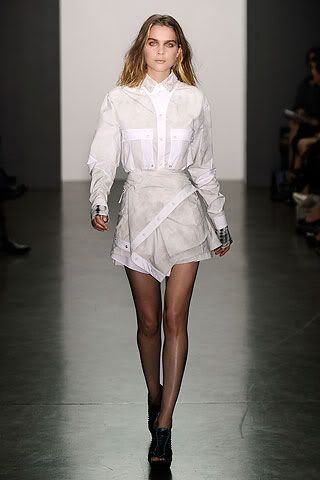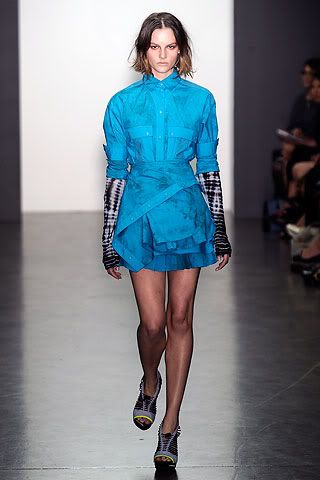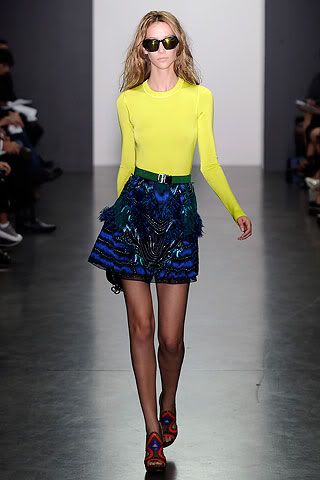 I would never have pegged myself as a Mizrahi fan; per se, but I included him in my Resort round-up, and here he is again...
There is, again, a wonderful slouchy/drapey feel here. The skirt in look 2 reminds me of A/W09 Balenciaga, somewhat, but the shade is gorgeous, as is the dress in look 1, and the pouf skirt in look 5.
The man has a thing for polka dots (I recall a white gown in the Resort collection with small polka dots...), and while I think sometimes they can look a bit....not cheap or tacky, but...high street? Maybe? Or...well, I tend to associate polka dots with emo/scene/goth kids so I guess that's what I mean. Erm, yes, so, point being, Mizrahi can take a polka dot and make it look much more high end, vidi the polka-net skirt in look 6. Much love.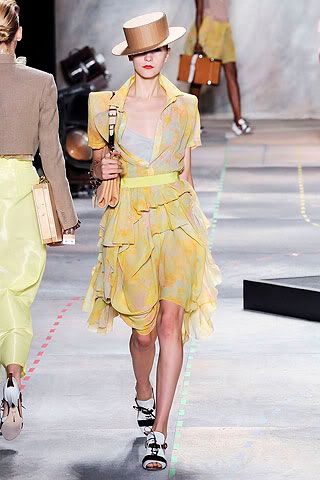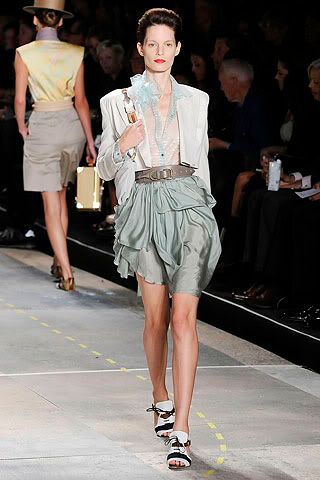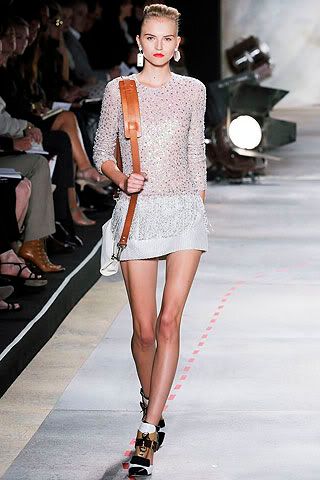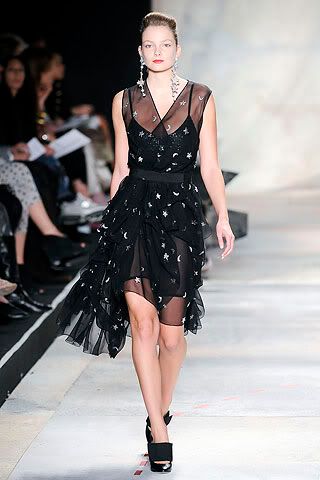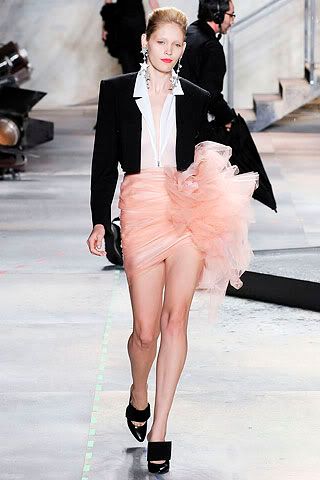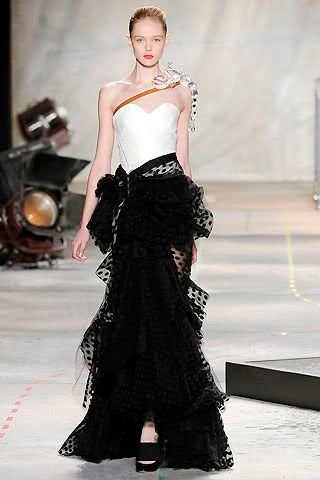 A brief mention here, purely for the colour combos. Epicly pale pink with midnight blue (not quite navy, but certainly dark. Stunning. One of my favourite shades.) make for a fantastic combo, and the all blue outfit works on so many levels. Loving the texture mix.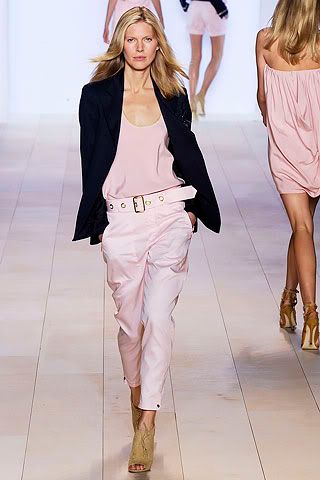 Another minimalist outing for Francisco Costa, although IMO not as strong as previous seasons. I did enjoy the looks with the grey and threadbare patches (as look 3). Very organic feeling, and an interesting way to incorporate the sheer look/bring threadbare into the high end...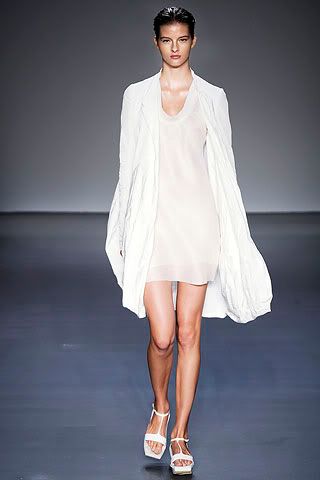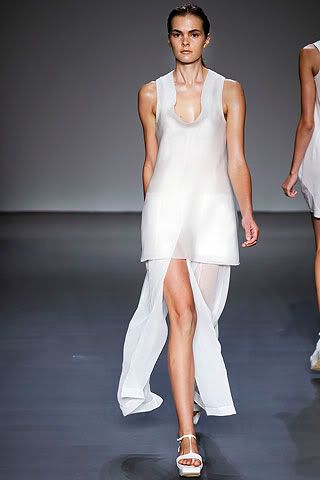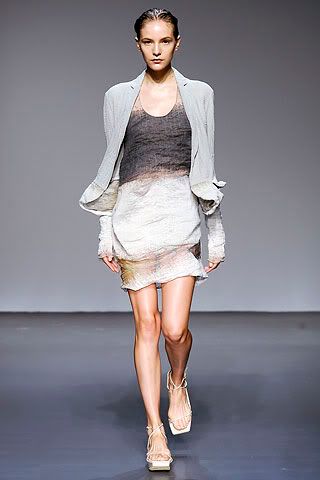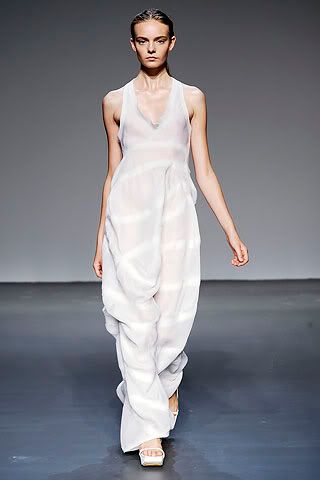 Not a massive fan of the collection here as a whole - in the sense that nothing gracing the top half, nor any of the dresses particularly wowed me, but the leggings? The leggings were amazing.
Structural, cutout, with toe-posts, with sheer panels? Everything. I'm just gonna let the photos do the talking.
...actually, I lie. The looks I picked out to post I chose because I liked the look as a whole. The dress in look 4 is rather hot, as is the jacket in looks 2 and 5. And the work on the top in look 6 is interesting! Love for the ol' sculptural pieces.