Vidi this!
In some sort of attempt to get rid of the masses of fabric under my bed and hopefully make some money in the process, I'm opening an etsy store.
The going is slow, because I am a bit lazy, but so far I have one and a half necklaces complete, as well as a draped jersey cardigan...type...thing. Haha, good descriptions abound!
Everything will be a one off, and priced accordingly, especially since everything is handmade. Painstakingly, in the case of this necklace, which has taken my the better part of 2 weeks: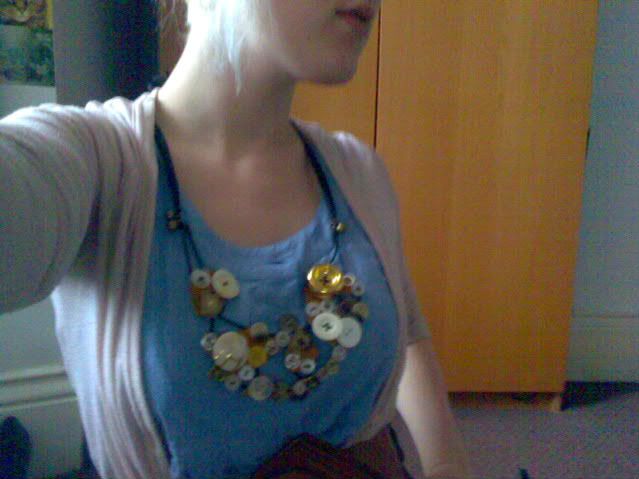 Ahhh crappy camera phone pics, how I secretly adore you.
In its defence, I was sewing on approx one button a day, until today when I stitched it all together and finished it off. Aaron was impressed, which bodes well.
Currently trying to hammer some studs into the grey/blue/silver version, but I should really be getting a shower and having some tea before Daniel comes round.
Anyway, I shan't be blogging on here about much to do with the 'label', 5feet3, but I shall be blogging about it at the
business ventures blog
, so if you're interested to see previews of pieces, news, maybe things like initial sketches and styling ideas, follow that blog!
I'll also be putting a link in the sidebar...