Did anyone see Ms Westwood on Friday Night??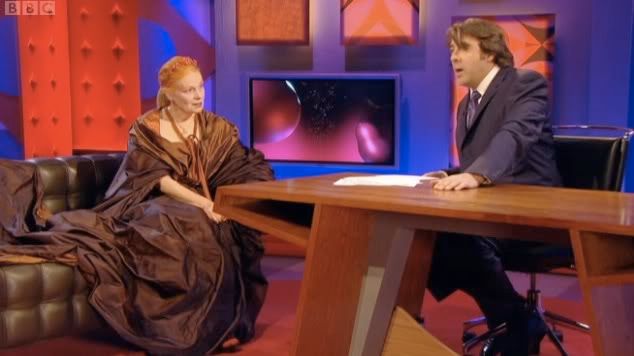 She shuffled on wrapped in 7 metres of fabric and quickly segued into the subject she had come on to talk about - climate change and environmental issues. She also mentioned The Prince's Rainforest Project, which both me and my mam have signed up for, and which you can sign up for too. You'll find a box at the bottom of this post, and one will be in the the side bar permanently, over this way >>
Environmental issues are something I care about; although I doubt as much as wor Viv. I did find it inspiring
(as a fashion student as well as in general!)
that someone so high up in the industry would talk about these issues in such a public forum, especially as this is an industry which can be very wrapped up in its own little bubble sometimes. Nice to see that. And important, because the Fashion Industry is responsible for a good deal of damage to the planet.